Chasing the Kickapoo
In southwest Wisconsin, a looping river plays peekaboo.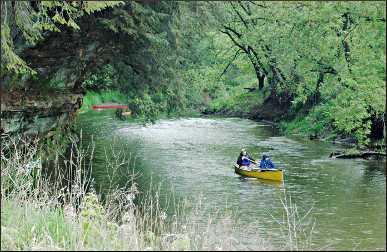 In southwest Wisconsin, following the Kickapoo River is a lot like watching a magic act: No matter how closely you pay attention, eventually what you see is going to disappear into thin air.
When it reappears, it will be in a completely different spot, and you'll have no idea how it got there.
"Look, there it is again," said my husband, as we drove Wisconsin 131 through the Kickapoo Valley. "It's meandering like mad."
The Kickapoo is the most crooked river in North America and one of the best-loved canoeing rivers in the Upper Midwest.
Surging out of a vast watershed around Wilton, on the Elroy-Sparta State Trail, it twists for more than 125 miles as it flows toward the Wisconsin River at Wauzeka, just east of Prairie du Chien, 65 highway miles later.
From the highway, motorists catch only glimpses of a placid brown stream, zigzagging for no apparent reason. But down on the river, canoeists see right away why it's so crooked — whenever the water butts into rock, it dodges in a new direction.
We arrived in Ontario, the canoe-rental hub, on a drizzly day in May. Luckily, Titanic Canoe Rental was happy to give us a shuttle in the rain, since they already were expecting 75 girls from Lubavitch Girls High School in Chicago.
The canoe outfitters in town have 500 canoes among them, said Titanic owner Bill Teynor, and on Saturdays every canoe is out on the river.
Even in the drizzle, the river was gorgeous. Virginia bluebells lined the banks, and hemlock and cedar clung to the tops of yellow sandstone cliffs, jutting out over the water like the prow of an ocean liner.
The silence allowed us to see more than our share of wildlife. As we rounded a bend, we startled a family of geese. As the mother herded her goslings up a sandy bank, the father led us down the river, honking and slapping his wings against the water until he decided we were a safe distance from his family.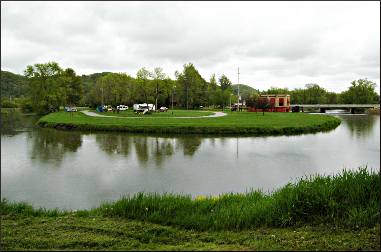 "He's going to have a heart attack when those 75 girls show up," my husband said.
On a log, we saw a plump, long-legged brown bird that was either the sora or its cousin, the Virginia rail. We got an escort from a belted kingfisher, which seemed to wait for us to catch up as we followed its hollow rat-a-tat-tat down the river.
Swallows made bombing runs over the water, eating, drinking and hunting in full flight.
The sharp loops also hid us from a deer herd that was crossing the river. Helplessly, we watched as the deer panicked, one crashing its head into a tangle of branches as it tried to bolt up a nearly vertical bank.
We had separated a fawn from its mother, who anxiously followed her baby until it finally rushed through the water, bobbing as if it had springs on its feet.
It was easy canoeing, made even easier because high water covered the sandbars. We paddled the six river miles to Wildcat Mountain in an hour and 40 minutes, then doubled back to Bridge 4 to watch the schoolgirls arrive.
Many of them had tipped, soaking their long black skirts, but that just seemed to enhance their high spirits, and they thanked Teynor for the awesome trip.
"Titanic lived up to its name, didn't it?" he joked.
The Kickapoo is only knee-high, so tipping is no big deal. On warm days in July and August, says Ann Teynor, "everybody tips."
Next time, we'll paddle all the way to La Farge. With all that spectacular scenery just sitting there, it seems a shame not to see it all.
Trip Tips: Kickapoo River Valley in southwest Wisconsin
Getting there: Ontario, in the Upper Kickapoo Valley, is 25 miles south of the junction of interstates 90 and 94 near Tomah and an hour and a half northwest of Madison.
For more, see Outdoors in the Kickapoo Valley.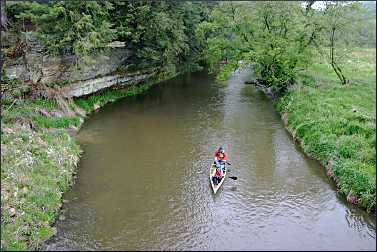 2023 events: May 12-14, Gays Mills Spring Festival. May 20-21, Syttende Mai in Westby, with a bike tour that winds through the Kickapoo Valley. May 19-20, Morel Mushroom Festival in Muscoda. Aug. 17-19, Larryfest outdoor bluegrass festival near La Farge. Sept. 16-17, Driftless Area Art Festival in Soldiers Grove. Sept. 22-24, Apple Festival in Gays Mills.
Canoeing: Three liveries in Ontario offer day trips on the northern part of the Kickapoo River for kayaks or canoes with shuttle: Titanic, 877-438-7865; Mr. Duck's, 608-337-4711; and Drifty's, 608-337-4288. Call in advance to reserve, especially for weekends.
Saturday can be very congested; if you must canoe on a Saturday, try to arrive first thing in the morning.
Skilled canoeists can shave up to a third off the times the liveries say it will take to reach a landing. Highway distances between landings are short, making bicycle self-shuttles easy for people who own canoes.
Camping: There are 25 primitive campsites in the Kickapoo Valley Reserve. They're first come, first served.
Campsites are also available at Wildcat Mountain State Park, 608-337-4775.
In Gays Mills, there's camping in Robb Park next to the Kickapoo. There are flush toilets, and some sites have electricity. 608-735-4341.
Miles Paddled provides information about canoe/kayak camping along the river.
Accommodations: There are many cabins and cottages for rent, and it's handy to have a kitchen since restaurants are limited.
I've stayed at Trillium B&B on a ridge outside La Farge, which has two cottages, 608-625-4492.
In Soldiers Grove, the renovated 1923 Tobacco Warehouse Inn has six suites, some with kitchens.
Information: Check Driftless Wisconsin, which covers the region, and Hidden Valleys.
For more about the area between La Crosse and Ontario, see Valleys of Vernon County.
Last updated on January 19, 2022