Wausau's liquid assets
In this sporty town on the Wisconsin River, just go with the flow.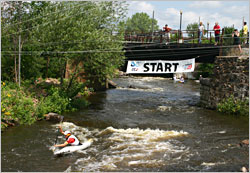 In Wausau, water is power.
Sawmills were first to use the thundering rapids along the Wisconsin River, which have been working hard ever since.
But these rapids generate more than the electricity that lights a bulb — they also draw world-class athletes for thrilling tournaments, such the world whitewater kayak/canoe championships for juniors and under-23 paddlers, some of them Olympics-bound.
Watching super-fit young athletes from 26 countries try to tame Wausau's "spinning, churning washing-machine of a river" was the most fun we've ever had watching a sport.
Charging down the channel, they rode the bucking waves like bronco-busters, making their boats heel around giant boulders and slide through 23 gates, often upstream, as their teammates ran alongside screaming "Up-up-up-up-UP!"
No one was perfect on the raging water. But some, like 17-year-old Jessica Fox, the daughter of two world champions, were very, very good. Less than three weeks later, she won a silver medal for Australia at the London Summer Olympics.
Wausau's Whitewater Park, a usually quiet channel that boils when it gets massive infusions of water from the upstream dam, opened in 1975.
It's just one asset of this sporty town, which also hosts the Badger State Winter Games and, the weekend we were there, the state fast-pitch tournament.
It's got an alpine-ski hill, a Nordic-skiing course, and a large curling center.
The 1,000-mile Ice Age National Scenic Trail goes past town. There's more hiking on Rib Mountain, which rises out of the river plain like a volcanic caldera and was the highest point in Wisconsin until Timm's Hill near Ogema was surveyed at 12 feet higher.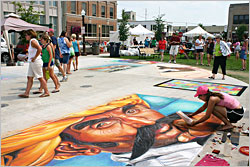 Wausau only has 39,000 people, but it knows how to have a good time. When we got there on Friday evening, the big town square known as the 400 Block was filled with people and artists starting their sidewalk compositions for Chalkfest, which drew 250 entries.
We were there to take the waters — on the whitewater course, on its beaches and in its breweries.
Wausau is a heavily German town. Its first mayor, a grocer from Germany, arrived in town and then went back for another 702 people. So it's not hard to find a good beer, and our first stop was Red Eye Brewing, a brewpub on the east edge of downtown.
It had a college vibe, with a high ceiling hung with a collection of rare and vintage bicycles from one of the brewmaster's friends. Our perky young server offered to get me extras if I didn't like any of the four samples in my flight of ales, but I liked them all.
The hit of our meal was made with the European favorite Nutella; it was a freshly baked, warm calzone spread with the chocolate-hazelnut paste and dusted with powdered sugar. We'd go back to Wausau just for that.
At 9 a.m., streets still were full of strolling people, and marquee lights were blinking on the Grand and Fillmor theaters.
In the morning, we parked ourselves behind judges on the 250-meter whitewater course, close enough to the water to see straining muscles and gritting teeth.
A kayaker from Poland was on the course, and his teammates sounded like a flock of hens, shouting high-pitched encouragement meant to carry over the thunder of waves.
Judges watched intently to see if he'd touch a pole (minus two points) or miss a gate (minus 50 points). His performance was like a dance, except the raging currents didn't allow choreography.
Strategy, we noticed, is as important as strength. A boulder sat in front of one of the gates closest to us, so there were two ways to approach it: from the right, the less-tricky way, or from the left, which was harder but faster.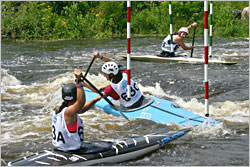 The next gate was at the bottom of a sharp drop, which paddlers had to plop down sideways if they wanted to quickly reach the gate and paddle through it upstream.
If they allowed themselves to go even a meter downstream, they had to spend precious seconds and strength to paddle back into position.
Whitewater Park is unusual in that it's in the middle of an urban area. At lunchtime, we walked over to the adjoining farmers market and then downtown, where pastel portraits were emerging on sidewalks: Minnie Mouse, Rosie the Riveter, Willy Wonka, the Scooby Doo crew.
Shopping streets radiate from the 400 Block. One was lined with men's clothiers, a cupcake bakery, a coffeehouse, a yogurt shop, a pub and a clay studio.
Another had a chocolate shop, a deli, a bookstore, a gourmet grocery, a garden gift shop-and a bright-red English telephone booth.
The cupcake shop, Sweet Lola's, was particularly wicked, with homemade Ho-Hos, Oreos and cheesecake pops as well as lavishly iced cakes and ice cream. It was the perfect place to go if you'd just expended 3,000 calories fighting the currents on a whitewater course.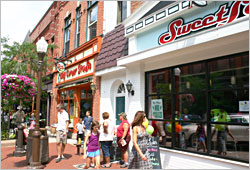 Back on the river, we watched French, Czechs, British, Slovenian and American teams in semifinals. The team races were especially fun, with three boats on the course at the same time, trying to stay as close as possible without "trading paint."
With three paddlers to amass penalties, it was devilishly hard to score a good time, and all boats had to cross the finish line within 15 seconds of each other.
We had a lot to do after the day's races finished. From downtown, we headed through the east side and the Andrew Warren Historic District — those early lumber barons made a lot of money and built some gorgeous homes — to the Leigh Yawkey Woodson Art Museum.
Endowed by a lumber baron's heir, this nature-centric museum is free and family-friendly. In the Art Park downstairs, a father was making tissue flowers with his daughter, and a mom was "planting" her baby in a flower pot and topping him with a sunflower costume for photos.
Then we drove to Briq's, part of the chain of soft-serve stands founded in 1985 by the late Dan Briquelet of Wausau. We hoped to see someone order the infamous One-Pound Cone, but we had to settle for a view of the large, which was pretty big.
I always order a twist cone, and mine was as good as they come, dense and ice-cold. But I was tempted by the fresh strawberry or raspberry shakes and fresh strawberry rhubarb sundae, offered only during picking season.
From the Merrill Avenue Briq's, we zipped down the highway to Rib Mountain, a towering heap of hard quartzite that's stood up against 2 billion years of lapping oceans, wind and erosion.
Hiking trails weave around the mountain, whose north face is used by Granite Peak ski area, and we walked through the woods until mosquitoes chased us out.
Then it was on to Bull Falls Brewery in a residential-industrial area. Wausau first was known as Big Bull Falls, likely for the French word bulle, for the bubbles in the rapids.
The brewery was holding a jazz festival, part of a summer-long series, and I tried the Zwickel Bier — an unfiltered lager, bready but the hoppiest beer the German-style brewery offers — while listening to a Dixieland band.
It was a friendly place. The tap room was standing-room only, but people at one table offered us extra chairs and plied us with peanuts.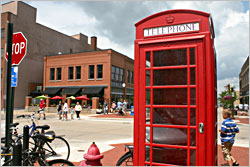 From there, we drove over to the airport for the Balloon Rally & Glow, but the hot-air balloons had been grounded by wind. We listened to a band for a while and watched a biplane give "barnstormer" rides, then headed for our third brewery.
The Great Dane Pub & Brewery is an outpost of the well-known Madison pub. Our mahi-mahi with couscous and Japanese sushi roll with noodle salad was only okay, but the beer was good, and the music was really good.
Our power-sightseeing gave us the whole next day to watch the races. We saw Australia's Jessica Fox win her third gold medal and her second world junior kayaking title, and the U.S. and Canadian teams go home disappointed.
We almost stayed for the 6 p.m. water-ski show on Lake Wausau but instead made our way home, stopping for a dip at Man Made in Lake Sunnyvale Park on the west edge of town.
We loved all of Wausau's waters, and we were looking for a reason to return even before we left.
If you want to see the whitewater course in action, or paddle it yourself, you have to plan; water is released only a few times a year and for tournaments.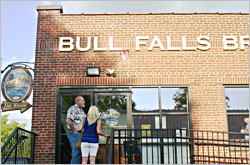 Trip Tips: On the water in Wausau, Wisconsin
Getting there: Wausau is 2 hours from Madison, 2¾ hours from the Twin Cities, 3 hours from Milwaukee and 5 hours from Chicago.
What to know: The city of Wausau is the northernmost of a cluster of towns along the Wisconsin River, including Rib Mountain, Schofield, Weston, Rothschild and Mosinee.
Dams on the Wisconsin River create Lake Wausau and other lakes, flowages and reservoirs in the area.
Events: June, Wings Over Wausau and Chalkfest. July, Taste 'N Glow Balloon Fest. August, Big Bull Falls Blues Festival on Fern Island. September, Artrageous Weekend, including the Festival of Arts and Art in the Park. October, Harvest Fest on the 400 Block downtown.
For winter events, see Winter in Wausau.
Whitewater Park: This channel of the Wisconsin River, just south of Stewart Avenue on the west edge of downtown, is pretty tame except when extra water is released for public paddling.
Paddlers need membership in the American Canoe Association; helmets and life jackets are required, in addition to a boat.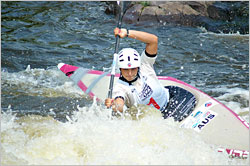 Breweries: Bull Falls Brewery, in a residential-industrial area just east of Oak Island Park, has a tap room and holds frequent festivals with music, including Maifest and Oktoberfest.
Red Eye Brewing Co. is downtown at Sixth and Washington streets.
Briq's Soft Serve: It has locations in north Wausau (just east of U.S. 51 on Merrill Avenue), Rib Mountain (across 51/29 from the road to Rib Mountain State Park and north on Rib Mountain Drive) as well as Mosinee and Weston.
Beaches: There a popular beach at Man Made Lake in Sunnyvale Park, just south of U.S. 29 at the 72nd Street exit.
There's a Splash Pad for children 10 and under at Marathon Park, $1.
Water-ski shows: The Water Walkers perform at 6 p.m. Sundays from June through Labor Day at D.C. Everest Park on the north shore of Lake Wausau.
The team also performs at 6:30 p.m. Thursdays in July and August on the south shore of Lake DuBay in Mosinee.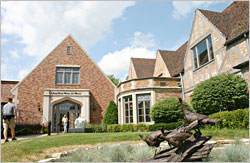 Hiking: Rib Mountain State Park has 13 miles of scenic trails and a 60-foot observation tower.
Fifteen miles east of Wausau off County Road Z, the Ice Age National Scenic Trail winds through Dells of the Eau Claire Park.
In town, stroll along the paved, 1¼-mile Riverwalk and onto three island parks: Barker Stewart, Big Bull Falls and Fern/Oak. There's free parking along River Drive south of Stewart Avenue.
Accommodations: Downtown, the Jefferson Street Inn is a boutique hotel with 100 suites and rooms, some with fireplaces and whirlpools. Pets are allowed.
For budget travelers, the Super 8 at the junctions of Wisconsin 29 and U.S. 51 is well-run and convenient. It has a pool and whirlpool, and there's a cinema across the street.
Families may like the Grand Lodge Waterpark Resort in Rothschild, which has a 50,000-square-foot indoor water park.
Camping: There's camping right in town in piney Marathon Park on Stewart Avenue, which has showers, a playground, lighted tennis courts and a Splash Pad for children.
Fifteen minutes east of Wausau, there's also camping at beautiful Dells of the Eau Claire Park, which has a beach on the Eau Claire River.
Dining: The Back When Cafe on the square downtown serves rich beef and seafood dishes with organic vegetables and a nouveau Italian touch. It's open Tuesday-Saturday. 715-848-5668.
On Washington Street, Red Eye Brewing serves soups, salads, sandwiches and wood-fired pizzas.
Just off I-39/51/29 on Sherman Street, Great Dane Pub & Brewing Co. is an outpost of the well-known Madison pub.
Nightlife: The Grand Theater, a restored 1927 opera house that faces the 400 Block, hosts concerts and touring Broadway productions and is the home of the area's community theater, children's theater, lyric choir, ballet and symphony.
Museums: The Leigh Yawkey Woodson Art Museum is open Tuesday-Sunday, and admission is free. Entry to the Wausau Museum of Contemporary Art also is free.
Information: Wausau tourism, 888-948-4748.
Last updated on January 24, 2022