Whitewater 101
On the Wolf River in northeast Wisconsin, novice kayakers learn the moves at Bear Paw resort.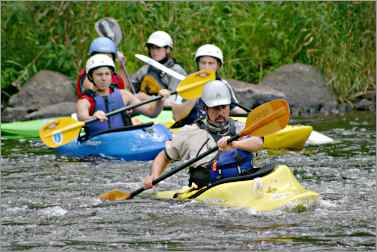 Whitewater paddlers are, by definition, thrill-seekers.
That's why they seek out the northeast corner of Wisconsin, "the cradle of rivers." The big Wisconsin River starts there, as do the Wolf, Peshtigo and Menominee, three of the Upper Midwest's best-known whitewater rivers.
On the Wolf River, Bear Paw Outdoor Adventure Resort has been a whitewater hub since 1994, selling gear to expert wranglers and teaching novices how to handle the rapids that churn over knots of boulders dropped by the last glacier.
The rapids are not all that dangerous, except when spring melt makes the river run fast and furious. This is perhaps the most peaceful and least-populated spot in Wisconsin, mostly national forest that returned to the government when early settlers failed to make a living there.
One of a kind
It's not easy to find a resort like Bear Paw. It promotes the silent sports of paddling and skiing in an area best known for hunting, fishing and motorized sports. Its bar and restaurant is non-smoking.
It caters to guests of all incomes, housing them in whatever they can afford-chalet suites, rustic cabins or the campground. It's comfortable, not fancy, and friendly to beginners.
One summer, my 14-year-old son Peter and I went there to learn the basics of whitewater kayaking. I wanted to try it myself, and whitewater-kayaking is one of the few things a teen-age boy still will do with his mother.
Our instructor was Scott Berry, who started out with an introduction to the sport he calls "super-addictive." Besides us, there were two young couples, an older married couple from Illinois and a young man from Columbus, Ohio.
Dave Hummel of Bloomington, Ill., had kayaked as a child, but the rest of us were new to whitewater. Hummel said he'd stopped paddling when he was 12, after an accident on a river in West Virginia.
"I flipped over and hit my head, and I saw the fear," he said.
In the boat barn, we each picked out a 7½-foot river runner and a paddle, spray skirt, wetsuit, life vest and helmet.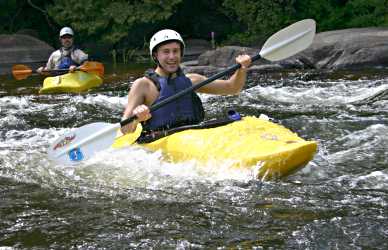 Unlike bicycle helmets, which are "one use only," Berry said, whitewater helmets are designed for repeated collisions of rocks with heads. It was a sobering thought.
"You will be upside down," he said. "You can get pretty scraped up."
On nearby Boulder Lake, we practiced the sweep, the draw and the forward power stroke. And we practiced capsizing, whipping off our spray skirt, tucking forward and tumbling out head first.
"We're all between swims, that's my motto," said instructor Jessica Parker. "It can happen to anybody; you never know when."
Then she told us how to stay upright.
"Always look for where you're going," she said. "You've got to plan ahead a little bit.
"You're never going to win against the current, so you have to use its power to your advantage. If you learn to read it, it's pretty much always going to do the same thing."
Tackling the river
We launched ourselves into the Wolf River just across from the northern border of the Menominee Indian Reservation. Using a ferry maneuver, we paddled back and forth at the foot of rapids, angling our boats slightly upstream to blunt the force of the water hitting the side of our boats.
Like billiards, whitewater kayaking is all about angles and approach. On Class III and IV rapids, paddlers get out of their boats and study the river, visualizing the course their boats should take through the water.
Our rapids were only Class I and II, but they were challenging enough.
In his dolphin-nosed playboat, instructor Berry played with them, pivoting straight into the churning water as it tried to push him back.
Of course, Peter had to try that, too. But the water immediately grabbed him and rolled him over, and when he came up, he had a strange look in his eyes.
"Wow, my head hit a rock," he said.
But he kept at it, taking turns with the other guys. When he finally managed to nose his boat a few feet up the rapids, he raised his paddle over his head in a "Rocky" moment.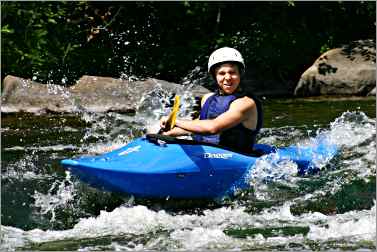 In calmer water, the rest of us practiced turning in the current and bracing, leaning to the side as far as we could without tipping.
Bob Maloney of Roscoe, Ill., capsized twice and didn't pull off his spray skirt either time. But he still managed to extricate himself from his cockpit.
"Panic works," he said ruefully.
When we'd finished practicing off our little beach, we lugged our kayaks upstream to Gilmore's Mistake, a bend in the river with a boulder garden that created logjams long before loggers arrived.
In fact, it's named for a logging-company scout who saw a natural logjam that was so big the river disappeared under it and, assuming the river was unnavigable, told his company not to buy the surrounding land.
Another company bought the land, dynamited the logjam, restored the flow of the river and made a fortune.
Now, our job was to avoid getting hung up on the rocks, like the logs.
"One thing's for sure, if you run into a rock, that's where most people flip into the river," Parker said. "The river is piling up on your edge, and if you lean into it, the water will slide under your boat and flip you.
"So hug the rock; it may even be good to hit the rock. If you learn to lean into them now, you can avoid them later."
We could see the dark lines of an eddy, the calm water behind rocks. It was a "good" eddy, and Parker told us to aim for it.
"There's a train of waves, and if you follow them, that's where the deeper water is," she said.
Riding the white froth and dodging boulders with frantic power strokes, we all made it through. Then we trudged back to do it again.
"But don't go if you're tired," Berry said. "It's like the last ski run of the day; that's the one where you get hurt."
That evening, we had dinner in the restaurant while watching the locals hoist a few beers.
It was Saturday night in the northwoods, with the usual hubbub and hilarity, but something was different: There was no pall of smoke, the music was alternative, and everyone looked fit and sun-kissed, as if they'd walked out of the pages of Outside magazine.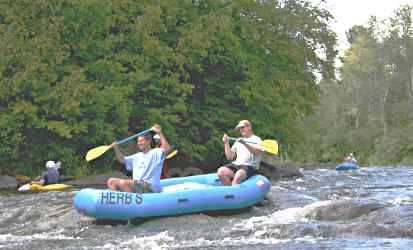 Using the moves
The next morning, we got into the van and put into the river at Irrigation Ditch, 13 miles upstream from Gilmore's Mistake.
The first few miles were a breeze; we watched for eagles overhead and for deer along the banks. Before each rapids, we'd duck over an eddy line into calm water along the shore and confer. Then we'd go through, one by one.
Gloria Maloney was having trouble, though, and finally, she figured out why.
"Now I've learned why I keep dumping on the river and he doesn't," she said of her husband, Bob. "I see the water coming and I lean into it, like a dummy."
We pulled out at Langlade, then took the van back to Gilmore's Mistake, whose jutting rocks no longer seemed all that menacing.
"It really has some teeth in it when the water is high," Berry said. "Sometimes, we call the hole Big Daddy, but right now, it's more like Little Daddy."
By now, Peter was a full-blown cowboy-high-level whitewater competitions are called rodeos-so he went over the hole backward, then tipped when he got to flatwater. He'd figured that whitewater-kayaking is a lot like snowboarding, complete with face plants.
"It's like catching air, except you don't get any air," he said. "I'm just grinding and trying stuff out. It's fun."
Over the years, Bear Paw guides have learned that kids pick up the skills fastest, mainly because they don't think as much as adults. After our last lunch, I asked Peter what he'd learned in the class.
"Well, I wasn't really paying attention to the technical strokes," he said. "I just did what seemed natural and what worked."
Getting there : The resort is east of White Lake, about an hour northeast of Wausau.
Classes : The resort rents gear, and guests arrange their own lessons with local teachers.
In addition, the Peshtigo River Outdoor Learning Center offers lessons in the area.
Accommodations : Bear Paw includes rustic cabins, modern cabin-style rooms and chalet units with bedroom and loft plus kitchen, living room and porch. There's a two-night minimum on weekends.
Students also can camp on-site.
Dining : In summer, the Bear Paw Pub is open for dinner Wednesday through Sunday (full-day courses include lunches).
Rafting and tubing : Nearby outfitters include Herb's Wolf River Rafts and Shotgun Eddy.
Hiking : A long developed section of the Ice Age National Scenic Trail starts in Polar, 15 miles west of Langlade off Wisconsin 64. Cathedral of the Pines, a grove preserved at the turn of the century by the wife of a lumber baron, is three miles west of Lakewood.
Shopping : Lakewood, a resort community, is 30 miles northeast from Bear Paw.
Last updated on June 24, 2020