Crazy about kayaks
A big paddle-sports expo in Madison is the place to look for a boat of your own.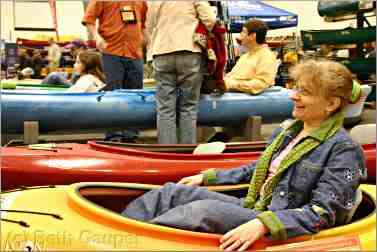 When some men reach a certain age, they get the urge to buy a zippy little sports car. But when women reach a certain age, they covet a sporty little kayak.
I must be at that age, because nearly every woman I know either has bought a kayak or decided she wants one.
And buying one kayak usually just makes you want another one-call it kayak envy.
One March, I went to Madison for Canoecopia, the world's largest paddle-sports exposition. Over breakfast at my inn, I listened to Barbara Shuman of Chicago describe her boats, including her 17-foot Valley Pintail, the "original ocean play boat."
"I call it my baby," Shuman said. "I love that boat. I love it; it's so playful. I just let it do its thing. It's got a little pump that pumps the water right out like a little whale spout. It's great."
Why do women love kayaks? Because they're fun, and because women are good at paddling them.
"Women are physically more suited to this sport," says Jamee Peters, co-owner of Bear Paw Outdoor Adventure Resort in northeast Wisconsin. "It's not a muscle sport; it's a finesse sport."
Women are able to load and launch a kayak by themselves. And once in the water, they can paddle at their own pace, which is a lot more fun than being the drone in the bow of a canoe piloted by a husband or boyfriend.
"The idea is for me to be as independent as possible," said Terri Lupone of Greenfield, Wis., a novice who was looking at an Old Town Dirigo with her fiance. "I want something I can do just by myself sometimes, that I can manage all by myself."
It's not that we're trying to ditch men-although sometimes we do.
Shuman's husband, Guy, paddles with her but often finds himself left behind.
"She gets in her zone, and she's gone, she's flying," he says ruefully.
"A lot of the time, I don't mean to," Barbara Shuman says. "But we rock, being smaller. We move. That's my freedom time."
The Pintail is her second kayak; her first was 3 feet shorter but 11 pounds heavier, and one day she injured her shoulder catching it when it began to slide off her car. That's when she began to think about a new kayak.
"I tell you, after six months of physical therapy, I was ready to lay out the money," she said. "I think it's worth spending a little extra on a lightweight boat."
The Shumans now lift their boats into the bed of their pickup, then slide them onto the roof.
"We met this older guy who had this line: 'For every 10 years older you get, your boat needs to be 10 pounds lighter and your car 2 feet lower,' " Guy Shuman said.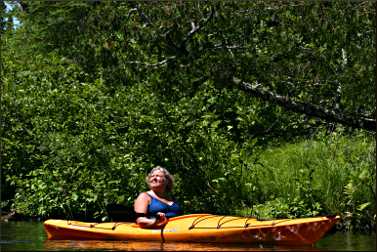 Deciding on a kayak
"There are so many brands of kayak out there, it's mind-boggling," said Cory Routh, a Virginia angler.
At Canoecopia, Routh's pool session on Kayak Fishing 101 was packed, and his boat, a 12-foot Native Ultimate with a wide-open cockpit, looked pretty darn handy.
Carol Bell of La Crosse, Wis., was thinking of getting one to share with her women's outdoors group, Set Free. She figured it would be perfect for Mississippi River backwaters.
"I have a 9-footer I can fit in my Ford Focus wagon, but now I want something longer with more storage," she said. "I'm looking for something to go to the next level."
On the vast Canoecopia exhibit hall, crowds were milling between vendors and outfitters.
"This is canoe and kayak heaven right now," said Steve Nelson of Spirit of the Wilderness in Ely, Minn. "Everyone here is a paddlehead or a wannabe."
At the Valley exhibit, Lorie Zwonitzer of rural La Crosse was buying a 16-foot Avocet with a retractable skeg. The smaller skeg helps the craft stay on course, whereas a rudder helps steer it; their relative virtues are debated, and it's one more thing a buyer must ponder.
"On the Mississippi River, a skeg is good; if you're on Lake Superior, on big water, you want a rudder," Zwonitzer said.
Over at the Old Town corner, Alan "Quigley" Johnson of Waldoboro, Maine, was helping Terri Lupone select a kayak.
"A lot of older people are buying kayaks, and people not in particularly good shape, either," he said. "We've made them so user-friendly. It's a whole new thing; people find out they don't need to take a course to use a kayak."
Lupone had fallen for the sturdy Dirigo Angler, a 10½-foot, 46-pound kayak that won't win any beauty contests but is very popular. She liked the adjustable seat with two knobs to adjust lumbar support, the roomy cockpit, the cup holder and the dashboard with a hatch for wallet or cell phone.
"It's comfortable, and I like all the little places to put things," she said. "I feel like it's manageable for me."
She might have met her match.
"You'll know the feeling," says Barbara Shuman. "A little light bulb will go on, that yeah, this is the one."
Trip Tips: Shopping for a kayak
Canoecopia : It's the second weekend of March in the Alliant Energy Center in Madison. It's sponsored by Rutabaga Paddlesports in the Madison suburb of Monona, which also sponsors many events, classes and tours throughout the year.
Trying and buying a kayak : For more about getting into the sport, see Trying kayaking.
Last updated on May 16, 2021