Summer's last resort
On Minnesota's Lutsen Mountains, we find a sweet deal in late August.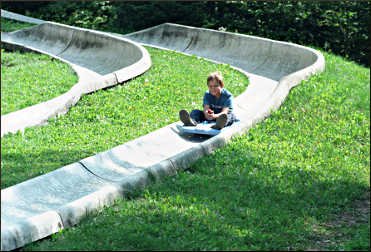 If you're a bargain-hunter — and most Midwesterners are — the best weeks of summer are in August.
By the second week, football and band practice has started at schools, and back-to-school sales are in progress. In Minnesota, everyone wants to go to the State Fair.
Not many people are thinking about vacation — which is precisely why it's a great time to take one. The weather is still warm and sunny, the crowds are gone and, best of all, prices drop, usually on the second or third Sunday.
I first discovered this phenomenon in Door County, which I'd always heard was hopelessly congested in summer.
But when I went midweek in late August, it was placid as a millpond, with hoteliers and shopkeepers relishing the brief respite before Labor Day and the fall-color rush.
And the weather was superb — in fact, late August is the best time to visit resort areas on Lake Michigan and especially Lake Superior, which actually is warm enough to swim in around Bayfield and the Apostle Islands.
Even Minnesota's North Shore is quiet midweek. One August, I took my kids to Caribou Highlands Lodge at Lutsen Mountains, which must deal not only with the late-season lull, but with the perception that it's primarily a ski resort.
The offer was half off a second night or three nights for the price of two — a bargain, considering what the resort had to offer.
There wasn't a lake, but from our balcony we had a view of the heated outdoor pool, on beautifully manicured grounds lined with dahlias and potentilla, and Moose Mountain, the tallest of the Lutsen ski hills.
There were tennis courts, tetherball and a playground and sandbox; inside, there was another pool, whirlpools, sauna and a ping-pong table, adjoining a gift shop with a little counter that sold cappuccinos and baked goods.
A kids' camp, for children 4-10, was included in the rate, as were the resort activities: crafts, bonfires with s'mores, bingo and ice-cream socials. The resort also provides shuttles to hiking trails.
"We're thinking there's so much to do we can't ever do it all," said Michelle Schutta of Lino Lakes, Minn., whom we met at the pool.
She and her husband, Ross, had gone mountain biking one day while their two children were in the kids camp, and golfing the next day at next-door Superior National.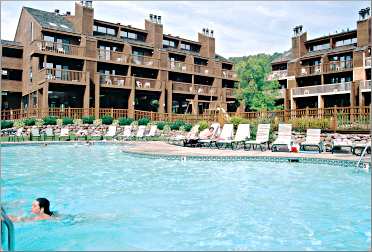 "This resort, for the kids, you just can't beat it," she said.
The resort also sells discounted daily passes to the Alpine Slide and Mountain Tram. This is a deal if you've ever ridden the Alpine Slide, because a single ride down its half-mile concrete chutes is not enough.
In fact, in 20 years of visits to the North Shore, I'd never gotten enough of that slide, which is expensive when you buy it by the ride.
So the kids and I bought all-day passes, and while we waited for the slide to open, we got into one of the little red gondola cars of the Mountain Tram.
Dangling in space, we rode toward Moose Mountain, jerking up steeply at the summit.
From there, we hiked a mile along the Cliff Trail, picking our way among rocks and cedar roots in a shady passageway along a sheer cliff.
We came back through a sunny meadow and stopped at the Mountaintop Deli, whose deck has a sweeping view of Lake Superior, before taking the gondola back down.
Then we spent two hours making like cannonballs down the Alpine Slide, flooring our little plastic sleds as we dropped into bone-pounding dips and throwing our weight as we rounded curves, to maintain maximum speed while still avoiding the "Lutsen rash" that results when skin meets concrete.
Riding on the chairlift back up Eagle Mountain, we clucked about the cautious types we observed below.
"I don't think it would be much fun if you weren't going at breakneck speed," said my teen daughter.
Nine rides turned out to be enough. Then we headed for the pool, where we played until the sun began to sink behind Moose Mountain, and then it was time to fix dinner and watch the movie we'd borrowed from the resort's large video library.
In three days, we never did make it off the mountain, which surprised us — we love Lake Superior, just a mile down the road. Not every resort needs a lake; certainly not Caribou Highlands.
Typically, the resort offers three nights for the price of two from late August through October, except for the third weekend of October, the Minnesota school break.
With deals like that, a resort makes it easy to wring out the last rays of summer.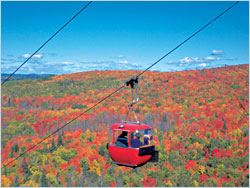 Trip Tips: Late summer on Lutsen Mountains
Caribou Highlands Lodge: The resort has a restaurant and attractive lodge rooms, condos and townhomes.
It also caters to hikers on the Superior Hiking Trail in summer and fall and offers shuttles. Children's activities are not offered at all times; check if you're interested.
Eagle Ridge Resort, next door, also is attractive and offers deals.
If you do want to be on the lake, try two historic lodges that offer a variety of accommodations.
Cascade Lodge, between Lutsen and Grand Marais, has lodge rooms and offers deals in late summer.
And right on Lake Superior, overlooking a cobblestone beach, the classic lodge of Lutsen Resort offers lakeview rooms as well as cabins.
Last updated on September 1, 2015