Dog days of winter
Deep in Superior National Forest, novice mushers tag along with some huskies.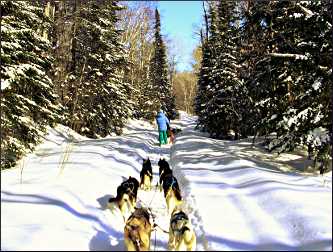 In the north woods, it's easy to fall in love with sled dogs.
They're exuberant and adorable but also focused, intense and explosive — sort of like kindergartners crossed with Olympic athletes.
For huskies, life is simple: They live to run. Anyone who has watched the start of the John Beargrease Sled Dog Marathon has witnessed the drive of a husky, a four-legged Ferrari that snaps into warp speed at the rustle of a harness.
And anyone who has seen the dogs along the trail will be struck by their apparent deep satisfaction at spending hour after hour running and pulling.
"It's as if a light goes on," says Arleigh Jorgenson, dean of Minnesota mushers. "Their bodies are made for pulling. It feels good to them."
Not only are they magnificent athletes, but their joy is infectious. Who wouldn't want to spend a day in their world?
One March, my husband Torsten and I drove up to Jorgenson's cabin and kennel near Grand Marais, where he keeps 100 dogs. In 1971, he inherited 13 sled dogs and had a choice: use his new master's of divinity degree and enter the Lutheran clergy or become a perpetually cash-strapped musher?
He's been tethered to a pack of huskies ever since.
"My father was a dairy farmer, and I never wanted to have a bunch of cows," he said. "And look at me, I'm just like him."
On that day in late winter, however, southern Wisconsin had nothing on northern Minnesota. The sun was sparkling on a forest draped with so much snow it nearly blinded our snow-starved city eyes.
"It's crazy," said Kelly Thayer, one of Jorgenson's guides. "We have so much snow we don't know what to do with it all."
Finding a leader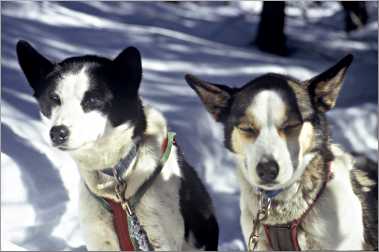 As she and guide John Brown walked toward the dogs, the animals sensed a game was afoot and began to dance and howl. Once Brown had decided which ones to take, he and Thayer worked fast, harnessing them and getting us ready to go.
As he worked, Brown reminded us that mushing is an ancient form of transportation, and dogs are the experts.
"These are not house dogs. These are not your friends. These are work dogs," he said. "Some people say, 'Oh, he's so pretty, come on, little dog,' and others say, "Come on, let's go fast.' But they'll find a rhythm on their own, so just let them be."
Yet as we trundled into the forest, my lead dogs, Nitro and Isabella, showed an unusual interest in stopping to pee. In the back, Umbo was hacking like a pack-a-day smoker, and Garnet was stopping to eat snow and climbing over the ganglines, squeezing Umbo.
Ahead of me, Brown stopped, set his snow hook and walked back to survey my team of goof-offs.
"It's just a game for them," he said. "Basically, they're like 5-year-olds."
That team wouldn't work that day, he said, for reasons no one could know.
"These dogs are working together, and suddenly they're not," he said. "It's like people who work together in any office — after a while, you see all their flaws, and you get sick of them."
After a moment's thought, he moved Yale into the lead and paired him with Ubangi, a former race dog from his own team.
"She's like a tightly coiled spring," he said. "She's all business. She'll help you out."
Ubangi turned out to be a canine torpedo. As my sled shot forward, I admired the way she threw her shoulders into the harness and pressed her haunches into the snow for extra traction.
"The neck and front shoulders of a husky are the strongest parts," Jorgenson had said. "They're like little tractors."
After that, my only problem was trying to stop my team from overtaking Brown's. Behind me, Torsten's team picked up the pace to try to keep up with mine. We flew through Superior National Forest, careering around bends, scraping by trees and leaping up and over snowbanks to cross a road.
Often, we got off the sleds and ran alongside them to help the dogs up hills, though we never let go.
It was amazing how one highly focused lead dog could make a whole team fall in line: "The gangline is like an electrical conduit," Brown said.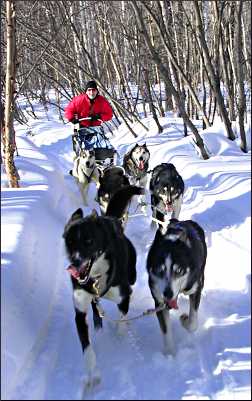 We never used the commands "gee" and "haw," because the dogs simply followed Brown's team, which was fine with us because we were basking in the beauty of our surroundings.
We repeatedly called "whoa" and "hold on," but the dogs ignored us, slowing only when we stomped on our snow brakes.
It reminded me of a story musher Ted Young had told us the evening before, when we stopped by his Poplar Creek Guesthouse off the Gunflint Trail. Years before, he said, he was out on a run with his young son in the sled, and he was thrown off.
As his team disappeared down the trail with his son, he desperately shouted, "Whoa!" in the faint hope his lead dog, Penny, would pay attention.
"It must have been the terror in my voice, but she just stopped," Young said. "The other dogs wanted to go, and she just held them. But she never stopped again when I said, 'Whoa.' "
Psyche of a sled dog
To mushers, the psyche of a husky is endlessly fascinating.
"I'm very aware that I anthropomorphize a little, but I think I make fewer mistakes doing that than underestimating what these dogs are all about," Jorgenson says.
As we sped along, I noticed that Brown often chastised his young lead dog, Explorer, and at the lunch break he confessed even he was not exactly in control at all times.
"He's precocious," Brown said, looking ruefully at Explorer. "He doesn't have a neck line and he can pee whenever he wants, so he thinks he's the cat's pajamas. I love him, though, and he knows it."
The relationship a musher has with a dog, he added, is more like that of a lover than a boss: "Sometimes, what comes out is a world of frustration, but sometimes, it's more like elation," he said.
We had lunch on the trail, drinking hot cocoa and eating sandwiches and brownies. Then we petted and praised our hard-working dogs and pressed farther into Superior National Forest.
After a while, Brown pulled out of sight, allowing us the illusion it was just the dogs, the endless trail and us.
From a ridge, we descended into deep forest, where columns of newly fallen snow sat like marble busts atop stumps. Since deep snow made the going slower, we didn't reach the Brule River, but by the time we got back to the kennel, we'd covered a 25-mile loop.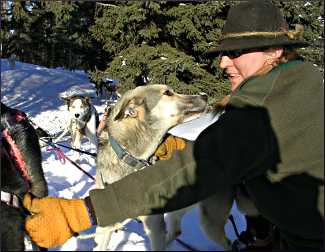 After we'd given the dogs water laced with protein and electrolytes, we sat on hay bales in a heated tent, drinking hot cider. We felt nearly drunk on the massive quantities of sun, scenery and exhilaration we had ingested.
"I'm going to be so dead tomorrow, but it was worth every second," Torsten said.
We were exhausted and grateful to the dogs for taking us on such a breathtaking excursion. But that's what they like best, Jorgenson said.
"With dogs, it's very important we respect their instinct, intelligence and expertise and don't ask them to do simple things," he says. "If you make them go in little circles, their spirits just sag, and they think, 'What's the point of this?'
"These dogs have more in 'em than that. We want to show people some part of what an authentic sled dog is all about."
Trip Tips: Sled-dog mushing
When to go: In the north woods of Minnesota, Wisconsin and the Upper Peninsula of Michigan, the season lasts from November through March and even April, if there's enough snow.
What to wear: If you're in good shape, you'll want to run alongside the sled and jump up and down snowbanks to make it easier on the dogs, so dress to sweat, in wool or polypropylene. If you're just going to ride, you'll need to pile on the warmth.
Choosing a trip: It's most fun to mush your own team, though that's also most expensive. An experienced outfitter will assess the fitness and confidence of a client, giving a timid musher fewer dogs for less power.
Some outfitters offer trips with two people per sled. Some cater to families, and some offer women-only trips. People who want to go on a multi-day trip can stay at a lodge, a yurt or in a tent.
Most outfitters offer shorter rides as well as day trips and vacations.
Where to look: There are sled-dog outfitters wherever there's snow — Ely, the Gunflint Trail and the North Shore in Minnesota; the Bayfield Peninsula and north woods of Wisconsin; and the Upper Peninsula in Michigan.
Call local tourist offices or check the list at Sled Dog Central. Many outfitters also supply the dogs and guides for trips offered by resorts and such organizations as Wilderness Inquiry, Outward Bound, Elderhostel and the International Wolf Center in Ely.
The non-profit Wilderness Inquiry, based in Minneapolis, runs dog-sled/ski trips into the Boundary Waters Canoe Area Wilderness, some just for women and all open to people with disabilities.
Reserve a trip as early as possible for the best choice of dates. Here are a few of the many local outfitters: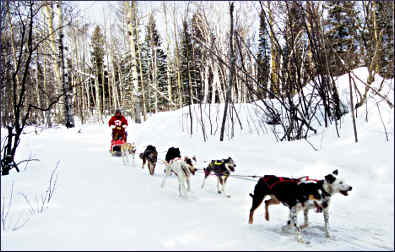 Near Ely, White Wilderness Sled Dog Adventures offers multi-day excursions as well as the six-hour Premier Day Trip, during which clients drive their own sleds. Cost includes a hot lunch. 800-701-6238.
Among the many other Ely outfitters is polar explorer Paul Schurke's Wintergreen Lodge, which offers multi-night sled-dog trips that are very popular, 218-365-6022.
Near Bayfield, Wolfsong Adventures offers four-hour morning adventures, in which guests handle and harness Siberian huskies and drive the sled, and 2½-hour afternoon adventures. 800-262-4176.
Two Minnesota outfitters cater to women: Wintermoon Summersun Adventures, in Superior National Forest north of Two Harbors, Minn., and Points Unknown, which offers adventures north of Grand Marais and also in Minneapolis suburbs.
Half an hour north of Duluth and west of Two Harbors, Endurance Kennels offers sled-dog rides and tours.
Arleigh Jorgenson no longer runs mushing trips.
Last updated on November 23, 2020