Staying warm in winter
If you know what to wear, dealing with cold weather is a breeze.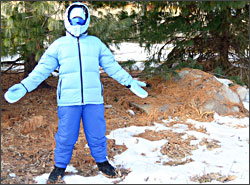 In this chilly region, smart men are on to Victoria's Secret.
Shopping at the mall, they breeze right by the silk nighties, the gold bracelets, the dainty perfumes. Because what Victoria secretly wants for Christmas are merino-wool undies, a goose-down parka and moosehide mukluks.
When I was a newcomer to Minnesota, my boyfriend was a smart man. Our first Christmas, he gave me a bulky down parka that made me look like the Michelin man.
The second Christmas, he gave me a big sheepskin hat that made me look like a Cossack. The third Christmas, he gave me chunky mukluks that made me look like an Inuit.
Forget dainty. I was warm. The dorkier it was, the better I liked it — think Marge in "Fargo."
There were more gifts — a long cashmere scarf, down booties, battery-heated socks, wool legwarmers and a pre-PC pair of elephant-skin gloves lined with rabbit fur. Apparently, he thought the way to a woman's heart was through her skin. It worked on me.
In the early 1980s, a winter in the Upper Midwest was a real blast — and not in a good way. Winters today are far milder, but they have their moments. So over the years, I have assembled an impressive arsenal of warm clothes.
On my way to the International Continental Cup ski-jumping tournament in Westby, Wis., one February, I stopped by the Company Store outlet in La Crosse, Wis., and bought a pair of down-filled ski pants.
In southeast Minnesota, I bought a pair of fuzzy mohair socks from a woman who runs a goat farm.
I bought a pair of fleece-lined mittens one August in Baudette, Minn., on the Canadian border, figuring that anything that came from there had to be warm.
And whenever I visit the Bargain Nooks of southwest Wisconsin, which carry cut-rate Lands' End catalog returns, I stock up on long underwear, felt slippers, down coats and insulated boots.
If it looked warm and it fit, I bought it, regardless of season. I was always glad later, when I was climbing up to the North Shore's Carlton Peak in a 70-below wind chill or waiting into the subzero wee hours for Beargrease mushers to arrive on the Gunflint Trail.
My most prized item is my pair of Steger mukluks; cold feet are the Achilles' heel of anyone who spends time outdoors. Underneath, I wear merino wool socks or my mohair socks from Austin's near Harmony, Minn.
My down ski bibs are too warm for anything but Siberian temperatures, so instead I wear fleece-lined, windproof L.L. Bean pants with my Lands' End down parka or my beloved Thinsulate snowsuit, which I bought from Eddie Bauer in the '80s but haven't seen for sale since.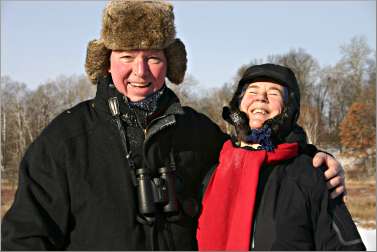 Under that, I wear a silk or poly turtleneck under merino wool long underwear and, if needed, fleece or a densely woven wool sweater.
I wear fleece on my head and neck, supplemented by a balaclava or the hood of my parka, though I'm thinking of buying a fur-lined Columbia Siwwy rabbit bomber cap that would make my Marge-morphosis complete.
And on my hands, I wear thick men's Kombi gloves, big enough so I can ball my fingers into fists if they get cold.
I've finally learned how to be warm. Now, I can laugh at winter. Well, not really. But occasionally, I manage a few weak smiles.
Trip (and gift) tips: Staying warm in winter
Warm clothing may not be the most glamorous gift in the world, but it could be the most appreciated.
Good outdoors attire gives its wearer the freedom to enjoy winter without worrying about the cold — to explore ice caves, walk up frozen rivers, watch sled-dog races or follow animal tracks into the forest.
Considering that it's winter for four or five months out of every year, that's quite a gift.
Over the years, space-age technology has made warm clothes even warmer — and more expensive. That's another reason why it's a good gift — most people can't afford to buy everything they want for themselves.
"But it all lasts a long time, so it's an investment," says Lin Meyers, longtime clothing buyer for Midwest Mountaineering in Minneapolis.
Here are the basics on winter warmth:
Dress in layers
Next to the skin, put something that wicks away sweat. On top of that, put something warm and insulating. On the outside, wear something that repels wind. The aim is to trap the body's heat and get rid of its moisture.
For the wicking and wind-repelling layers, the many new designer polyesters do a good job, and goose down is the best insulator. But there's still a lot to consider beyond that when buying warm clothes.
Here's a guide, with help from Meyers, a winter camper.
Long underwear/first layer
"What's gone back into vogue is wool," Meyers says. "If I'm out in 30 below, I want wool next to my skin. Merino wool is soft, not itchy, and you can throw it into the wash."
Merino wool is warm, wicks well and doesn't get stinky, but it's expensive, and some people do find it a little itchy. In that case, buy a set in a cushy synthetic material, and if it's for a man who sweats a lot, buy one with a compound that retards bacterial growth.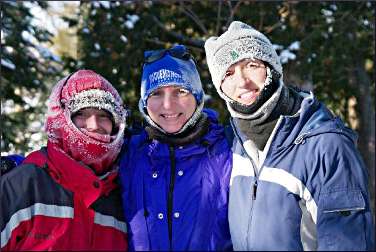 Silk sets feel nice but aren't very warm and don't wick as well or dry as fast as wool or poly. However, they double as pajamas on summer camping trips.
Never wear cotton, which absorbs moisture and keeps it next to the skin.
Down coats
The best coats have a breathable and wind-resistant shell, baffled construction to prevent cold from seeping through seams and high-quality loft, often described as "fill power."
A lot of down is good, but if a coat is good at maintaining loft — insulating by trapping air — it doesn't need as much down and can be lighter.
Make sure the fill is all or almost all goose down, not feathers. Meyers recommends giving a coat a good pinch: "If it's quality, you can tell there aren't quills in it," she says.
Vests
When the torso is toasty, it can send heat down to the hands and feet. Athletes don't need one, but they're handy for people who want to watch races and parades.
For stand-alone wear, down is best; if it will be worn under a jacket, try Primaloft or another synthetic fill that compresses well.
Mittens and gloves
If you can only buy one thing, and you can't afford mukluks, make it something great for the hands. Mittens are warmest, but gloves allow their wearer to grasp a ski pole or walking stick.
Look for a waterproof and windproof shell, a leather palm, down or Primaloft fill, a synthetic liner that can be removed for drying and a long sleeve or cuff: "You lose a lot of heat from the wrist," Meyers says.
Hats
It's good to own a variety of layers. For someone who will be exerting himself, buy an inexpensive, stretchy polyester headband (makes a good stocking stuffer) to wear under a plain fleece hat that can come off when the body starts to sweat and needs to dissipate heat.
For someone more likely to be standing around, get a wind-resistant fleece hat and a thin balaclava (also a good stocking stuffer) or a wind-proof bomber hat that has pile-lined flaps to pull over the ears.
"You can go a little more toward the dork factor here because people want to stay warm," Meyers says.
Socks
Once you try merino-wool socks, which have longer fibers that have been treated to reduce itchiness, you'll never go back to cotton. Make sure they have reinforced heels and toes so they'll last longer.
SmartWool socks are warm and even stylish, but they don't last very long and are expensive, so if you want them, stock up at sales. Costco's merino-wool socks aren't stylish but cost less than a third as much.
Keen socks are similarly expensive but sturdier; Woolrich socks are much cheaper and also good.
Costco has by far the best deal for women: 82 percent merino-wool socks, four for $12.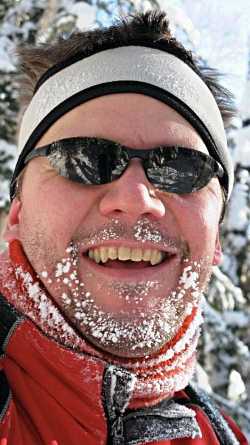 Nearly everyone can wear merino-wool socks, but people with extra-sensitive skin can wear inexpensive silk or poly sock liners under wool or mohair socks.
Fleece socks aren't as warm as wool and don't conform to the foot as well, but they dry faster and aren't itchy.
And if you'll be outside for a long time, slip a toe warmer into your boot. You can get them for about $1 apiece at big-box stores.
Boots
Moosehide mukluks are the gold standard. They're half as heavy as pac-style boots but also twice as expensive.
Pac boots, however, are much better to wear around water or in slush, since the foot generally is waterproof.
Both styles should have felted wool liners for warmth, and both must be roomy enough for the foot to move around inside a warm sock.
"If it's too tight, it restricts blood flow and the foot will be cold," Meyers said.
No northerner ever can have enough cold-weather gear. But even a few key pieces will let people stop worrying and love the cold.
"You can have so much more fun if you're warm and comfortable," Meyers said. "Then, winter's actually fun."
Where to look
Outdoors stores and ski shops sell warm outerwear, including Midwest Mountaineering in Minneapolis, REI, EMS, Dick's, Gander Mountain, Sportmart and Cabela's. Watch for sales.
Many online companies sell a good selection of clothes and often put items on sale. Many offer free shipping, too.
Campmor offers discount prices on its own brand of cold-weather clothing as well as such brands as Columbia, North Face, Gordini, Seirus, Sorel, Marmot, Duofold and SmartWool, and it has a large children's selection. 800-230-2153.
Sierra has a large selection of men's, women's and children's apparel and excellent prices. 800-713-4534.
Land's End is a Wisconsin-based company that offers high-quality clothes, petite and tall sizes for women and a children's selection, 800-356-4444.
L.L. Bean also has high-quality clothes, petite and tall sizes for women, and a children's selection, 800-221-4221.
REI has a wide selection of outdoors clothing made with the latest technologies, 800-426-4840.
Two Minnesota companies take good care of the feet:
Steger Mukluks sells its boots at its store in Ely, online and at a few stores.
Austin's Mohair sells very warm socks made from the wool of angora goats.
Last updated on November 15, 2021