Oronoco's Gold Rush
Every August, treasure hunters converge on a southern Minnesota village.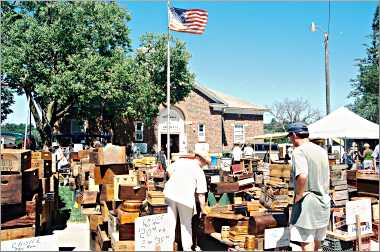 Every August, the tiny southeast Minnesota town of Oronoco becomes the mother lode.
Tents full of carved armoires and sideboards pop up along the town's narrow streets. Yards sprout crates of antique lunch boxes and duck decoys.
The church ladies bake pies, the VFW folks flip pancakes and firefighters put hot dogs on the grill. Then the people come, stampeding through the streets like sheep to salt.
This is the Oronoco Gold Rush, when 50,000 to 100,000 visitors hit the town of 800 in search of pay dirt. Bits of gold actually were discovered here in 1857, sparking a rush, but the miners dispersed when no more was found.
The antiques show and flea market has lasted much longer. Started in 1972 as a swap meet by local dealers, it grew to 1,200 booths and now is a summer tradition for antiques buffs.
When I arrived the morning of the first day, yellow Post-It notes marked "Sold" already were on some of the furniture in the first booth I visited.
I looked at a walnut cylinder secretary desk, $3,195, and a group of three carved oak dressers from the early 1890s, $2,200, and asked proprietor Helen Peterson of Kenyon if people should bargain for discounts.
"It's just in their blood, so yes," she said. "There probably are only one or two customers in the show who don't."
I walked on, pausing to look at WWI die-cast doughboy action figures, $10-$30, and a WWII German steel helmet, $195, on which an address in Ohio was painted right next to a swastika and Iron Eagle.
I pondered antiques I thought ugly-a gold Pickard bowl for $55, an amberina footed bowl for $38-but obviously were valuable to someone.
Then I found antiques I could understand. John McMurray of Shipshewana, Ind., had brought wooden troughs full of marbles, 40 for $1, and he was happy to see me filling a box for my children.
"Kids today, you have to show them how to get down and play in the dirt," he said, warming to the subject. "They know how to surf the Net, but not how to talk to their neighbors. It all started with television . . ."
A block later, I saw another display of marbles, three for $1. I'd gotten my first great deal-but not my last. Walking along, I saw an unusual chair with high arms, a flat black-leather seat and vaguely Norwegian carving.
It was marked "unusual oak chair." Even without a pedigree, I loved it.
Then I saw six matching oak Mission-style dining-room chairs, just reglued; Loren and Julie Blosmore, who run a folk-art shop in Milwaukee, gave me all seven chairs for $865.
And I hadn't meant to buy anything.
"The selection here is so much bigger and better than other shows; there are more interesting things," said Richard Sonnek of Mapleton, Minn., whose collection of die-cast fire engines I had stopped to admire. "You'll find literally everything from soup to nuts."
Trip Tips: Oronoco Gold Rush in southern Minnesota
Getting there : Oronoco is off U.S. 52, just north of Rochester. Shuttles are provided from outlying parking areas.
When to go : It's Aug. 19-21 in 2022. It goes from sunrise to sunset, with many dealers packing up around 4 p.m. Sunday.
The early bird gets the worm (in other words, go Friday for the best selection). Discounts of 10 percent are common. All proceeds go toward city projects.
Accommodations : Rooms in the area sell out. For help, call the Rochester Convention and Visitors Bureau, 800-634-8277 or 507-288-0320.
Information : Oronoco Gold Rush, 507-367-2111; Oronoco, 507-367-4405.
Last updated on January 13, 2022