Sweden in Minnesota
Prowling antiques shops around Lindstrom, visitors find a beloved heritage.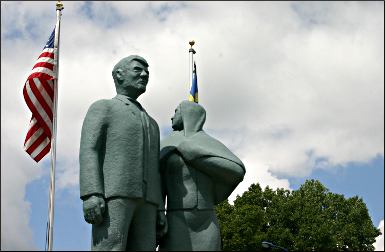 Walking around Lindström, it's not hard to guess where the area's first settlers came from.
If the multitude of umlauts don't give it away, the herds of Dala horses and straw goats will. Factor in the giant white coffee pot in the sky, and you can be pretty sure this is Swedish country.
In the 1850s, poor Swedes came pouring into the lakes country west of Taylors Falls. It wasn't the best farmland, but it was cheap, and it looked like Sweden-lots of water, lots of trees and, unfortunately, lots of rocks.
Still, it seemed like heaven to the peasants, and the letters they sent home brought more Swedes.
Before long, Chisago County had the highest concentration of rural Swedes outside Sweden.
They became American, but after a century they retained so much of the old language and customs that Swedish author Vilhelm Moberg came there in 1948 to research his wildly popular "Emigrants" novels.
His 19th-century characters, Karl Oskar and Kristina, seemed so real to modern Swedes that they're still traveling to Minnesota to see where the fictional couple lived and died.
Until the '60s, Swedish still could be heard on the streets. Today, the Twin Cities is lapping at the edges of the old communities, and hundreds of houses are being built for exurbanites who don't know lefse from a lima bean.
But the towns haven't forgotten their heritage, and they're making sure no one else does, either.
On the U.S. 8 corridor, or Vilhelm Moberg Commemorative Trail, the signs help. In Chisago City, they announce that the town is the sister city to Algutsboda, Sweden, Moberg's hometown.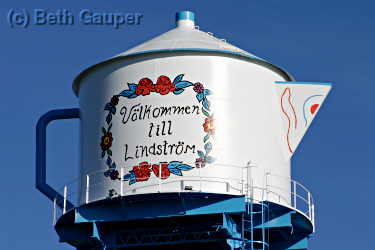 Next comes a sign bidding welcome, or Välkommen, to Lindström, sister city of Tingsryd.
There's another Välkommen painted onto the old water tower, converted in 1992 to a coffeepot that steams for special occasions, and Swedish translations of businesses hang over sidewalks.
Obviously, these are not just any old towns on the prairie. Still, most people hurry through on their way to Taylors Falls and better-known points beyond.
Each town is spiked with interesting shops, and one November, I went antiques-hunting there with some friends.
Of the four Swedish communities along U.S. 8, Chisago City was our first stop.
Walking into Chisago Antiques, the first thing we saw was a turn-of-the century portrait of the Swedish royal family that included three present and future kings, from Oscar II to Gustaf Adolf, grandfather of the current king.
It was propped next to a rustic table and chairs, sponged and stenciled with a prayer and names from a smörgåsbord: fisk, fågel, vilt, sallader, bröd.
Down the street, we browsed in the Glyer Block Building and bought some sticky rolls from a bakery before going on to Lindström .
It's the largest town and the heart of the Swedish community. Walking down the street, we got a Swedish lesson from the oval signs hanging over businesses: Antikviteter; antiques; Böcker, books; Kaffee Hus, coffeehouse.
At the bakery, we bought bags of pepparkakor, the addictive ginger cookies for which Swedes are known.
Nearby, a group of local antiques dealers who call themselves the Picket Fence Gals was holding its monthly sale next to the historic Gustaf Anderson House, built in 1879 by a Swedish immigrant who struck it rich on the Montana gold fields.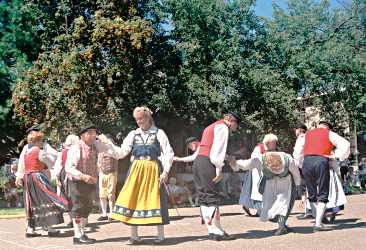 Crowds of shoppers had come to examine the wares, indoors and artfully strewn around the porch and yard. In the collection, we found a Swedish winnowing basket, wood skis and hand-painted red-leather clogs.
On the other end of town, we made a circuit through another antique shop and found a 1937 illustrated map of Scandinavia and a rack of lovely, turn-of-the-century baptismal gowns.
Then we headed for the area's largest antiques shop, past storefronts adorned with Dala-horse cutouts and stenciled "Välkommens" encircled with hearts and vines.
At Lindström Antique Mall, there was a whole shelf of white-enamel Swedish coffeepots over the front desk, alongside little blue Dala pigs and a straw goat bound with red ribbons.
In one booth, we found lovely Norwegian pewter and enamelware; in another, wood pieces immigrants had brought over from Sweden.
We had lunch overlooking South Lindström Lake, on the spot where Daniel Lindström built his cabin in 1854.
Then we pressed on to Center City , where the Swedes squeezed their houses, shops and church between North Center and Pioneer lakes. They may not have gotten rich, but they certainly lived with nice views.
The best view of all is from the cream-brick Chisago Lake Lutheran Church, rebuilt on a hillside in 1882 but founded in 1854.
Locally, it's known as the historic Swedish church that hosts the Sankta Lucia Festival of Lights in December, which honors a legendary saint and kicks off the Christmas season.
Tourists know it as the church shown in the movie "Grumpy Old Men."
From there, it's fun to climb the sidewalk that goes up the Summit Avenue hill, a National Historic District of houses built between 1882 and 1910.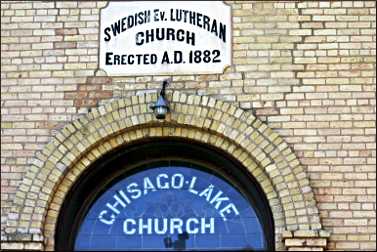 In the end, I left with nothing more than a bag of ginger cookies. I could have gotten that at IKEA, but why would I want to? In Chisago County, shopping is more than acquisition; it's a way to look into an era that's not quite over.
"There are so many new people in this community, and even with all the Scandinavians here, it's hard to preserve the tradition we had in the '50s and '60s, when people didn't move around so much," says Sherry Stirling of the Chisago County Historical Society. "But I think it's still here, and people enjoy it."
Trip Tips: Swedish towns of Chisago County, Minnesota
Getting there : It's about 45 minutes north of the Twin Cities, barring rush-hour and road-construction slowdowns on U.S. 8.
For more about Taylors Falls, see Sightseeing on the St. Croix.
Shopping : In Lindström, Lindström Antique Mall is open daily. Glädje/Gustaf's Up North Gallery sells Scandinavian imports, fine art and gifts.
The Picket Fence Gals hold a sale every month in Lindström.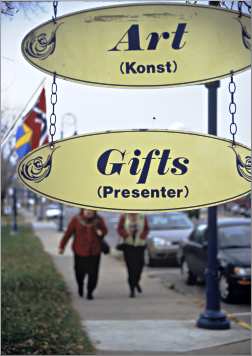 At Lindstrom Bakery, pick up Swedish rye, orange limpa bread, rusk and rosettes as well as pies, doughnuts and cakes.
Lindström also has an old-fashioned meat market and other gift shops that are worth a stop.
In Chisago City, WineHaven Winery has a gift shop and offers wine tastings.
Just south of Shafer, Pleasant Valley Orchard offers strawberry-picking from mid-June to mid-July and apple-picking after Labor Day, with hay rides and farm animals.
Craft beer : In Chisago City, Uncommon Loon Brewing has a dog- and child-friendly taproom and patio and hosts live music and events.
Events : In early December , the Sankta Lucia Festival of Lights is held at Chisago Lakes Lutheran Church in Center City, with a procession led by a girl wearing a crown of candles, singing, dancing, goodies and a character dressed as a tomte, a Swedish elf.
According to legend, Lucia was a wealthy young Sicilian woman whose generosity to the poor incensed her fiancé; she refused to change, was put to death by Roman soldiers and later was made a saint.
She became a household name in Sweden during a famine when, the legend goes, a large ship came across Lake Vanern carrying a white-robed maiden, her hands full of food for the famished people and wearing a crown of candles to light the way.
Also in Center City, the Celebration of Lakes is held in late January on North Center Lake, with hot-air balloons, dog-sled rides, helicopter rides, ice-fishing contest, kids' games and snowmobile races.
Center City Days is in June . Karl Oskar Days is in July .
Lodging : There are many Airbnbs in the area, some on lakes.
Gammelgarden Immigrant Heritage Museum : On 11 acres in Scandia, just over the Chisago County border in Washington County, this Swedish-heritage museum gives tours of historic buildings from May through the third weekend in October.
It offers Swedish classes and holds many special events, including Midsommar Dag in June and Lucia Dag on the second Sunday in December.
Information : Chisago Lakes tourism, 651-257-1177.
Last updated on February 2, 2022