Autumn in the studios
On fall art tours, treasure hunters strike gold.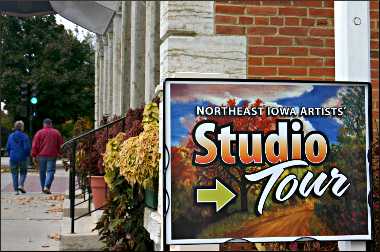 In September and October, artists everywhere throw open their studio doors, inviting the public to see some fall colors along with fine art.
It's tempting because of the scenic landscapes in which so many artists live: the bluffs of northeast Iowa, the coulees of southwest Wisconsin, the towns around Lake Pepin, the lumpy terrain of the Ice Age Trail.
"This is such a pretty area in the fall, and we thought it would be nice to have a tour where people could travel through it," says potter Diana Johnston, who helped found southwest Wisconsin's Fall Art Tour, the region's oldest.
The tours are free, and many artists demonstrate their craft and provide music and treats. It's not like shopping at the mall, that's for sure.
"You can get a slice of someone's life and see just what they do out there," Johnston says. "You can go home with a piece of art and have a story to go with it."
Here are some of the best in 2022.
Trip Tips: Fall studio tours in Minnesota, Wisconsin and Iowa
Sept. 23-25, Art Wander Studio Tour on the southwest fringe of Minneapolis. Visit 40 artists in 19 studios around Chanhassen, Chaska, Carver, Waconia, Watertown, Mayer and Cologne.
Sept. 23-25, Lake Superior 20/20 Studio Art Tour between Two Harbors and Duluth. Visit 34 artists in 13 host studios or farms along the 20 miles between these towns on Minnesota's North Shore of Lake Superior.
Sept. 23-Oct. 2, Art Along the Lake Fall Studio Tour on Lake Superior's North Shore, with 30 artists at studios in Tofte, Lutsen, Grand Marais and Hovland.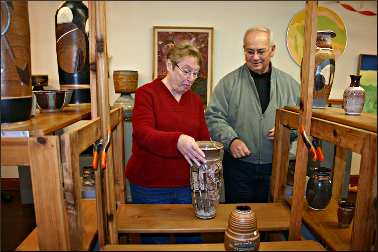 Sept. 30-Oct. 2, Meander, the Upper Minnesota River Art Crawl features 40 artists at more than 30 studios in and around Ortonville, Appleton, Madison, Milan, Dawson, Montevideo and Granite Falls in western Minnesota.
Sept. 30-Oct. 2, Hidden Studios Art Tour along the Ice Age Trail in central Wisconsin, with 18 artists in seven studios in Almond, Amherst Junction, Iola and Waupaca.
Sept. 30-Oct. 2, Northeast Iowa Artists' Studio Tour, features 42 artists at 31 sites around Decorah, Burr Oak, St. Lucas, Waukon, West Union, Cresco, New Albin, Lansing, Elgin and Clermont.
Sept. 30-Oct. 2, Studio ArTour, with artists at 19 studios in and around Farmington, Northfield, Nerstrand and Faribault in south-central Minnesota.
Oct. 1-2, Blue Coast Artists Studio Tours between South Haven and Saugatuck, Mich. Visit artists at 12 studios along Lake Michigan, with detours to farm markets, orchards and wineries.
Oct. 1-2, Artisans Road Trip in northwest Iowa, with artists in and around Storm Lake, Spirit Lake, Okoboji, Spencer and Estherville.
Oct. 7-9, Fall Fresh Art Tour, with artists at 21 studios along the Wisconsin side of Lake Pepin, from Bay City to Durand and Pepin.
Oct. 7-9, Covered Bridge Studio Tour in eastern Wisconsin, with more than 60 artists in Cedarburg, Grafton, Port Washington, Mequon, Thiensville and Newburg.
Oct. 8-9, Falling Leaves Art Studio Tour in western Wisconsin, with 42 artists at studios in and around Augusta, Fairchild and Osseo, southeast of Eau Claire.
Oct. 7-9, Northwoods Art Tour in northeast Wisconsin, with artists at studios in and around Manitowish Waters, Boulder Junction, Minocqua and Eagle River.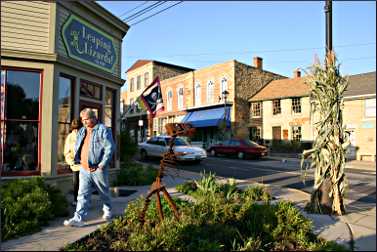 Oct. 14-16, Southwest Wisconsin Fall Art Tour, with artists at studios between Mineral Point, Spring Green, Dodgeville and Baraboo. This tour, started in 1994, is very popular; reserve lodgings early.
Oct. 14-16, Twenty Dirty Hands Pottery Tour, \with artists at studios and a wood kiln in and around the northwest Illinois towns of Galena and Elizabeth.
Oct. 22-23, Earth, Wood & Fire Artist Tour east of Madison, with artists in and around Lake Mills, Cambridge and Fort Atkinson.
Nov. 4-6, Art Attack in Minneapolis. Visit more than 350 artists in their studios at the four-floor Northrup King Building in the Northeast Minneapolis Arts District.
Last updated on September 8, 2021