Quaffing with a crowd
At craft-brew festivals, fans converge to try the latest concoctions.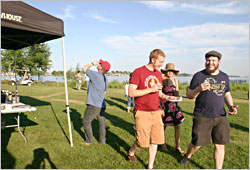 Twenty-five years ago, most beer drinkers thought porters work on the railroad, blondes have more fun and a craft requires popsicle sticks and yarn.
My, how things have changed.
In the United States, craft beer still claims only 13 percent of sales. But each year, more and more drinkers cross over from the lite side, and hundreds of new craft breweries spring up to serve them.
In the Upper Midwest, there are so many it's hard to keep up with them all. But if you want to try, go to a beer festival.
One of the best is the All Pints North festival in Duluth, hosted by the Minnesota Craft Brewers Guild in Bayfront Festival Park on the harbor.
Craft beer, music and summer breezes off Lake Superior — what's not to like about that?
When we went, we sampled so many fancifully named ales, ambers, alts and IPAs we nearly went cross-eyed from the descriptions, if not the alcohol.
The first thing we learned is that, while four hours may seem like a lot of time to stand around sampling beer, it's not. It was a gorgeous day in Duluth, so we lingered at a beach park and moseyed into the festival an hour after it started.
As we were happily working our way from tent to tent, we heard that Southern Tier's Creme Brulee Stout — "the roasty, creamy body of an Imperial Milk Stout paired with the addition of whole vanilla beans, imparting the delicate sweet flavor of classic custard" — was especially tasty.
Beware the buzz, because it means a beer is going fast. By the time we got there, it was gone.
And at the Town Hall tent, my friend Wendy got a taste of the Mango Mama IPA, made with real fruit, but when I got to the keg two minutes later, that was gone, too.
It turns out that breweries often bring only a cask or two of new or specialty brews.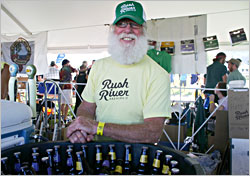 "Keep moving, you've gotta move quick," a woman with a temporary Grain Belt tattoo on her arm admonished us. "Don't talk to people if you want to taste everything."
There were 135 beers from 36 breweries there, so "everything'' wasn't an option.
But after getting Schell's tattoos, we did step up our pace, starting with the New Ulm brewery's new Emerald Rye.
The barkeep told us it was "a little bipolar, with a hoppy start, a biscuity middle and a good rye finish." Wendy and I both loved it, despite having tastes on the opposite end of the malt-hops spectrum.
It's fun being first to try a beer. A week later, a Minneapolis liquor-store worker dispensing Emerald Rye samples claimed I couldn't already have tried it because it had just come out. Wrong. But I tried it again — still good.
From Schell's, we moved on to Big Wood Brewery of Vadnais Heights, Minn., for a sample of Morning Wood Coffee Stout, which, with its "blast of coffee flavor" and "hints of oatmeal," is practically breakfast.
We tried many other beers that were like dessert — Dark Horse's Raspberry Ale, which had a lovely aroma; Castle Danger's Castle Cream Ale, which Wendy thought tasted like cream soda; and Surly's Cacao Bender, which she thought tasted "fabulous, like chocolate milk."
Craft brewers aren't shy with their ingredients. We tried Carmody's Black Pepper IPA, which had a fragrance so rich it carried a hint of overripe garbage.
After a while, we starting taking one or two sips from our cups, then spitting out the rest — not because we're such connoisseurs, but because we wanted to preserve our brain capacity for more samples.
We didn't see any obvious drunks, though we're sure everyone was a little looped.
Food helped, too. A lot of people bring pretzel necklaces to beer festivals, sometimes laced with string cheese or sausage.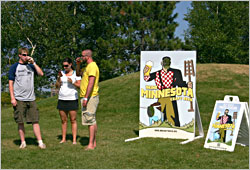 But I prefer real food, and All Pints North had great food. My lamb shank on pita from the Duluth Grill was a fantastic value and one of the best sandwiches I've ever had. Wendy loved her garlic Gouda burger.
There was music, some we liked, and some we didn't. We kept tasting and stayed till the bitter end — appropriate, since I'm a fan of bitter imperial pale ales, whose lavish use of hops preserved the beer for the long voyage between imperial England and its colony in India.
Many people prefer the sweeter ambers and maltier German-style beers. Others like the spicy Belgian-style beers or smoky porters.
But if you're only just graduating from factory beers, try a pale ale or a blonde. We guarantee you'll have more fun.
Going to a beer festival
For a list of this year's beer festivals, see Best brew fests.
Last updated on February 2, 2016