Great grape stomps
At winery harvest festivals, compete with your feet.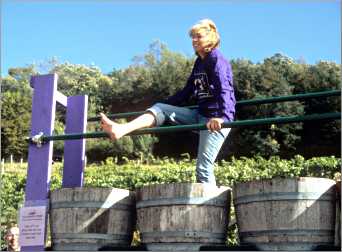 During harvest time in a vineyard, turning purple has nothing to do with the Minnesota Vikings.
Purple is what you'll be if you get into a wooden tub of grapes and try to turn them into juice with your bare feet.
Vineyards don't get their juice that way anymore, but many still offer a grape stomp, and there's nothing goofier to do on an autumn day.
There are prizes for those who extract the most juice and those who show the most "style," so wearing a creative costume helps.
And some grape stomps feature an "I Love Lucy" look-alike contest, in tribute to the famous 1956 episode in which the comedienne takes a job in an Italian vineyard and, of course, makes a mess of things.
Most stomps require contestants to pre-register and pay a small fee. Everyone gets to sample wine, eat and listen to live music.
Here are some of the best in 2023.
Sept. 8-10, Grape stomps at the Wine & Harvest Festival in Paw Paw, Mich. This large festival in southwest Michigan wine country also features music on three stages, Friday fireworks, an art fair, motorcycle and bicycle tours and a Sunday parade.
Sept. 9, Grape Stomp at Bailey's Run Vineyard in New Glarus, Wis. In addition to the competition, there will be team costume and team mask contests, followed by music.
Sept. 9-10, Grape Stomp Festival at Saint Croix Vineyards near Stillwater, Minn., in the St. Croix River Valley. There's music and tours, too.
Sept. 15-16, Wet Whistle Wine Festival at Von Stiehl Winery in Algoma, Wis. There's a celebrity stomp-off, plus music and a fine-art show.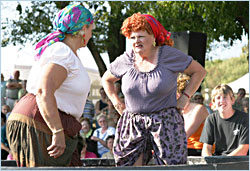 Sept. 15-17, Grape Stomp at Carlos Creek Winery near Alexandria, Minn. The festival at this elegant lakes-area vineyard features music on two stages, an art fair, "I Love Lucy" look-alike contests and costumed stomps. Sunday is all-ages day.
Sept. 16 Harvest Fest and Grape Stomp at Chateau St. Croix near St. Croix Falls, Wis. There's grape-stomping for kids and adults, plus live music, local craft beer and a marketplace.
Sept. 16-17, Grape Stomp at Cedar Creek Settlement winery in Cedarburg, Wis. This stomp is part of the big Wine & Harvest Festival in this picturesque town just north of Milwaukee.
There are adult and kids' stomps, plus grape-spitting and apple-bobbing contests, with prizes awarded to winners.
Sept. 16-17, Grape Stomp Festival at Dancing Dragonfly Winery in St. Croix Falls, Wis. There will also be music, artisan booths, wagon rides and wine tastings at this vineyard near the St. Croix River.
Sept. 23, Grape Stomp at Crow River Winery in Hutchinson, Minn. Compete in children's and adult categories. There will also be music, food and crafts.
Sept. 23, Fall Harvest & Art Festival at Galena Cellars Vineyard in Galena, Ill. In addition to a grape stomp, there's live music, horse-drawn wagon rides and an art fair.
Oct. 7, Grape Stomp at Morgan Creek Vineyards near New Ulm, Minn. This picturesque vineyard in the countryside features stomps, live music and barbecue.
Last updated on August 4, 2021