Where to eat in Duluth
Once known for its dives, this Lake Superior tourist magnet now boasts brewpubs and locavore cafes.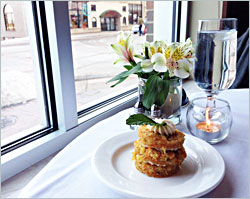 Duck confit with honey aioli and caramelized shallots. Grass-fed beef medallions with bacon potato croquettes. Vanilla cake with white-chocolate espresso frosting and pumpkin ale truffles.
Yes, you can get that in Duluth.
The restaurants in this Lake Superior port town haven't always had a great reputation. But that's changed.
Legions of tourists have brought pickier palates. Young new residents, lured from bigger cities by Duluth's outdoor scene, have brought a taste for craft beer and locally sourced ingredients.
Now, you can eat well in Duluth.
There are so many good restaurants it's hard to know which to try next. We like to sample them during Restaurant Weeks, usually in March and November, when a two- or three-course lunch is $10 and a three-course dinner is $25.
Some restaurants go all out, hoping to attract customers who will return.
Bellisio's and Midi generally offer the best three-course lunches. For dinner, 301 always offers an appealing showcase of its food (see the menu above).
And for the rest of the year? Our pick for best fine dining is Restaurant 301. For a casual breakfast or lunch, the Duluth Grill.
The Apostle Supper Club and Va Bene Caffe have the best views.
The best outdoor dining is at Silos Restaurant, overlooking the harbor at Pier B Resort. On Canal Park, it's at Canal Park Brewing. For best cheap eats, head for 7 West Taphouse.
Trip Tips: Dining in Duluth
On summer and fall weekends, either reserve a table or call 15 or 20 minutes ahead to put your name on the waiting list.
Most of the best places to eat are downtown and on Canal Park, with one notable exception: the Duluth Grill in west Duluth.
For more about planning a trip, see Duluth 101.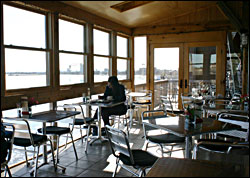 Fine dining on Canal Park
Canal Park is where the tourists are, so restaurants can and do charge a lot of money.
Bellisio's Italian Restaurant: A meal at this restaurant, just a block from the Aerial Lift Bridge, counts as a splurge. Even a plate of pasta from the menu of Italian basics — alfredo, arrabbiata, bolognese, rigatoni — costs well over $20, less at lunch.
Why eat there? It has a romantic atmosphere and the city's largest wine list. There's a small covered patio for warm weather.
Lake Avenue Restaurant & Bar: This locavore cafe in the DeWitt-Seitz Marketplace, once our favorite place to eat, has become way pricier, and service can be a little chilly.
Why eat there? The food is very good, and it has the city's quirkiest menu — try the cuttlefish if it's available — and one of the best for pescaterians and vegetarians. There's a deck for warm weather.
Silos Restaurant: In the Pier B Resort on the other side of Bayfront Festival Park, this restaurant has a waterfront patio that faces the Lift Bridge.
Why eat there? The view, obviously, and music from frequent concerts and festivals. But the food also can be very good: Try the red snapper tacos and elk-bison burger with pear chutney.
While you wait for a table, take a drink up to the second-floor deck and enjoy the view. Bonus: You can park for free in the resort lot.
Fine dining downtown
It's rare that hotel restaurants are among the best a town has to offer. But that's the case in Duluth.
Restaurant 301: This restaurant in the Sheraton serves sophisticated, seasonal versions of such classics as short ribs, salmon and pork tenderloin.
Why eat there? The food and service are consistently good, and the space is small but comfortable, with a fireplace and large windows overlooking East Superior Street.
During Restaurant Weeks, its menus are among the best deals.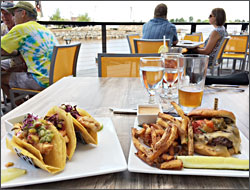 Harbor 360: The menu is simple at this revolving restaurant, formerly the Apostle Supper Club and before that JJ Astor, atop the Radisson on West Superior Street — burgers and fried foods, plus some salads.
Why eat there? It has a sweeping, 360-degree view of the lake and town.
Zeitgeist Arts Cafe: There are only a few tables at this restaurant, which adjoins a theater and cinema, and the atmosphere is casual chic. It offers classy comfort food — roast chicken, pot pie and Lake Superior trout as well as rice bowls and small plates.
Why eat there? It has a nice brunch menu and small but good craft-beer selection.
The Boat Club: This restaurant in the lower level of the Fitger's complex, replacing Midi, serves steaks, seafood and fish, with prices on the high side.
Why eat there? There's a beautiful view of the lake from wall-to-wall windows.
Casual dining on Canal Park
Canal Park Brewing Company: This popular restaurant offers well-prepared sandwiches, friendly service and its own beer, which you can try in flights of four. In summer, you'll have to wait quite a while for a table.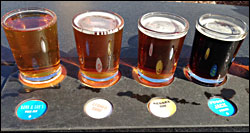 Why eat there? It has the city's best patio that faces the lake, and a rare side patio that gets afternoon sun.
Northern Waters Smokehaus: This small deli in a corner of the Dewitt-Seitz building offers a delicious selection of sandwiches made with cured meats. There's always a line, so don't expect fast service.
Why eat there? You can put together a nice picnic to eat while watching the boat traffic.
Chachos Taqueria: This unassuming little stand on Canal Park Drive serves the best of real Mexican street food — tacos (one vegetarian), tamales, a torta — plus a braised pork bowl.
Why eat there? The food is delicious and inexpensive.
Grandma's Saloon & Grill: This place galvanized development on Canal Park when it opened in 1976 and sponsored the first Grandma's Marathon in 1977.
Why eat there? It's still a fun place, and the portions are huge.
Little Angie's Cantina: This restaurant in the Dewitt-Seitz building offers Mexican-American food that's especially popular with tourists and the younger crowd.
Why eat there? It's got a great deck overlooking the Canal Park hubbub.
The Social House: This Lake Avenue spot is open only for breakfast and lunch and features American classics, eggs and burgers.
Why eat there? It's the place to go for a hearty breakfast.
On Lake Avenue, you'll find chain restaurants, including Green Mill, Old Chicago and Red Lobster.
Casual dining downtown
Va Bene Caffe: Just beyond Fitger's, this sunny Italian cafe offers well-prepared panini, pasta and salads.
Why eat there? Its glassed-in porch above the Lakewalk has a lovely view of Canal Park, and the gelato is wonderful.
Fitger's Brewhouse: This lively restaurant is a good place to go for an excellent burger and excellent beer. It's usually hard to get a table, but hosts will give you a beeper so you can shop while you wait.
Why eat there? It's got a fun atmosphere, consistently good pub food and live music.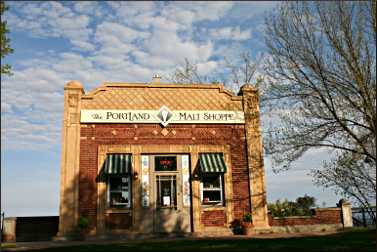 7 West Taphouse: In this little bar at the corner of Lake Avenue and Superior Street, you can get a decent burger for $6-$8.
Why eat here? It's cheap, fast, friendly and has a huge beer list with flights.
Pizza Luce: This large restaurant, on the other corner of Lake Avenue and Superior Street, is very popular for its brunches as well as the Italian menu of pizza, pasta and hoagies.
Why eat here? It serves good pizza and has a friendly atmosphere.
Wasabi Japanese Cuisine: This restaurant in the Old City Hall on Superior Street offers tempura, teriyaki and poke bowls as well as sushi.
Why eat here? It offers all-you-can eat sushi.
Pickwick: This restaurant next to the Fitger's complex has a large, traditional menu that's been popular since 1914.
Why eat there? Its Germanic dining room is beautiful, with wood paneling, painted murals, a wood-beamed ceiling, fireplace, stained glass and a view of the lake.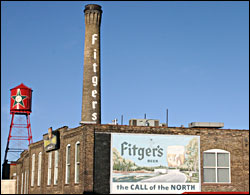 Sir Benedict's Tavern on the Lake: Across from Fitger's on Superior Street, it serves soups, salads, sandwiches and pizza.
Why eat there? You can soak up the sun on its patio and watch the world go by. It also offers a lot of live music.
Casual dining in Lincoln Park/West Duluth
Duluth Grill: This plain family restaurant is far off the tourist path, next to a Burger King just off the 27th Avenue West exit of I-35. But the locals definitely know about it, because it's always packed.
It now closes at 3 p.m., however.
Don't expect diner prices, because portions are huge and everything is made with fresh, organic and locally sourced ingredients. It doesn't serve beer or wine.
Why eat there? All of its food is homemade, and service always is friendly and efficient. Entrees come with two sides from a fantastic selection (ask for the red-flannel hash of root vegetables). It also has vegan and gluten-free entrees.
If you put yourself on the list on-line, 20 or 30 minutes in advance, you can shorten your wait during busy times.
Corktown Deli and Brews: This friendly, light-filled deli next to the Duluth Grill offers a nice selection of cold and hot sandwiches and bowls.
Why eat there? Service is fast. It's fun to try a flight from the large selection of craft beer.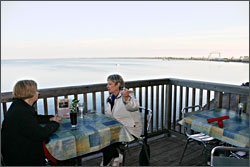 Burger Paradox: This new entry in the Duluth Grill family of restaurants, at West Superior and 21st streets, serves smash burgers, chicken wings, malts and craft beer.
OMC Smokehouse: This convivial barbecue joint (the name stands for Oink, Moo, Cluck) in the Lincoln Park Craft District, on West Superior Street near Bent Paddle Brewing, offers a variety of meats plus fish, burgers and salads.
Why eat there? The food is good and comes with a choice of large sides (try the addictive Mexican street corn and the peas and pancetta). And the service is great — waiters are happy to split the $25 Smoked OMC Plate and its two sides between two people.
It also has a patio with firepits and free bags of s'more ingredients.
Ursa Minor Brewing: This brewery offers not only lots of craft beer (flights available), but also wood-fired pizza and paninis.
Why eat there? The pizzas are tasty, but more importantly, it has tables in a roomy courtyard and thus is a good place to go with children. It also has plenty of on-street parking.
Casual dining in East Hillside/Woodland
Burrito Union: This popular student hangout, at the foot of Chester Park at East Fourth Street and 13th Avenue, is yet another outpost of Fitger's and serves its beers.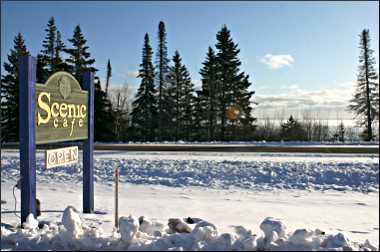 Why eat there? It's got a deck with a view of the lake (it gets sun in the morning), and good specials, especially the weekend breakfast burrito and bloody Mary combo.
At Sara's Table/Chester Creek Cafe: This homey spot at East Eighth Street and 19th Avenue, near Chester Park, serves "creative cuisine with a conscience."
Why eat there? It's a good place to treat yourself to breakfast or coffee and dessert.
Whole Foods Co-op: This co-op at East Fourth Street and Sixth Avenue has a large deli and makes made-to-order sandwiches (though not quickly).
Why eat there? It has a pleasant eating area overlooking the lake, but you also could take a picnic to the Rose Garden at 13th Avenue off London Road.
Tavern on the Hill: This restaurant is across from the University of Minnesota-Duluth campus, up Woodland Avenue from the 21st Street East exit from I-35.
It's very popular, especially with students and their parents, and everyone can find something appealing on its menu. Service can be spotty but generally is enthusiastic.
Why eat there? It's got a big patio with fire pits and festive lighting. And because it's two miles above the lake, it's warmer there.
Casual dining elsewhere
Phoholic Taste of Vietnam: This restaurant has no atmosphere at all and sits on Central Entrance, a busy artery in West Duluth that's far off the tourist path. Oh, and its parking lot is too small.
Why eat there? Because the food is extremely good and the staff is friendly.
Fine dining on Scenic 61
New Scenic Cafe: This sunny little cafe on old Highway 61, between Duluth and Two Harbors, is a fixture of farm-to-table dining. The atmosphere still is casual, but the dinner menu has become high-priced.
In summer, you'll have to wait quite a while to get a table.
Why eat there? It's a good place to treat yourself to a fancy lunch or pie and coffee.
Last updated on May 18, 2021