A chocolate tour of Madison
For people who want the best in bonbons, this town is a decadent destination.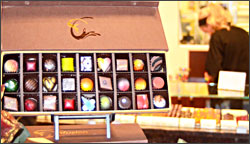 No one knows why Madison is the fine-chocolate capital of the Upper Midwest.
We do know that Europe played a big role. Gail Ambrosius, who grew up in Wisconsin's hamburger capital, tasted her first artisanal chocolate on a high-school field trip to Paris. "And I understood-eating this is the best thing you can do," she writes.
Markus Candinas studied chocolate-making in his parents' hometown of Thun, at the foot of the Swiss Alps. Ton Stam came from the Netherlands to join the Madison Scouts drum and bugle corps, then started Chocolaterie Stam.
When we visit Madison, we always go to Clasen's European Bakery, founded in 1959 by two brothers from Cologne, Germany. But then we decided to get serious about the chocolateries, too.
Doing a chocolate tour took some fortitude, especially after we got waylaid at an epic Battle of the Chocolates. And yet we soldiered on.
We'd read about Candinas Chocolatier since 2002, when Consumer Reports magazine first declared its chocolate one of the nation's best. But we had never made it to the factory and store in the far suburb of Verona.
Now Candinas has a tiny storefront on Capitol Square, and that was our first stop. But we were disappointed by the absence of eye candy: There was just one open box in a glass case. The shop is mainly a place to pick up prepackaged boxes, the saleswoman told us.
We wanted to pick and choose, so we decided to drive out to Verona. First, we followed Williamson Street to Atwood Avenue and Gail Ambrosius .
The Seymour native took up chocolate as a second career and trained in France, returning to open a small shop next to the funky, 1929 Barrymore Theatre.
There was plenty of eye candy there: shiny foil-wrapped novelties, ribboned boxes of toffee, colorfully stamped sea-salt caramels.
The descriptions were even more tantalizing: "Rich amber cognac coasts along the top of this flavor fusion, finished by the sweet crunch of Australian baby candied ginger" . . . "The sweet crunch of crushed candied almond and marzipan melds with the bright citrus zing of chopped orange peel."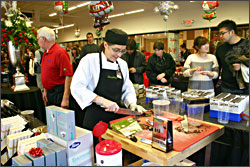 The shop was packed, but we elbowed our way to the canister of free hot chocolate and then the glass cases, where we picked out a Cointreau, two raspberry truffles and a Machu Picchu from the Adventurous Collection. On the way out, we got a free jasmine truffle as a bonus.
The Chocolaterian Cafe is just down the street, with pastries, tarts and bars made onsite in a glass-walled kitchen.
From there, we headed south on U.S. 151 to the Beltline and Verona, where Markus Candinas makes his acclaimed truffles.
The perfect piece of chocolate
As soon as we walked through a door adorned with a giant, brushed-steel "C," a woman appeared and offered us a hazelnut truffle on a white tray. Candinas' mother, Margrit, helps out during busy season.
"They are exactly like the chocolates in Switzerland," she said of her son's truffles. "He uses just butter and cream; the only difference is he cannot put in as much alcohol here. Other than that, he is doing it just the same."
They should be eaten within 10 days, she said, which is what you want to hear when you buy fine chocolate: If it lasts much longer than that, it likely contains preservatives.
When another customer came in, we also got half of her sample, a raspberry truffle that was without doubt the best I'd ever had: pure essence of berry in a light, creamy ganache enclosed by a delicate dark-chocolate couverture.
That's how Candinas became a favorite of Consumer Reports. His truffles are very expensive if you're used to Hershey's, but when you buy a box of 16, they are less than $2 a piece, a bargain for such high quality.
From Verona, we headed north on U.S. 151 to Midvale Boulevard and Metcalfe's Market in Hilldale Shopping Center. It was holding a Battle of the Chocolates, with employees chopping up samples of chocolates from around the world as fast as people could eat them.
Too much of a good thing?
There were 50 kinds of chocolate heaped on a table. As we circled it, we tried Baci hazelnut kisses, Jacquot truffles and salted toffee caramels from Godiva. There were bars from Perugina, Chocolove, Wild Boar, Divine, Valor, Sulpice, Rausch and Lindt.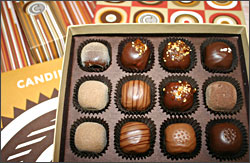 When you bought three, you got one free-so we walked out with two heavy bags full of chocolate that cost only a little less than our dainty box from Candinas.
We had a blast tasting all those bars, though we soon started to feel queasy. So at Infusion Chocolates , we let our eyes do the feasting while we drank a cup of coffee.
The shop's exquisitely molded pieces look like jewels, with color that looked airbrushed onto their gleaming shells.
"These chocolates don't look as if they're made to be eaten," we heard a little boy tell his father.
But they are, and they're good (as we discovered later, when our appetite returned). We bought a piece with passionfruit and mango purees blended into liquid caramel and one with Framboise liqueur in a dark-chocolate ganache.
A passionfruit-vanilla piece made with Malibu rum was best, with a bright citrus tang. Other pieces boasted the flavors of Wisconsin: Hook's blue cheese, Kickapoo Gold maple syrup, Nueske's applewood-smoked bacon.
From Infusion, we headed west to Clasen's European Bakery , where we chose from vast expanses of chocolate domino petit-fours, marzipan fruits, many kinds of gingerbread, almond spekulatius, cinnamon stars and kipferl, hazelnut shortbread crescents tossed in vanilla sugar.
We inspected the life-size gingerbread house, the European cream tortes and trays of giant American-sized truffles, which didn't tempt us. And we sampled: two kinds of crumb coffee cake, "elf bite" cookies and Heidesand shortbread.
By the end of the day, we'd had too much sugar for our own good. When we walked by the Kilwin's on State Street, the fragrant wave of caramel that enveloped us turned our stomachs.
The problem with going on a chocolate tour in Madison is that there's only so much you can try, because eyes always are bigger than stomachs. Luckily, all the chocolatiers sell their wares to go.
Trip Tips: Chocolate tour of Madison
Getting around : The shops are scattered around town, so you'll need a car to reach them all.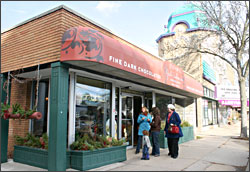 However, Gail Ambrosius and the Chocolaterian Cafe are right off the northern section of the Capital City State Trail, and Candinas is just south of the Military Ridge State Trail, so you could make a chocolate run on your bike.
Cost : The going rate for a single piece of fine chocolate is about $2. Boxes are a better value.
Planning a trip : For more, see our Madison stories. If you come in summer, bring a cooler in which to store your chocolate.
Downtown
There's a small Candinas shop on the southeast side of Capitol Square, at 11 W. Main St. However, it sells only boxes with pre-selected chocolates. It's closed Sundays.
East side
Gail Ambrosius Chocolatier is at 2083 Atwood Ave., just beyond central Madison.
Chocolaterian Cafe is at 2004 Atwood Ave. and serves hot chocolate, chocolate fondue and chocolate pastries as well as cheese and charcuterie plates, soups and quiche.
CocoVaa Chocolatier is at 1 Sherman Terrace and is open weekends.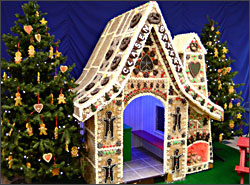 South side
The Candinas factory and retail store is at 2435 Old PB Road in Verona, just south of the first Vernona exit off U.S. 18/151. It makes 12 to 16 types of truffles.
The chocolates are not  displayed at the store, so you have to ask what kinds are available. Flavors include raspberry, caramel, espresso, hazelnut praline, Irish cream, champagne, elderflower, anise, ginger, chai, anise and croquante.
You can choose varieties only in person or on the phone, if you want them shipped. The store is closed Sunday.
Infusion Chocolates is at 2503 Monroe St., near Vilas Park. It's also a pleasant place to have hot chocolate, coffee, tea or a gourmet soda.
Madison Chocolate Company is at 729 Glenway Ave., just off Monroe Street across from the Arboretum. It also serves coffee and homemade baked goods.
Metcalfe's Market is in the Hilldale shopping center complex on the southwest corner of University Avenue and Midvale Boulevard. There's another location off Mineral Point Road, on the west end of the West Towne Mall complex. The annual Battle of the Chocolates is held in early December.
West side
Clasen's European Bakery is at 7610 Donna Drive in Middleton, just east of U.S. 12/14 and north of University Avenue, behind a Culver's. It's closed Sundays.
It sells primarily pastries, tortes, cookies and breads.
Last updated on January 18, 2022