Pizza on the farm
In Wisconsin and Minnesota, dinner guests flock to the countryside for ultra-fresh ingredients and idyllic settings.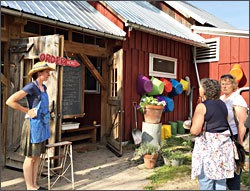 You can't get more local and sustainable than a wood-fired pizza served just yards from where its ingredients were raised and grown.
Farms that moonlight as pizzerias one or two nights a week are multiplying, but not just because the pizzas are so good.
The visitors who eat them also get to spend an evening soaking up the bucolic country atmosphere, savoring a lifestyle that's now far removed from most lives.
Children tear around expansive lawns, adults chat over chilled wine, and the scent of lilacs and freshly mowed grass wafts through the air. Often, there's live music.
We visited our first pizza farm on a golden Friday evening in early May. Driving up the Mississippi River bluffs east of Alma, Wis., then on silent country roads through the vestigial village of Cream, we felt a stab of doubt: Does this place really exist?
Oasis in the uplands
Then we pulled into the lane leading to Suncrest Gardens Farms and, like magic, cars appeared — a lot of cars. Small groups of people were scattered all over the grounds, on blankets and in lawn chairs.
Children climbed on wooden cable spools and a play fort. Pygmy goat kids bounced like puppies along the edge of a chicken yard.
We got in the long line to order pizza, then settled at a picnic table under a little pavilion. Drinking a New Glarus Moon Man ale and Sprecher orange soda, we relaxed and waited.
It was hypnotizing, watching dusk settle on the hazy bluffs lining the valley and listening to a pleasant mix of recorded roots music. Behind us, a llama wandered on a rocky hillock.
Our pizza — ham, pineapple, garlic and onion, hold the jalapeno — was one of the last of 126 made that night, and we followed it with homemade chocolate-chip cookies, $1.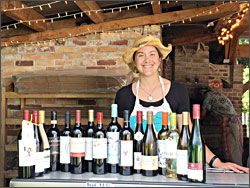 It wasn't quite asparagus season yet, but coming soon was a pizza with roasted balsamic asparagus, tomatoes, chives, feta, roasted onions, garlic and mozzarella. In summer, roasted sweet corn and sweet peppers appear on pizzas.
It was hard to leave, and we envied farmer Heather Secrist her idyllic patch of countryside. Maybe someday, she'll put in a few B&B rooms, too.
High above Lake Pepin
Our next stop also was in a beautiful place, but it was all about the pizza.
Four miles up the bluff from the tiny Lake Pepin village of Stockholm, Wis., A to Z Produce and Bakery has been making pizzas since 1998. Because it's so well-known, and only an hour from the east edge of the Twin Cities, it's packed on warm summer nights.
But driving there on a Tuesday in May, we again felt like the only people around. And since there were no signs to help us, we wondered if we were in the right place until we rounded some lilac bushes and saw parked cars.
As memorable as Suncrest Gardens' setting was, so was the pizza at A to Z. My friend Jean and I wanted different pizzas, and we dithered until finally we were offered half Italian sausage and olives and half cilantro pesto with roasted tomatoes and red onion.
We'd barely had time to set up our table and chairs in a spruce-lined copse before our pizza was pulled out of the brick oven and ready for us.
Jean's sausage came in knobs and tasted of pig. My cilantro pesto sat in thick smears amid molten slabs of mozzarella, dotted by sweet chunks of tomato.
It was heavenly, the pizza-farm pizza of my dreams.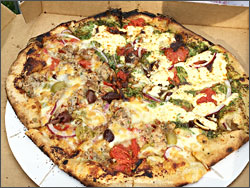 At A to Z, guests can hang around a covered pavilion, watching pizzas go in and out of two ovens, or wander past picturesque outbuildings and through fields.
When we were there, we heard claps of thunder in the distance, and we could see a rainstorm pelting the other end of the valley, but all we got was a double rainbow.
It was a little less hard to leave A to Z, because now I know that each pizza farm offers something different.
You could spend a whole summer visiting them. In fact, that seems like an excellent idea.
What to know
Some pizza farms require reservations and may limit the number of guests. Check before you go.
Bring plates, napkins, chairs or blanket, bug repellent and, if you want, utensils, glasses and a yard game. Don't bring pets, because of the farm animals, and carry-in alcohol usually is not allowed.
To get a little fancier, bring a table, a tablecloth and an ice bucket to keep your wine or beer cold. We even saw one pair who had brought a vase of flowers.
Pizzas generally cost $20-$30, tax included, and can feed two or three. If you can't decide, ask if you can get half of one kind and half of another.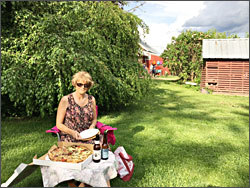 Wood-fired pizzas take only five minutes to bake, but waits lengthen when there are a lot of people.
Bring extra cash to buy the produce, eggs, baked goods, jams and plants that many farms also offer.
Pizza farms in Wisconsin
Suncrest Gardens Farm near Cochrane: This 16-acre farm, like many, sells CSA (community-supported agriculture) food shares. It's in the bluffs between Alma and Fountain City above the Mississippi River.
Pizza nights are Fridays and Saturdays from 4 to 8:30 p.m. from May through September.
The farm sells an impressive selection of Wisconsin craft beer, sodas and wine. There are cookies, ice-cream novelties and kits for making s'mores around the fire pit. It has a very nice play area for kids.
There's often live music. If the weather is cool, guests can eat pizzas in the heated remodeled barn.
Suncrest Gardens Farm is at S2257 Yaeger Valley Road, Cochrane (don't miss Prairie Moon Sculpture Garden just south of Cochrane, off Wisconsin 35). Phone 608-626-2122.
Winghaven Pizza Farm near Trempealeau: Farther down the river, in the bluffs between Trempealeau and Galesville, the Grover family serves pizzas Fridays and Saturdays from 4 to 9 p.m.
They also serve craft beer, wine and wood-fired soft pretzels with garlic-cheese sauce. Phone: 608-519-4228.
A to Z Produce and Bakery near Stockholm: Robbi Bannen and Ted Fisher were pizza-farm pioneers on their 80 acres above Lake Pepin.
Pizza nights are Tuesdays from 4:30 to 8 p.m., mid-March through late October. In July and August, expect waits of up to two hours.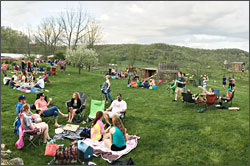 You're expected to take your trash home with you, including the pizza box and bottles.
A to Z Produce and Bakery is at N2956 Anker Lane in Stockholm. To get there, follow County Road J up through Stockholm to Moravian Lane, and turn at the sign for St. Sophia Liberal Catholic Church. Phone 715-448-4802.
Dancing Yarrow Farm to Fork Retreat east of Mondovi: In the bluff country between Eau Claire and the Mississippi River Valley, this retreat center offers Pizza Nights 5-9 p.m. Thursdays through Saturdays from late May through September.
It also offers a full bar, yard games, a disc-golf course and kayak rentals on the Buffalo River. Dogs are allowed. Phone: 715-309-5238.
Stoney Acres Farm near Athens: This organic CSA farm between Medford and Wausau sells pizzas and farm goods.
Pizza nights are 4-8:30 p.m. Fridays and Saturdays from April to early November. Bring your own beverages.
Stoney Acres Farm is at 7002 Rangeline Road, Athens. Phone: 715-432-4683.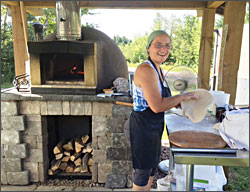 Grassway Organics near East Troy: This farm and store between Milwaukee and Lake Geneva serves pizza 4-8 p.m. on Saturdays, usually accompanied by live music. There's also craft beer and soda. Phone: 920-894-4201.
Borner Farm Project in Prescott: In this town at the confluence of the St. Croix and Mississippi rivers, Diane and Baard Webster, with interns and volunteers, use their one-acre organic garden to teach sustainable agriculture.
Pizza nights, using the produce, are 5-8 p.m. every other Friday from May through October. To make sure there's room for you on-site, make reservations by email or phone.
Borner Farm Project is at 1266 Walnut St. in Prescott. Phone: 651-235-4906.
Stone Barn near Nelson: This pizzeria and wedding venue is in a remodeled barn in the bluffs above Nelson, across the river from Wabasha, Minn.
It's not a farm, so it does allow pets. It's open 5-9 p.m. Friday, 4-9 p.m. Saturday and 12-8 p.m. Sunday, from late May to late September.
The Stone Barn is at S685 County Road KK, Nelson. Phone: 715-673-4478.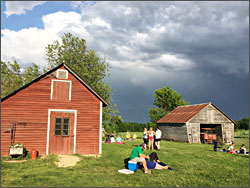 Vino in the Valley near Ellsworth: This vineyard in the beautiful Rush River Valley above Lake Pepin sells pastas and salads as well as pizza and wine.
It's open Thursday through Saturday night and Sunday afternoon from May through September. Seating is in a covered pavilion and at picnic tables.
Vino in the Valley is at W3826 450th Ave., Maiden Rock, eight miles east of Ellsworth off U.S. 10. Phone: 715-639-6677.
Pizza farms in Minnesota
Two Pony Gardens near Long Lake: This farm west of Minneapolis, near the north shore of Lake Minnetonka, sells dahlias and heirloom tomatoes.
Its Pizza Events include nature walks, wild mushrooms, baby farm animals, music or puppet theater as well as all-you-can-eat wood-fired pizza, and the dinners sell out quickly at $35-$55 per person.
Two Pony Gardens is at 1700 Deer Hill Road, Long Lake. Phone 763-473-0783.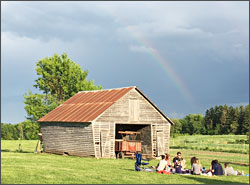 DreamAcres Farm near Wykoff: This organic, off-the-grid farm in southeast bluff country near Lanesboro also hosts retreats and workshops.
Wood-fired vegetarian pizzas are served 5-8 p.m. (or until the dough is gone) Fridays from May through October. Bonus: There are few mosquitoes in this area, which is underlaid by karst limestone.
Tables can be reserved in advance for $5. The farm is the home of the Dreamery Rural Arts Initiative and hosts concerts, plays and dance parties.
DreamAcres Farm is at 17289 County Road 8, Wykoff, west of Fountain and U.S. 52. Phone: 507-352-4255.
Red Barn Farm near Northfield: The Winter family grows pesticide-free produce, operates a general store and hosts weddings in their century-old barn east of Northfield.
Pizza nights are 4-7:30 p.m. Wednesdays from May through mid-October. It's also open 11 a.m. to 3 p.m. on the third Sunday of the month.
To make sure there's a spot for you, reserve in advance. Red Barn Farm is at 10063 110th St. E., Northfield. Phone: 507-664-0304.
Pleasant Grove Pizza Farm near Waseca: Bill Bartz and Emily Knudsen make pizzas and host musicians on their farm northeast of Waseca.
Pizza nights are 4-8 p.m. Thursdays and 1-7 p.m. Sundays from June through September, Sundays only in May and October. Bring your own beverages.
The farm, at 41142 160th St., is west of I-35 and Medford. Phone: 507-310-1226.
Pizza farms in Iowa
Luna Valley Farm near Decorah: Tom and Maren Beard make the pizzas at this farm eight miles northeast of town. It's open Fridays and Saturdays through September and Fridays in October.
Pizzas must be ordered in advance. Eight taps feature beer from Toppling Goliath and Pulpit Rock in Decorah, and Spring Grove soda also is available.
Last updated on May 12, 2021