The dish on Dorset
This tiny 'Restaurant Capital of the World' is just a burp on the road.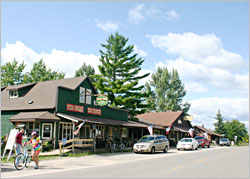 By rights, the northern Minnesota hamlet of Dorset shouldn't even exist.
It's on the road to nowhere, a mile and a half off the highway that links Park Rapids to Walker. It's not on a lake. It has virtually no houses.
It does, however, have a knack for hyperbole. In the 1920s, it tried "land of clover, the big white potato and the dairy cow."
It tried boasting of "the shortest state highway in Minnesota running through its downtown" and, until 1986, was "the smallest town in the United States with a bank."
But Dorset didn't hit its stride until the first Taste of Dorset festival in 1987, after which it became "Restaurant Capital of the World" and "Boom Town with a Burp."
Today, its restaurants keep people milling around town far into the evening during summer. Considering that Dorset is surrounded by farmland and has only one, block-long street — actually, it's the highway — that's a fairly odd sight.
"People ask, 'Is something special going on here today?' " said John Corbid, who restored the Heartland Trail B&B with his wife, Pat.
A century ago, it was saloons that flourished, when Dorset was a stop on the Great Northern Railway. Farmers and tourists came through until bigger towns nearby claimed their business, and Dorset, like so many other villages, began to fade.
In 1977, however, the Heartland State Trail opened on the old rail line, becoming one of the nation's first paved recreational trails and bringing tourists back to town.
When the bank closed nine years later, a gift shop and tearoom took its place. A popular Mexican restaurant opened in a rundown storefront, a stained-glass studio in a log cabin and a crafts shop in an old barn.
They helped attract an antiques shop, a bookstore, a B&B and an old-time photo emporium. By 2014, there was the Mexican restaurant Companeros, an Italian restaurant, a soda fountain and a cafe — one restaurant for every six residents.
Rick Kempnich started Companeros with his wife, Laura, in 1985, and had to expand the restaurant five times.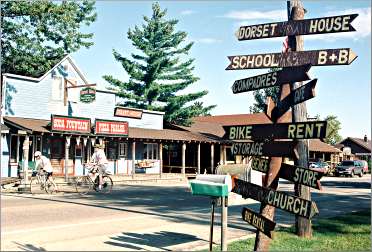 "I think that's why people like to come here; it's kind of chaotic," he said. "They just kind of hang out, meet people, talk and have fun."
In September 2014, fire destroyed Companeros and the adjoining Dorset House, the soda fountain/ice-cream parlor. In 2016, a new Companeros opened, with new owners.
Dorset is even more famous for its annual mayoral raffle, where $1 buys a vote. In 2013, 3-year-old Bobby Tufts was elected, and the adorable preschooler turned out to be such a media darling that he was elected for a second term.
In 2015, he endorsed his 3-year-old brother James as successor, and James won.
Dorset always has had a sense of humor. The Dorset Daily Bugle chronicles local hyperbole, who goes well beyond "land of clover."
One year, the big news was the sale of the Dorset pro sports teams and plans to turn the Dorset Dome into an indoor lake.
Then it was the mayor's plans to bring the Winter Olympics to Dorset — the mayor being a Twin Cities man who was biking through town during Taste of Dorset, stuck $1 with his name into the ballot box and was elected in the annual mayoral raffle.
Dorset does get pretty wild during its annual festival in August, when thousands of people fill the street to eat Mexican mudballs, barbecued ribs, calzone and quesadillas.
The ladies from the stone First English Lutheran Church sell pie, bands play, and there are wagon rides, minnow races, a bean toss and a dunk tank for children.
Prices are low, and despite the crowd, there's a reunion atmosphere — many of the people are guests at nearby lake resorts who come to Taste of Dorset every year.
But then the town returns to tranquility. I've gone there most years for two decades,  wheeling my bike up to the boardwalk outside the Dorset House, built in 1894 as a general store. Its soda fountain was a welcome sight for bicyclists.
A block away, the white-frame Heartland Trail B&B once was Dorset's schoolhouse, built in 1920. Now, it's a pleasant space with a second-floor deck, high ceilings and Americana décor; each of the six rooms is named after an elementary grade.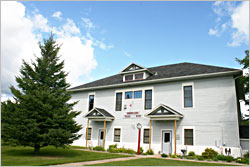 Sister Wolf Books was one of the first shops, founded by Minneapolis writer Mary Kay Watson. It was a tricky business, she said, picking out vacation reading for local resort guests.
"They want what they want," said Watson. "But I think the people who like the books I like found me."
The success of Companeros  enabled the Kempnichs to act as benevolent landlords to others. One project was the renovation of a small barn into Front Porch Gifts by Myrna Whitesell, a former resort guest from Iowa.
"There wasn't a day went by that somebody didn't come over to see if they could help," Whitesell said. "I've got a new family. Everybody watches out for everybody else, and that's why this little community works."
Add that to a bike trail, a plate of chimichangas and a little hyperbole, and you've got the Town That Refused to Fade Away.
Getting there: It's six miles east of Park Rapids.
Events: Taste of Dorset is held the first Sunday in August and includes the raffle for mayor.
Accommodations: The 1920 Heartland Trail B&B has six rooms.
Heartland State Trail: Dorset is six miles east of the 48-mile trail's western trailhead in Park Rapids' Heartland Park.
The next town is Nevis, which has shops, cafes and a city beach on Lake Belle Taine.
Akeley is the home of the state's biggest Paul Bunyan, on whose outstretched hand people pose for pictures.
For more, see Towns of the Heartland Trail.
Just east of Akeley, the Heartland connects to the Paul Bunyan State Trail.
For more, see Bicycling the Bunyan.
The nine-mile stretch from Akeley to Walker passes bogs and lakes. From Walker, the trail follows the western shore of Leech Lake and continues to Cass Lake, much of it near the highway but usually shielded by vegetation.
The 17-mile Migizi Trail follows the shore of Cass Lake in Chippewa National Forest.
Last updated on August 3, 2015