Jolly Cedarburg
In southeastern Wisconsin, a historic village has perfected the art of the party.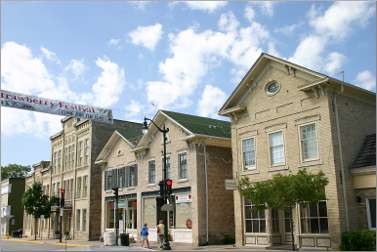 When a small town is about as pleasing as can be, what else can it do?
Why, make sure everyone notices, of course.
In 1972, an old Yankee mill town just north of Milwaukee started a Wine & Harvest Festival. Two years later, it started Winter Festival.
Eight years after that, it started Strawberry Festival. And people poured into Cedarburg by the thousands.
"It's charming and quaint and sweet and walkable, and when you throw a festival on top of that, it makes it very irresistible to a lot of people," said Kristine Hage, former director of the chamber of commerce.
But in the early 1970s, the town was not so charming. Many of its antebellum limestone and cream-brick buildings were in disrepair, and an oil company wanted to tear down the 1864 stone woolen mill on Cedar Creek and put in a gas station.
But a preservation-minded mayor refused the permit, and a local couple bought the mill, started a winery and rented space to shops, calling it Cedar Creek Settlement.
Another local couple bought an 1853 inn that was being used as a biker bar and made it an inn again.
Stone and clapboard cottages were restored and used as shops and studios, and the 1886 Washington House was turned back into an inn, after years as offices and apartments.
Today, Cedarburg has two districts on the National Register of Historic Places, each with more than 100 buildings, and it's a favorite weekend destination, especially for people in Milwaukee and Chicago.
The big mill, with its winery, shops, cafe, blacksmith forge and galleries, is the hub for celebrations.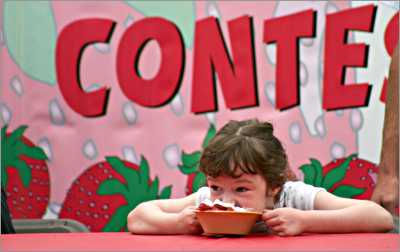 In November, the wreaths, ribbons and twinkle lights come out, and Cedar Creek Settlement begins to celebrate Festive Friday Eves, with live music, dancers, wine-tasting, cookie-decorating, luminarias and outdoor cookouts.
"We always come at the holidays," says Cindy Meckl of Oconomowoc, Wis. "It's not necessarily what we buy, it's the atmosphere."
I met Meckl and her family in June when they were in a long line outside the Cream & Crepe Cafe, always their first stop. They had come to Cedarburg for their first Strawberry Festival, which draws 40,000 people to the town of 11,000.
My husband and I got to town early and spent Friday bicycling on the Ozaukee Interurban Trail, which goes through Cedarburg on a route once used by the Milwaukee-Sheboygan trolley.
When we got back, Cedarburg's Washington Avenue was lined with artists hunched over easels, putting final touches on their entries for the Cedarburg Cultural Center's annual Plein Air Competition.
The historic buildings look good in oil paintings, and Jim Hempel's featured a woman in a straw hat walking a dog past a flower shop. His model was Karen Spinti, who grew up nearby and was a first-grader when the mill was restored.
"It's always been a cute town," she said. "I'd go into the mill building, poking around the shops with my sister and mom. It's exactly as it was when I was 8 or 9 years old, except now there are more coffee shops."
Links to the past
The influx of admiring tourists sometimes annoys some residents.
"People view Cedarburg as an old-fashioned movie where time has stopped," said Debbie Menzel. "I guess because I live here, I don't see it that way."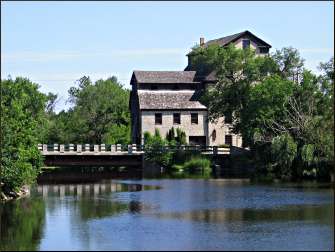 But the scenery encourages the illusion. There's the state's last original covered bridge, in a park north of town.
There's the five-story 1855 Greek Revival grist mill, part of it piled with bags of feed and seed for birds and pets. There's the 1926 filling station, built in the style of a Japanese teahouse.
It doesn't look frozen in time. McMansions have popped up close to the 1876 lattice-truss bridge, whose planking is held together with hardwood pins. The red-roofed filling station is a jewelry store now, and the gristmill is a microbrewery.
But it's still easy to imagine the town as it was 150 years ago, as we discovered while sitting over pizza and Silver Creek ale along the millstream, listening to water rush over the dam and throwing crumbs to two ducks that had waddled over. Links to the past are everywhere.
At the 1886 Washington House Inn, our high-ceilinged room was named for John Armbruster, who we knew was a jeweler because we'd admired the ornate 1884 street clock outside his store, now run by another John Armbruster.
The elegant but unpretentious inn was our kind of place: In the evening, we found a plate of chocolate-dipped strawberries in our room, and the morning buffet included as much freshly squeezed orange juice as we could drink, plus freshly baked breads, hardboiled eggs, yogurt, homemade granola and platters of fruit.
Vicky Aitken and Mary Elizabeth O'Hara of St. Louis, Mo., had been staying at the inn for more than 20 years, since they picked up a Cedarburg brochure at the Wisconsin border and drove up on a whim.
Now, they come to Cedarburg several times a year — in the summer, in September for Aitken's birthday and during the holidays.
"We do a lot of shopping, believe me," Aitken said. "It's a great walking town, which is really important."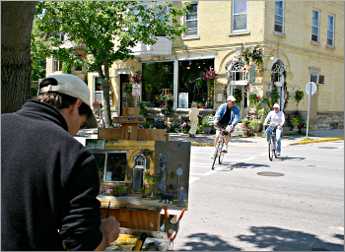 All about strawberries
On the Saturday morning of Strawberry Fesival, white tents had sprouted up and down Washington Avenue. By 10 a.m., Amy's Candy Kitchen was packed with people ogling fat caramel apples covered with pecans, cashews, white chocolate and M&Ms.
Outside the meat market, people stood in line to buy freshly grilled strawberry brats. Gift shops were packed with shoppers looking at tile birdhouses, hand-painted martini glasses and beaded purse pins that read, "I came, I saw, I bought."
At Cedar Creek Settlement, the winery was filled with people buying bottles of Strawberry Blush, Settlement Gold and Waterfall Riesling. Upstairs, shoppers walked narrow hallways past shops displaying pottery, paintings, vintage wear and antiques.
In the mill's courtyard, contestants were vying to see who could lap up bowls of strawberry shortcake fastest and blow the biggest bubble of strawberry gum.
On Washington Avenue, people were downing glasses of Sprecher Strawberry Hefe Weiss and painting their own strawberry clay pots.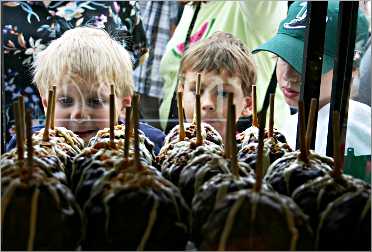 Mostly, the strawberry was a good excuse for a June festival, although once there was a big strawberry farm outside town.
But it was sold to make room for condos-a familiar story. There are more condos and subdivisions in nearby towns, plus the franchises, big-box retailers and strip malls that blight towns everywhere.
Not in Cedarburg, though. They're miraculously absent from Cedarburg. Beyond the downtown historic district, there are modest homes.
There's a drive-in, a city pool, a castle playground, a Piggly Wiggly. It looks exactly like-a small town.
The longtime meat market and old-fashioned bakery closed, but they were replaced by another meat market and another bakery,
It turns out that the same people who worked hard to restore the town are working hard to keep the town what it is.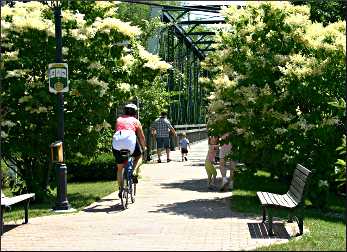 And Kristine Hage said there will be no runaway development in Cedarburg.
"The pressure from developers is pretty relentless here, but the political powers in this town are a force to be reckoned with," she said. "There are a lot of people looking out for Cedarburg."
Trip Tips: Cedarburg in southeast Wisconsin
Getting there: Cedarburg is half an hour north of Milwaukee.
Events: February, Winter Festival, with ice-carving, barrel and bed races, hayrides, beer tasting, music and Alaskan malamute dog weight pulls. June, Strawberry Festival. September, Wine & Harvest Festival. October, Oktoberfest. October, Covered Bridge Studio Art Tour.
Mid-June to mid-August, free Friday-night Summer Sounds concerts in Cedar Creek Park.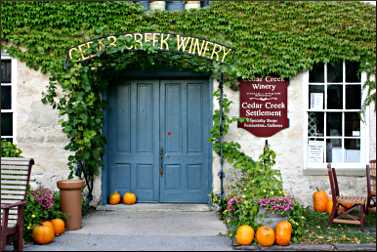 Nightlife: The Cedarburg Cultural Center on Washington Avenue hosts theater, concerts, art exhibits and heritage talks.
Breweries: Along the creek just south of the grist mill, Rebellion Brewing has a pretty patio. The Fermentorium is just outside town and has a large tasting room.
Bicycling: The 30-mile paved Ozaukee Interurban Trail, once a trolley line between Milwaukee and Sheboygan, starts at the end of Milwaukee's Oak Leaf Trail and goes through Cedarburg to Port Washington and beyond.
For more, see Bicycling along Lake Michigan.
Accommodations: Reserve weekend lodgings far in advance — up to a year for Strawberry Festival and Wine & Harvest Festival. From January through April, inns offer midweek specials.
The Washington House Inn, a restored 1886 cream-colored brick inn and 1870 annex on Cedarburg's main street, has 39 attractive rooms and suites. Rates include wine-and-cheese social hour, use of sauna and a large breakfast buffet.
The Stagecoach Inn B&B, a restored 1853 stone inn and 1847 annex on Cedarburg's main street, has 12 attractive rooms. Rates include a large continental breakfast.
Information: Cedarburg tourism, 800-237-2874.
Last updated on January 18, 2022