Prize-hunting in Princeton
In central Wisconsin, shoppers flock to a flea market like bees to clover.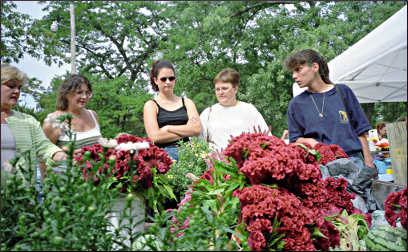 In an up-and-down economy, people still like to shop, even if they can't spend much.
That's turned out pretty well for the town of Princeton, which operates Wisconsin's largest outdoor weekly flea market in its tree-shaded City Park.
The last years have been busier than ever for the market: For a buck or two, anyone can find a treasure, even if it's a bag of marbles or a freshly baked pastry.
Thousands of people stream into Princeton on sunny Saturdays, providing part of the show. Think looking at stuff in flea markets is pretty fun? Try watching the people who look at the stuff.
The man who lifted the lid off a crystal candy dish, for example, just like the several dozen people before him.
"Everyone has to pick up covers; it's a human urge to pick up covers," the late Appleton, Wis., dealer Norm Simon told me when I was there. "It's fun to see the personalities, the way people think."
At the Princeton Flea Market, I got a lesson in psychology. Ever wonder why flea-market stuff always is in such a haphazard pile? It's not because the dealers are slobs-it's because customers want to think they've "discovered" something.
"If you have your stuff all organized, that's no fun; it's like shopping at Walmart," Simon told me. "People like to find something under a box."
I watched as three different people asked the price of a rocker, and Simon quoted three different numbers.
"Another thing people don't understand is attitude," he said."Price changes according to attitude. Some guy comes in and says, 'Oh, I'm a big expert on this . . ."
". . . and he pays top dollar," said Robin Simon, a third-generation dealer who met Norm at a flea market.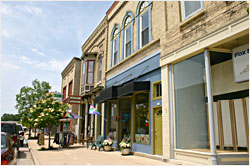 It's an entertaining game, and people come from miles around to play it. Whether they go home with a pair of lime-green bookends or a rare tin toy, they're happy looking.
"For us, it's the thrill of the hunt," Norm Simon said. "Once I bought two toy trucks for 15 cents and sold them for $900 to a person who flew in from New York to pick them up.
"You make mistakes, too," he said. "Once I sold a piece of Carnival glass for $100, and later the guy went down to St. Louis and sold it for $2,800. But I only paid $10 for it, so it was a good deal for me. If I said, 'I could have done this, I could have done that,' I'd go nuts."
Sixty years ago, Princeton was a sleepy town with so many taverns it was listed in the Guinness Book of World Records.
Its beginnings were more promising. Father Marquette came through in 1673, erecting a cross the town still maintains, and the town prospered from its position on the Fox River, whose waters turned the engine of industrialization in Wisconsin.
The huge saw and paper mills were downstream, but Princeton claimed fame through shipping-especially navy beans, through which it acquired the nickname Beantown-and selling, at a monthly Cattle Fair to which people came to buy and sell goods of all kinds.
And selling is still what Princeton does best. The big draw is the flea market, which has as many as 180 vendors each week and a carnival atmosphere.
"I love this flea market; it's the best variety of everything, not just antiques," said Joan Herbst, who had driven in from Theresa, Wis. "Not everybody likes antiques. Today, we bought T-shirts, and I bought Barbies for my granddaughters. Oh, and I bought a doily. And I like all the food-especially the mini-doughnuts."
The flea market attracted antiques shops, which drew more shoppers, then more shops.
That was just the beginning. Locals, tired of looking at the boarded-up downtown, went after new tenants for its neglected brick storefronts.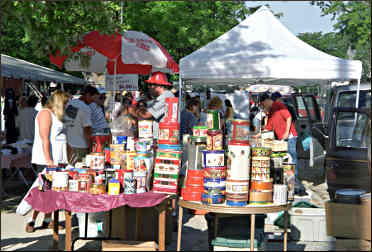 Princeton isn't far from the resort town of Green Lake, Wisconsin's deepest lake and a traditional vacation spot for Chicagoans. Over the years, it's drawn upscale outposts to the little downtown on the Fox River.
And it's the flea market that helped bring people to the more upscale shops.
Trip Tips: Shopping in Princeton, Wisconsin
Flea market: It's held 6 a.m. to 1 p.m. Saturdays in City Park, on the east side of town. It opens in late April and continues through mid-October.
Events: Weekend after Labor Day, Whooping Crane Festival.
Accommodations: The log Mecan River Lodge, three miles west of Princeton on Wisconsin 23, has five attractive rooms. It also has a canoe rental and shuttle for trips on the Mecan River.
Green Lake, 10 miles to the east, has many lodgings.
Dining: The Buckhorn Bar & Grill serves burgers and has outdoor seating overlooking the Fox River.
The Pizza Factory also serves Italian dishes. The Mecan River Lodge serves steaks, fish, chicken and pasta in a log-beamed dining room.
Green Lake has many places to eat, among them the Grey Rock at the Heidel House resort, with views of the lake.
Nightlife: The restored 1910 Thrasher's Opera House in Green Lake maintains a busy schedule.
Information: Princeton tourism, 920-295-3877. Green Lake tourism, 800-253-7354.
Last updated on January 24, 2022