Bargain-hunting in Stillwater
In this St. Croix river town, shops harbor all kinds of treasures.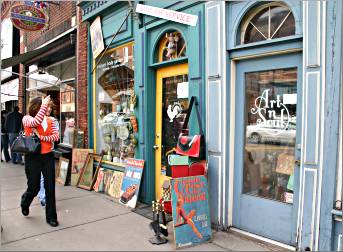 When spring is a tease and days are gray, only one sport always comes through: Shopping.
And where better to shop than Stillwater? The little village on the Minnesota side of the St. Croix River has a Main Street that's chockablock with antiques, books and bibelots from around the globe, filling every inch of storefronts once occupied by the blacksmiths and haberdashers and apothecaries of the logging era.
In summer, its streets are clogged with tourists, out to enjoy the riverside ambiance as well as the shopping.
But one March, my friend Jean and I discovered, Stillwater becomes a candy shop for bargain-hunters.
One Saturday, we cruised right downtown and took one of many free parking places next to the river-that was a big treat right there.
Signs hung on Main Street shops: Huge sale. 40 percent off everything. Clearance. We didn't know the off season could be so much fun.
Whether you want to buy or not, it's still fun to look at all of the shiny wares. At the 45 Degrees outdoors store, I almost bought an ingenious set of Orikaso folding camping dishes. All the hats and gloves were 40 percent off, so I did buy a fleece cap.
Easter goods were 10 percent off at Alfresco, a lovely housewares shop in a sun-filled corner building with high ceilings, and I admired the colorful textiles and rugs from Company C.
We made a beeline for the Luna Rossa coffee shop when we saw the "Gelato" sign in its window, but it was still closed for the season.
Walking down Main Street, we stopped at the Käthe Wohlfahrt Christmas store, the only U.S. branch of the famous shop in Rothenburg, Germany. It was full of hand-carved wood ornaments and other hard-to-find items, such as the lighted wood cutouts called Schwibbogens.
There are more gifts and gear in Stillwater shops than anyone can see in one afternoon. But Stillwater is best known for antiques.
On an October trip, Jean found a $10 china bowl with a violet pattern at Stillwater Antiques Mall. She would have bought a paisley wool scarf, but it had a frayed edge, and the dealer at the counter couldn't give her a discount.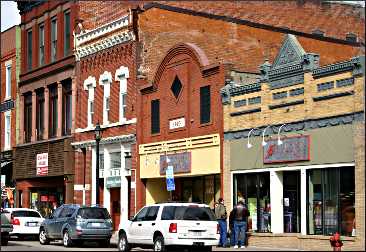 The antiques malls house the wares of many dealers, who take turns selling their fellow dealers' wares. Sometimes, they'll give a discount, and sometimes they won't.
On a January trip to Stillwater, I shopped with my friend Sandy, guided by the spirit of Sandy's late, antiques-loving mother.
"She'd always say, 'Pretend you don't like it and walk away, or offer $5,' " Sandy said. And did it work?
"Yes! She got all kinds of crazy and wonderful things," she said. "I wish I'd listened to her more."
At Midtown Antiques Mall, we asked D.J. Smith, one of the 80 dealers, how he feels about lowball offers.
"You can make an offer, and we'll call the dealer," he said. "Or we won't call, if it's an insult. Then we're not going to call the dealer, and we're not going to talk to you."
Oh. But what if I happened to know the piece had been sitting there for months?
"Then I'd say, 'Let's send it home with you, let's move it on out,' " he said.
At Stillwater Antiques, we both coveted a cream cashmere cardigan with mink stole, $85, and Sandy nearly bought a framed lithograph of African animals, also $85.
On the north end of Main Street, we roamed the three levels of Staples Mill Antiques, in lumber baron Isaac Staples' 1853 stone sawmill.
There, a dealer was liquidating her business and sold me a wrought-iron plant stand with four glass shelves, $45. When I admired a $342 Roseville freesia vase, she offered me a steep discount on that, too.
We didn't spend more than $50 on anything on our little getaway. And we saw only a tiny portion of Stillwater's antiques: There's just way, way too much.
But we'd had fun imagining these beautiful things on our own walls and shelves, and we'd had conversations with interesting people. We'd seen our childhood playthings sheathed in protective plastic and remembered our distant youths.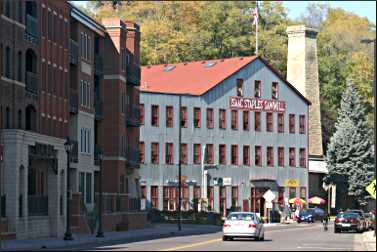 In one antiques shop, Sandy fondly fingered a mink coat that was like one her mother wore.
"I remember when she came home from parties smelling of smoke and perfume," she said. "It's like a Proustian experience, where the madeleine sends him off into his memories. Maybe that's why we do this."
Trip Tips: Shopping in Stillwater, Minnesota
Getting there : It's half an hour east of St. Paul. For more about the town, see Excursion to Stillwater.
Parking : It's free for four hours in many lots along Lowell Park (the riverfront). The lots behind the Freight House restaurant and south of Brick Alley are free until May 1.
Shopping : In winter and spring, sale prices may not be marked; ask if you like something. Look for deals until the tourist season goes into gear with the Rivertown Art Festival in May.
Antiques shops : On Main Street, Midtown Antiques Mall, Stillwater Antiques Mall, Our Antiques, American Gothic and St. Croix Antiquarian Booksellers are open daily, as is Staples Antique Mall on the north end of Main Street.
Most antiques dealers will give a 10 percent discount if asked. At the consortiums, dealers take turns selling each other's goods and may be reluctant to give bigger discounts. But it can't hurt to ask.
Accommodations : The Water Street Inn downtown has many rooms with Murphy beds as well as queen beds. It's well-located, between Main Street and the river.
Information : Stillwater tourism, 651-351-1717.
Last updated on January 24, 2022