How to find a bed-and-breakfast
To travelers, B&B usually means 'best bet.'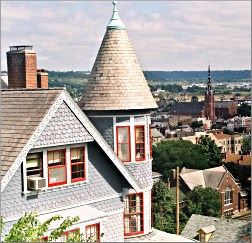 Long before Chaucer wrote "The Canterbury Tales," inns were a place to meet interesting people. They still are. When travelers gather for breakfast, or for evening drinks and hors d'oeuvres, they tell stories and trade tips that pave the way for the next day's travel.
If you're on vacation and you want to get to know an area, staying at a B&B gives you a big head start. Supplying information and personal service is how B&B proprietors set themselves apart from hotels.
They've certainly helped me over the years. Sometimes, I feel like the Blanche DuBois of travel journalism: Wherever I go, I depend on the kindness of strangers.
It's never too early to plan summer travel and book lodgings. Many B&Bs are small, and if they're popular or in a busy tourist area, they book up quickly.
Choosing one may seem daunting, because there's such variety and they're all different. Of course, that's also their great appeal (See 5 things to look for in a B&B ).
Remember, some of the best and friendliest B&Bs cost the least. If you choose a B&B with high rates, you can expect only more luxuries, not better hospitality.
B&B association web sites make it a little easier to pick, especially if they have an amenity search. Not every good inn belongs to an association, so don't rule one out.
But associations that inspect and approve a property do give travelers some assurance of quality, and their sites make it easier for prospective guests to find an inn they'll like.
Wisconsin : The Wisconsin B&B Association includes 200 inns, and its site has a very handy amenity search. If you want to travel with girlfriends, for example, you can check the box for "2 Beds in a Room."
Guests who are disabled can find inns that are ADA-compliant. Families and lesbians or gays can find inns that declare themselves as "well-suited" for them.
Minnesota : The Minnesota Bed & Breakfast Association has 150 members, and its web site includes an availability check. Call 651-438-7499.
Iowa : The Iowa Bed and Breakfast Guild includes more than 100 inns in 74 cities, and its site has a handy map with clickable inns. Call 800-743-4692.
The Iowa Bed & Breakfast Innkeepers Association includes 85 inns and also has a clickable map, plus availability check. Call 800-888-4667 in Iowa, 712-580-4242 outside Iowa.
Michigan : The Lake to Lake Bed and Breakfast Association includes more than 150 members. Its web site includes seven separate search functions, including amenities (including barrier-free and child-friendly inns), specials (including murder mysteries, golfing and spa) and activity (including antiquing, bike trails and beach). Call 888-575-1610.
Illinois : The Illinois Bed & Breakfast Association has an extensive search function that includes such amenities as box lunches, guest cottages and croquet. Six of its members are in Chicago, and three are in Galena. Call 888-523-2406,
Bed and Breakfast Innkeepers of Galena has 11 members. The Galena/Jo Daviess County Convention & Visitors Bureau lists them and others and has a small amenity search, 877-464-2536.
Ontario : The most comprehensive listing can be found at BBCanada.com, though it does not inspect each property. It requires B&Bs to be licensed if the province requires it, but Ontario is one of the provinces that does not.
However, the site's listings show what's available, including 11 B&Bs in Thunder Bay, four in Rossport and two each in Sault Ste. Marie and Wawa.
Last updated on December 1, 2010