Living like a millionaire
In Duluth, guests at historic B&Bs get a look into Duluth's gilded past.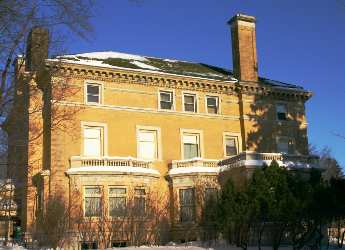 In 1890, Duluth was a treasure chest waiting to be opened.
It sat at the foot of Lake Superior, connected to the steel mills and cities of the East by water. White-pine forests lay to the south and west, and rich veins of iron ore to the north.
It couldn't fail to make money for the men who came to tap its riches, and it didn't.
John D. Rockefeller and J.P. Morgan swooped in, made killings and took the profits back to New York. But other millionaires - in the 1910s, Duluth had more per capita than any other city in the world - stayed, building mansions that remain as monuments to a bygone opulence.
Chester Congdon was a moderately successful lawyer when he arrived in 1891. Fifteen years later, he was the second-richest man in Minnesota, after James J. Hill, and had started building Glensheen, the largest and grandest house in Duluth.
He wasn't an innovator, but he did have an uncanny ability to turn all of Duluth's resources - land, timber, ore, shipping - toward his own gain.
"He speculated ahead of technology," said Jennifer Carlquist of Glensheen Historic Estate, now run by the University of Minnesota and open for tours. "He speculated on things that soon would be in demand. That was his genius."
The company where Congdon got his start, Oliver Iron Mining, also enriched William Olcott, its president, and Joseph Bell Cotton, the lawyer who helped Rockefeller seize control of the mine, which became part of U.S. Steel.
Charles Duncan was a lumber baron who brought modern utilities to the town. George Barnum was a grain shipper who brought steamships into the harbor, which, by 1907, had replaced New York as the nation's No. 1 port.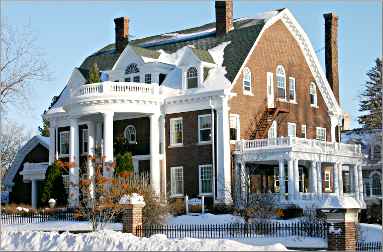 And then there were those who provided services as the city swelled in the 1880s and '90s, such as Ellery Holliday, who sold real estate.
They all built homes that, in the days before the stock market, represented a large portion of their fortune. For sites, they chose hillsides just a block or two off Superior Street, often on one-way streets that end in wild, tree-lined ravines.
After the tycoons died, many of the homes deteriorated, and some of the largest ones were chopped into apartments or used as institutions. But starting in the 1980s, many were returned to their former glory, often as bed-and-breakfast inns.
This house renaissance coincided with the renaissance of Duluth, which, by the 1970s, had sunk into shabbiness. It acquired new luster with the rejuvenation of the lakefront in the early 1990s, and people began to see it with new eyes.
"We'd been coming through town twice a year on our way to the BWCA," says Alan Fink, who then lived in Chicago.
"Back then, Duluth was a place to get through. But Duluth kept getting nicer and nicer, and pretty soon it became a place to get to."
Eventually, he and his wife, Kathy, bought the Mathew S. Burrows Inn, which they ran for many years.
Ken Aparicio was smoking a cigar on the porch of the Olcott House, where he and his wife, Kim, were spending his birthday, when he looked across the street and saw a "For Sale" sign at the 1908 Cotton Mansion, the largest home in Duluth after Glensheen.
He and Kim, who ran hair-care salons in the Twin Cities, already had decided to switch their lifestyle for a less-stressful one.
"We thought, 'What do we do well?' " said Kim Aparicio. "And we thought, 'Wow, we vacation really well.' "
So the idea of living in a millionaire's mansion, and providing a millionaire's lifestyle to people who needed a break, appealed to them. They bought the Cotton Mansion and restored it.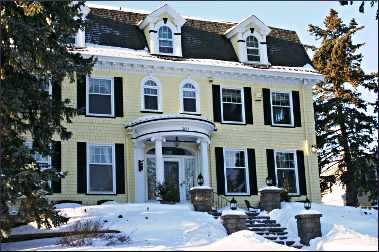 Today, Duluth's inns are filled with double whirlpools, sound systems and other luxuries unknown even to the original millionaires.
If you can afford it, take the opportunity to look into Duluth's gilded past - and present.
Trip Tips: Duluth's B&Bs
Reserve rooms early for summer and for fall weekends. Rates are highest then; you can save quite a bit by coming midweek from late October through mid-May. Some inns offer last-minute specials.
For more on Glensheen, see Duluth's grand mansion.
Cotton Mansion : This 1908 yellow-brick Italian Renaissance, with 16,000 square feet, is the largest home in Duluth after Glensheen.
It has seven very attractive rooms, two in a carriage house, all with whirlpools and/or fireplace.
Ellery House : This 1890 Queen Anne has four attractive suites and rooms, some with fireplace and/or view.
Firelight Inn : This 1910 brick mansion, formerly known as the Barnum House, has lovely woodwork in its common rooms, especially around the cunning Arts and Crafts fireplace nook.
Merryweather Inn : This stately 1904 Southern Colonial, across from the Cotton Mansion, once was UMD's Olcott School of Music, and it was run as the Olcott House inn for many years.
It has five suites and a carriage house with kitchen and whirlpool.
Solglimt : This inn on Park Point, just across the Aerial Lift Bridge, has a fantastic location on the beach and five arty suites and rooms, four with fireplaces and all with exceptionally comfortable beds.
A.G. Thomson House : This stately 1909 Dutch Colonial was the starter home for grain broker A.G. Thomson and has a handsome living room with burgundy walls and very pleasant sunroom.
It has four attractive main-house rooms, one with pullout sofa, and three carriage-house rooms, some with whirlpools, fireplaces and/or lake view, and one is disabled-accessible.
Last updated on January 31, 2020