Staying with Airbnb
Here's how to navigate the popular home-sharing platform and get a vacation rental you'll love.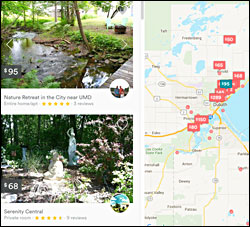 Apparently, hotels are so 20th century.
These days, people are staying anywhere but. They're renting vacation homes through VRBO and HomeAway. They're house-sitting at Caretaker.org. They're staying for free at HomeExchange.com, Servas.org and Couchsurfing.org.
And they're especially staying at Airbnb.com, which was founded in 2007 by three young San Franciscans who rented an air bed to a desperate conventioneer and now is a publicly traded company valued at $100 billion.
These days, air beds are hard to find on the Airbnb website . . . but there are plenty of luxury stays, such as a castle in France, a tree house in California, a hilltop manor in Marrakech, a yacht in South Carolina.
In the early days, travelers on a budget could find Airbnb rooms or even apartments for $50 or less. Many hosts rented an extra room in their homes, or their entire apartments when they were out of town.
The cost of staying at an Airbnb now equals and often surpasses those of staying in a hotel. And because Airbnb is such a well-known platform, many hotels now advertise on it --- which means their guests must pay the large Airbnb service fee, which can easily be $100 for a weekend stay.
So why stay at an Airbnb?
How it works
Most hosts set a reservation window of three or six months in advance. If you're trying to reserve a place for a big event, check as soon as the window opens for the best selection.
After finding a place they want, would-be guests can either message hosts with questions or immediately request a reservation; the host has 24 hours to decline or accept.
Financial transactions go only through Airbnb, which charges the host 3 percent and the guests up to 14 percent above the host rate, depending on the length of the booking.
The good
One of Airbnb's first advertising slogans was "Travel Like a Human." Usually, guests could expect a level of warmth and hospitality far beyond anything provided by a hotel clerk.
They still can, but not always. Now many hosts own dozens of Airbnb properties and run them like a business. In fact, in popular tourist cities, so many people bought apartments to rent on Airbnb that locals had a hard time finding a place to live, and many of those cities now ban or severely limit Airbnb.
But many people, like my former neighbors Andrew and Christine, still become hosts not just to earn a little extra money but because they genuinely enjoy meeting people and want them to have a good time.
"Our guests get the same treatment we get," Christine says. "If I bake fresh scones, they get fresh scones. If we get freshly cut flowers from the garden, they get freshly cut flowers. We like having people around --- the more, the merrier."
Many hosts leave little treats for their guests --- chocolates or perhaps a few bottles of the local craft beer, as well as a welcoming note. There's usually a guide to the house and area, with insider tips on local festivals, the best restaurants and good trails to hike.
And though Airbnb has become a plague in cities popular with tourists --- New York, Barcelona, Berlin and even Airbnb's hometown, San Francisco --- it's a boon for visitors to small towns and rural areas, where mom-and-pop motels have been disappearing at a fast clip.
Most cities now regulate Airbnb, so hosts have to apply for licenses and are regularly inspected. That doesn't lower prices, but it helps ensure guest safety.
And although Airbnb homes no longer are inexpensive, they still can be a better value than a hotel room. Families have room to spread out and can save money by preparing their own meals. Couples typically have much more privacy and often more luxury than a hotel room.
The bad
The biggest advantage hotels have over Airbnb is the cancellation fee --- few hotels have one. Airbnb allows hosts to set their cancellation policies, but no matter how strict it is, if a confirmed guest cancels after 24 hours, Airbnb keeps its service fee of up to 14 percent.
That can be quite a hit if guests have to cancel, especially if they have reserved for longer than a few nights. And guests who have reserved for a month or more lose their entire payment.
Guests usually have to pay a cleaning fee and, unlike the early days of Airbnb, the same taxes that hotels collect.
What guests need to know
Airbnb does not check out the properties advertised on their platform. Be sure to read each listing carefully .
Hosts can and often do decline a reservation, particularly from first-time guests without reviews. To avoid that, write a nice personal note on the reservation request, telling the host why you're coming to town and who will be staying.
If the accommodation isn't as advertised, guests should immediately notify Airbnb after arrival. Their payments aren't released to hosts until 24 hours after guests have checked in.
If guests really like a place and want to return, they can ask for the host's contact info and reserve directly the next time, saving themselves the Airbnb fee (assuming they've been excellent guests and the hosts want them back).
Guests who leave less than a five-star review will not be welcome back. To Airbnb, four stars means something was lacking or not as described, and it takes Superhost status away from hosts whose rating drops below 4.8.
What potential hosts need to know
A common misperception is that Airbnb protects hosts from damage by guests. Many hosts also think that Airbnb verifies the identities of potential guests.
Neither is necessarily true. Hosts may receive partial reimbursement for damage, if they correctly navigate Airbnb's claim process, and Airbnb may require government-issued ID from guests --- or it may require only an email and/or phone number.
It's up to hosts to protect themselves from problem guests, and most learn over time to identify them before confirming a reservation. Reviews of guests aren't necessarily helpful, since many hosts are reluctant to criticize their guests.
People interested in hosting should first pore over the posts in the Airbnb host community forum , and learn from the many mistakes of other hosts. And since Airbnb doesn't notify hosts of policy changes, the forum is a good place to find out about them.
Be sure to read " A Hosting Handbook for (Wise) Dummies ," by an experienced host in Australia.
Last updated on January 17, 2022