Perry's palace
In central Iowa, a gorgeous Arts & Crafts boutique hotel welcomes guests.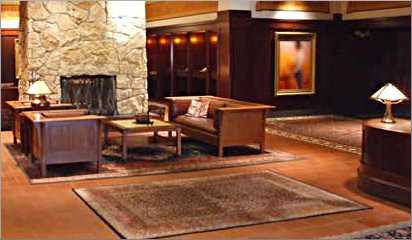 In 1997, a small-town damsel who married a prince — well, an heir — waved a silver wand over her hometown of Perry, Iowa, and unusual things began to happen.
She took the dowdy Hotel Pattee, built in 1913 and on the brink of demolition, and filled it with terra-cotta tile, Persian rugs and so much Honduran mahogany she cornered the market for it.
Artists moved in and painted murals and whimsical folk-art lamps, bedsteads and armoires.
Decorators went to work on the Arts and Crafts lobby and library, a railroad dining-car restaurant and 40 theme rooms and suites that honor everyone from Louis Armstrong to the creator of the "Alley Oop" comic strip.
It cost a lot of money. In fact, the princess — Roberta Green, the daughter of a railroad conductor who moved to California and married savings-and-loan heir Howard Ahmanson — wouldn't say how much after the first $10 million. Reportedly, it reached $20 million.
But the hotel she built was beautiful, and everyone loved it.
Perry is a farm town of 8,800 whose largest employer is a hog-slaughtering plant. Des Moines, the closest city, is 40 minutes to the southeast.
So the hotel struggled. It's now operated by Leisure Hotels & Resorts of Leawood, Kan., but it still has virtually all its Arts and Crafts accouterments and theme-room memorabilia.
Perry may not be a tourist destination, but the Hotel Pattee is. Anyone who walks through the door can see exactly where all that money went.
The mahogany, of course, gleams — as do the soft leather of the Arts and Crafts chairs, the luminous oils of the Gary Ernest Smith paintings and the copper-hooded fireplace in the library.
On the curved walls of the restaurant's Challenger room,  a mural portrays the days when passenger trains rumbled through town.
The Milwaukee Railroad was Perry's main employer for more than a century, and residents remember those days fondly — no one more than Roberta Green Ahmanson, whose father was a conductor.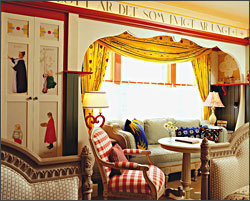 In high school, Roberta Green was a self-described journalism nerd, not a cheerleader or homecoming queen, but she'd had a happy childhood. So the rooms of the hotel she built are valentines to people who lived in the town.
She pays homage to her school's marching band with a room in which the headboard is made from a xylophone, saxophone and flutes.
The R.M. Harvey Room, named for a Perry man who was a circus agent and owner, has a bed with a circus tent for a canopy.
The Earl and Virginia Green Suite has a window seat, green plaid tile around its wood-burning fireplace and a stenciled quote from Earl Green, Ahmanson's father: "You can do anything you put your mind to."
People who love the Arts and Crafts style can wallow in it with stays in the Gustav Stickley room or William Morris room.
When I stayed at the hotel, I chose the Travel Suite, in which a corps of folk artists from the Des Moines firm Sticks had gone wild.
Flying hearts, rising suns and quotes in little banners — "Follow the Highway of Your Heart" — were painted on every surface, including the window seat, lampshades, footstools, headboard, even the towel bars in the luxurious bathroom.
Chairs were upholstered in Route 66 fabric, and there was a view of the outdoor sculpture garden, with its Picassoesque stabiles and tin flowers bobbing in the wind.
I felt as if I'd landed in an upscale boutique. Looking around, I decided Ahmanson must have cornered the market on folk art, too.
After a good Iowa dinner of beef filet and garlic mashed potatoes in the restaurant, I headed downstairs to the wood-paneled bowling alley.
It's named for Ahmanson's bowling grandfather and lined with reproductions of old advertisements: Olympia Candy Kitchen, the Only Place in the City for Refreshing Drinks. Mrs. Nina Peck Millinery, Always Busy.
Soft classical music played as I aimed my bowling balls, helped along by a computer that offered tips on angles and approach.
In the morning, I had a massage and steam bath in the adjoining spa, which, with its backlit etched art nouveau glass, looked like a place Jay Gatsby would like.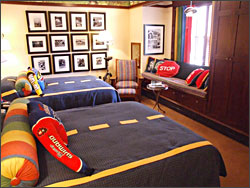 After brunch, I went into the ballroom to see the handsome mural "Pride of Perry," walking through local history from the Dakota, Fox and Sac tribes to pioneer and railroading days, when Perry also was known as the Plowshare Capital of the World.
Louis Armstrong is there, too, blowing his cornet against a full moon. In 1954, he played a concert in Des Moines but couldn't get a hotel room there, so he came to Perry to stay at the Hotel Pattee.
And there's a popcorn stand, given by townspeople to a fireman's widow, who ran it into her 90s.
It's an idyllic view of small-town Americana, like the hotel itself. If you can get to Perry, Hotel Pattee is well worth a stay.
Getting there: Perry is in central Iowa, 40 minutes west of Ames and Des Moines.
Accommodations: Each of the 40 rooms has a different theme. Thirteen rooms have two queen beds, and the four full suites have kings and a sofa sleeper. Two of the suites have wood-burning fireplaces, and two have larger spa tubs.
For reservations, call 515-465-3511.
Nearby attractions: Perry is on a 33-mile arm of the paved Raccoon River Valley Trail, connecting at Herndon and Waukee. The main trail winds 56 miles northwest from the Des Moines suburb of Clive to Jefferson.
It's open for cross-country skiing in winter and bicycling in summer.
Last updated on October 7, 2016