Loving Lutsen
For more than 130 years, this beloved resort has been drawing guests to the North Shore.
When people have been beating a path to your door for more than 130 years, you're probably doing something right.
Swedish immigrants C.A.A. and Anna Nelson were accidental hosts in 1886, when they began putting up travelers in their new home at the mouth of the Poplar River, chosen because it was C.A.A.'s favorite fishing spot.
More people came, and their Lutzen House became Lutsen Resort. Their children and grandchildren added a gabled lodge, ski hill, pool and townhomes. Then came log cabins, luxury condos, a golf course, a gourmet chef and a spa.
Yet it's hard to improve on what nature put on Lutsen's doorstep: a pebble beach, the rushing river and the vast expanses of Lake Superior.
"I guess they have to keep doing new things, but for us, they don't have to do a thing," says Mike Bailey of Minneapolis.
I met Bailey and his wife, Marji, as we all stood at the check-in counter on a warm evening in May.
They made a beeline for the beach with a bottle of wine and ingredients for s'mores, and later I joined them and two grandchildren around a bonfire. They were so happy to be there they were almost giddy.
"The first thing we do is ask to have a fire made for us," Mike Bailey said. "Once we came in April and didn't get here till midnight, but we still went down to the beach, sat in chairs and looked at the stars."
I felt giddy myself after crossing the covered bridge over the Poplar and walking the trails along the rocky shoreline, breathing in that north-woods perfume of inland sea, pine needles and cedar bark.
It's aromatherapy for city folks, and it made me think I should come up more.
To the North Shore in general, but in particular to Lutsen and its ultra-cozy 1952 pine lodge. We'd stopped by on a 20-below Sunday evening that January, when a happy wedding party filled its glowing, window-lined restaurant, so we'd simply looked in wistfully and moved on.
The first time I went into the lodge was on a chilly autumn evening in 1981, when a fire was crackling in the fieldstone fireplace, flanked by picture windows.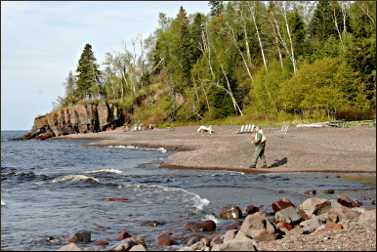 We fetched a beer from the pub, walking past the glass-enclosed polar bear bagged by C.A.A. and Anna's son George Sr. on a trip to Alaska and admiring photos of George Jr.'s daughter Cindy, a world-class skier who won a bronze at the 1976 Olympics and several World Cup races.
Then we sank into overstuffed leather chairs before the fire and drank our beers. And I thought: This is the best place in Minnesota.
No amount of money nor all the interior designers in the world can replicate the patina of well-used pine and polished leather and the easygoing atmosphere.
And then there's the biggest draw of all, the big lake.
That night, I cracked my window so I could hear the lapping of the waves. When I awoke at 2:15 a.m., the Baileys were still on the beach, feeding their fire and looking at stars.
A lot of people love the smaller rooms of the lodge, set along pine-paneled halls. But in the 21st century, even more want king beds, big bathrooms and hot tubs.
"It's a hard balance," says Diane Loh, former general manager and grandniece of Inga Toftey, who married George Sr. "Before we built the Poplar River condos, we were really the old guy on the block.
"It's hard to keep the feel of the place and not get too modern," she says. "And yet, we have to have everything that guests want."
Loh is now retired; her last big project was supervising construction of the elegant Cliff House Townhomes on the hill above the lodge.
In 2018, Nancy Burns and Scott Harrison, who had bought the resort from George Nelson Jr. and ran it for 30 years, sold the resort to Manitoban Bryce Campbell and his mother Sheila Campbell, who also own a historic inn in Fort Frances, Ont.
The next morning of my stay, the dining room was filled with longtime guests. Bud and Barb Rinke of Nisswa, Minn., had been coming once or twice a year for the last 50 years.
They first stayed in the lodge on their honeymoon, when they drove around Lake Superior, and liked it so much they stayed there on the way back, too.
"We've probably stayed in every room, and we've worked our way up to 112," Barb said. "That's the corner room, but not the one over the restaurant."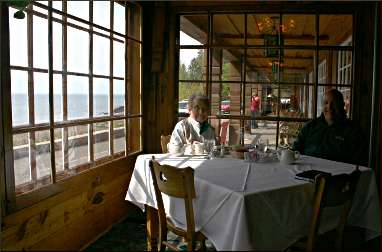 "We just love the lake and the water and the serenity," Bud said. "A lot of people wouldn't like this lodge, because the bathrooms are small, but that doesn't bother us."
"No, we like it; there's some sort of stability in it," Barb said.
They had been talking with server Jackie Dillen Beck as if they'd known her for years, but Bud said they'd just met her. She's typical of the unpretentious staff and management, he said, which is another reason they keep coming back.
"If people will take the time to exchange banter with you, someone is doing a good job," he said.
Dillen Beck didn't mind at all.
"So many interesting people come here," she said. "For so many, this is a second home. This is the place they can come back to."
Trip Tips: Lutsen Resort
Getting there: There isn't really a town of Lutsen. The name comes from C.A.A. Nelson's application for a post office in 1890.
He submitted the name Poplar, which already had been taken, so he named it after the 1632 Battle of Lutzen, in which Sweden's King Gustavus Adolphus was killed.
The town "center" is the hardware store, small grocery and other stores around the post office. It's seven miles east of Tofte and 20 miles west of Grand Marais.
Note: The resort has had issues with staffing. Check recent reviews before going.
Accommodations: Prices are highest on peak ski and fall-color weekends and in July and August. Look for deals in the spring and late-fall shoulder seasons and check for packages.
The lodge has comfortably furnished, smallish rooms, many with lake views. Rooms do not have mini-fridges, and some people consider them a little rundown. There's an adjoining pool/whirlpool/sauna complex.
On the hill south of the lodge, next to the nine-hole golf course and The WatersMeet Spa, it rents the luxuriously furnished Cliff House Townhomes, with gas fireplaces, decks, views and whirlpool rooms.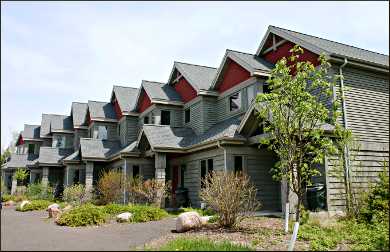 The two-bedroom Log Cabins have wood-burning stoves and decks and are next door on the bluff, overlooking Lake Superior. It's an easy walk down the hill to the lodge and pool complex.
The resort no longer operates the Poplar River condos or Sea Villas townhomes.
Dining: The restaurant now is quite expensive; check before you go so you're not unpleasantly surprised.
Activities: Activities directors give free kayaking lessons/tours, fly-fishing classes and guided hiking and skiing excursions and provide shuttles for guests who want to go off on their own. There's free golf on the resort's nine-hole course.
The WatersMeet Spa and Wellness Center is just up the hill. The highly rated 27-hole Superior National golf course is across the highway on the mountain, with views of the lake.
Lutsen Mountains: The Nelson family sold the ski resort in 1980. It's just up the hill from the resort.
Reservations: Lutsen Resort, 866-471-2360.
Last updated on October 21, 2021