Island of happy days
At Stout's Lodge in western Wisconsin, guests gain entree into a less hurried era.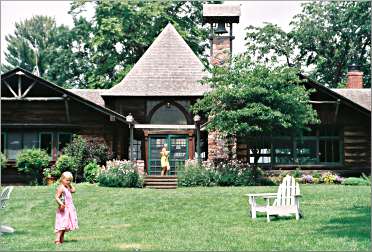 At the turn of the last century, as Wisconsin's pineries were vanishing into sawmills, the vast fortunes they produced fell to the heirs of the Knapp, Stout lumber company.
Operating in the Red Cedar River valley, it was for a time the largest in the world, and Menomonie was the company town. The heirs gave it schools, churches, an auditorium; James Stout, son of the president, endowed the institute that became the University of Wisconsin-Stout.
His brother Frank found a different use for his money. He plowed $1.5 million in 1915 money into a 26-acre island estate near the town of Rice Lake, on Red Cedar Lake.
With trainloads of cedar logs from Idaho, redwood from California and white pine from local dams, he built his family a rambling, 35,000-square-foot compound, adorned by Bavarian carvings of pelicans and oak leaves, Gothic arches and medieval-Norwegian dragon's heads.
This Island of Happy Days was "the dearest place on Earth," said Frank Stout. Photographs show him playing there with his wife, Clara, and their five children: picnicking, trap shooting, water skiing on planks.
In one photo, Frank is going down a slide; in another, the family is costumed, and Frank, then 57, wears a parasol, apron and headdress.
But in 1927, Frank died. Clara continued to use the estate until she died there in 1948. After that, the lodge deteriorated until it was purchased and opened to overnight guests in 1992.
Today, at Stout's Island Lodge, anyone can tread in the steps of the tycoon. The butlers, maids, cooks and gardeners who tended the tycoon, however, are gone, so guests are left to wander around the island on their own.
The handsome log lodge sits on a hillock, its doors flanked by clumps of pink mallow and opening onto a sloping lawn, on which someone usually is playing croquet.
Beyond, through a fringe of greenery, wooden stairs lead to a screened landing whose curving roof and carved rails bear the mark of Norwegian builder Hans Haugen, who put the dragons on the downspouts. From there, swimmers descend to the dock, off which a small raft is anchored.
There's a clay tennis court and an elegant boathouse, with a collection of high-quality canoes, kayaks, water bikes and rowing shells.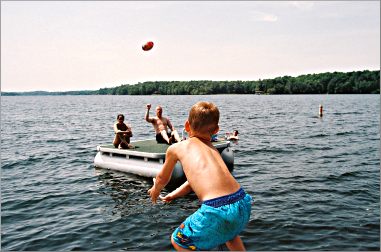 When my friend Grace and I went there one July, three baby swallows were in a nest in a shell and often could be seen hungrily flapping their beaks.
On the narrow, wooded island next door, a pair of osprey tended their nest atop a pine, and orioles, warblers and finches trill and whistle in the bushes.
I took out a kayak to get a better view of the ospreys, a white-breasted raptor that's smaller than an eagle but still a big bird. One was on the nest as I paddled up; then the other flew up and took a post on the dead branch next to it. Just ahead, a loon bobbed on the water.
We played some tennis, then went down to the swimming dock, where we frittered away most of the afternoon.
Then we drifted over the footbridge onto the wooded island, where a path strewn with pine needles leads to two Adirondack chairs overlooking the lake. Sitting there, lulled by the hum of motorboats and the rustle of leaves, Grace promptly fell asleep.
Before dinner, we leafed through the Stout family photo albums, and soon we were able to attach names to the compelling faces in the framed portraits we'd been gazing at in the dining room, including Allison, the fair-haired youngest boy, and Harry, the handsome oldest son, who died of appendicitis at 34.
The whole family was handsome, in fact. And they didn't seem to sit at home much; one photo shows them on camels, in front of the Sphinx in Egypt.
For many people, this kind of family glamour makes Stout's Island Lodge irresistible.
"It's a step back into the past, with all that implies," said Curlin Sullivan, who had  traveled from Atlanta to join her husband's family reunion. "When you walk in the door, the feeling is incredible. If you're quiet and still enough, you can almost imagine it's yours."
Other families had convened at Stout's, including that of Dottie "Boomer" Joseph of Sarasota, Fla., who had come to celebrate her 80th birthday. Usually, the clan could be found playing croquet or sitting on the lawn's circle of Adirondack chairs.
"There are all kinds of things to do for all ages, or you don't have to do anything," Joseph said. "I even rode a water bicycle for the first time."
It took a while for us to get off the island, because the pontoon boat needed a new fuse. But we were in no hurry, because the island had caught us in its languorous embrace.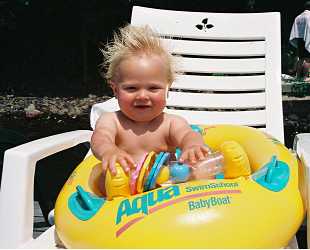 Trip Tips: Stout's Island Lodge in Wisconsin
Getting there: From the town of Mikana, 12 miles northeast of Rice Lake, the lodge ferry picks up guests on the hour.
Accommodations: Rooms are in eight large cabins and two lodges. Each one has a kitchen, kitchenette, refrigerator or mini-fridge, and some have microwaves. Some have gas or wood-burning fireplaces.
Continental breakfast is included in the rates, and lunch and dinner are served in the restaurant.
Fridays and Saturdays must be booked together. A one-night stay is allowed Sunday through Thursday.
Dining: The restaurant is open to non-guests for lunch and dinner Sunday through Thursday. Reserve in advance.
Golf: There's boat service to Tagalong, the mainland course Frank Stout built in 1925.
Information : Stout's Island Lodge, 715-354-3646.
Last updated on April 15, 2021