Autumn on horseback
For a treat, enjoy the fall scenery on a guided trail ride.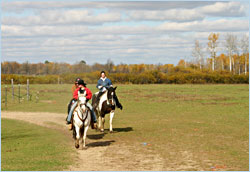 In fall, we all love to get out and see the colors on a good tramp through the woods.
But why not let a horse do the walking?
I don't ride much, but when I do, it's always autumn. Crisp air and colorful forests call for a trail ride, and the view is always better on a horse.
I've ridden through the golden woods of northwest Wisconsin, through Pillsbury and Foothills state forests in Minnesota lakes country and in the ravines of the Minnesota River Valley.
One fall, my husband and I went riding near Brainerd, Minn., with Outback Stables. It was just the two of us with an enthusiastic young guide named Liz, who kept up a running narration on the trails, the behavior of the local deer and the personalities of our horses.
My horse, Pedro, had worked in a rodeo, yet was skittish whenever we had to go through puddles.
"When we first saw him, he was carrying a flag around as if he wasn't afraid of anything, so it's surprising that he's afraid of deer and water," she said. Horses' eyes can't gauge depth, she said, so many are afraid of water, not knowing how deep it is.
After a while, after neither of us had fallen off, she decided we could increase the pace.
"Wanna trot? That's fun," she said.
So we trotted, then cantered through the stable's property and into Pillsbury State Forest, cooled by a light breeze. It was a blast.
Sometimes the horses wanted to stop to eat plants, and sometimes they tried to edge around each other, but they responded to a little tug on the reins.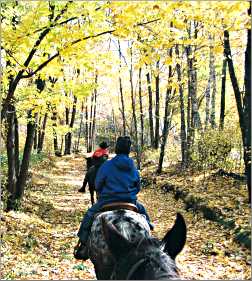 "It's funny; after a while you learn to trust your animal," said Torsten, who was on a horse for the first time.
Not far to the north, two girlfriends and I went riding with Pine River Riding Stable, a 240-acre ranch on the Pine River. My friend Marie was a little worried about handling the big steeds, but guide Patrick Wolfe reassured her.
"They do know if you haven't had a lot of experience, and they're not going to take advantage," he said. "They're going to take it nice and easy."
It was early October, but already the leaf colors had segued into russet and gold, and the paths in Foothills State Forest were covered with fallen leaves.
"This makes you feel like you're walking the yellow brick road," said Bonnie, our 16-year-old guide.
We rode through a meadow, into the woods and then, to Marie's consternation, we crossed the river — and not on a bridge. But we felt safe on our big mounts - Judy's horse, Hot Shot, a Paint-Shire cross, was more than 18 hands high, or 6 feet.
"You don't have any idea you can fall off that horse, because it's like sitting on a table," she said.
My horse, Apine, was the boss, however, and I ended up leading our little pack.
"She's the mayor," Bonnie said. "She's kind of the head honcho of the herd."
By the time we got back, Marie had lost her fear of horses.
"Thanks for forcing me," she said.
Trip Tips: Horseback trail rides
Don't worry if you're not an expert. Guides will show you the basics of handling horses, but most horses are very well trained. Helmets are available.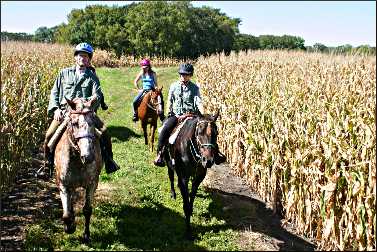 Wear long pants, and you may want to wear padded bike shorts underneath to reduce soreness after the ride. It's always best to reserve in advance.
Pine River Riding Stable near Pine River, Minn . It's four miles west of the town of Pine River, between Brainerd and Walker. It also offers hourlong, 1½- or 2-hour sunset rides, with a cookout in the middle, and a 1½-hour sunrise breakfast ride.
The ranch also has a very nice petting zoo, with billy goats, donkeys, geese, potbellied pigs, sheep and emus. Guests can spend as much time there as they like. Call 218-587-5807 days and 218-587-4844 evenings.
Outback Trail Rides near Brainerd, Minn . It's 10 miles west of Brainerd, in Pillsbury State Forest. Rides are one hour, 1½ hours and two hours. 218-746-3990.
Wild 3L Ranch near Eagle, Wis . This ranch offers trail rides in Kettle Moraine State Forest-Southern Unit.
More stables
Most vacation areas have stables that offer trail rides. Check Travel Wisconsin's Horseback Riding Directory, Explore Minnesota's list of horseback trail rides and Pure Michigan's Horseback Riding.
Last updated on November 9, 2021