Waking the dragon
A sport inspired by ancient Chinese legend takes off on local waters.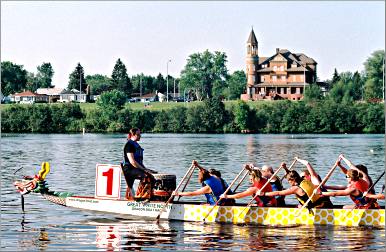 For a long time, the people of Superior, Wis., observed mostly Scandinavian traditions.
And then the dragons arrived.
In China, the works of poet Qu Yuan inspired dragon-boat races, which are held worldwide and have been popular in Canada for many years.
Superior got the idea from Thunder Bay, and it hosted its first Lake Superior Dragon Boat Festival in 2002. It was a roaring success, and other cities have followed suit. Now, the races are one of the fastest-growing water sports.
Anyone who sees a dragon boat won't forget it.
Painted in bright colors, with heads that feature bulging eyes and bright-white fangs, they are to ordinary boats what a centipede is to a beetle — 40 feet long and 650 to 1,300 pounds, dragon boats require 20 paddlers, plus a drummer and a steersman.
But they fly through the water, if a team achieves the synchronicity borne of many hours of practice. For the teams, it's serious sport, but also a chance to socialize and have fun.
At Superior's first Lake Superior Dragon Boat Festival, the fun-loving Canadian teams set the tone.
"This is my first year, and I'm loving it," said Carolyn Weiss of Thunder Bay's Women on Fire. "Twenty-two women in a boat — what do you think? Or co-ed, that's even better, and on a road trip — hello?!"
The all-woman team from Thunder Bay arrived with a comely uniform — long black skirts edged in flames, red and orange curling ribbon in their hair and black T-shirts reading "Canadian Girls Kick Ass" — and a chant, "Women, women, women on fire!."
"Canadians are so much fun," says Pat Pluntz of the Superior Rotary. "People in Canada like to have a good time, and they know how to have a good time."
Duluth's Harbor Town Rotary got the idea for a benefit dragon-boat festival after visiting Thunder Bay, she said, but decided the Duluth waterfront wasn't safe for a race.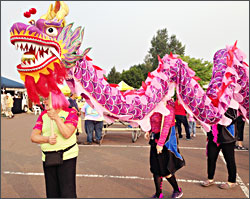 They approached the Superior Rotary, and the two clubs sent a team to paddle in Thunder Bay's festival. There, Pluntz said, "we got hooked but good."
"Hooked is the word I use," she said. "You just can't get enough. It's so fun, so energetic."
The Superior festival is held next to the 1896 whaleback U.S.S. Meteor on Barker's Island.
When I was there, it started with a parade of teams, a Waking of the Dragon ceremony, Kabuki theater, lion dancers, live music, fireworks and plenty of conviviality around the beer tent.
But races started at 7 sharp the next morning, with heats of four boats starting every 15 minutes, each frantically paddling a 400-meter course past Superior's 1889 Fairlawn Mansion.
On the sidelines, teams waited for their races, many making sartorial statements: the Iron Oresmen from Virginia, Minn., wore yellow hard hats, and Smoke on the Water sported Canadian-flag bandanas, Molson boxer shorts and red shirts with maple leaves on the sleeves.
Women on Fire were there, raising their arms and chanting, "Women women women go women!"
And there seemed to be many women named "Vanessa" in embroidered chartreuse T-shirts. Before I knew it, I was a Vanessa myself, drafted to paddle in the second race for the Rowtary Babes of the Twin Cities-western Wisconsin-southern Minnesota Rotary districts.
They weren't expecting to make much of a splash, but they were having a great time racing.
"We've been in hysterics," said Terry Gilberstadt of St. Paul. "We had to practice with broomsticks and chairs."
After a few stretching exercises and a quick lesson — lean forward, try to synchronize with the people in front and diagonal to me and thrust my paddle deep into the water, right up my hand — we were in the boat and ready to go.
We had a steerswoman from Ashland who'd been recruited by the Duluth Boat Club and, she said, had trained the previous weekend.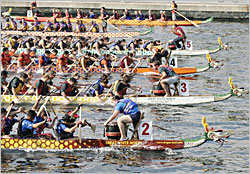 The starting gun cracked, our drum began to beat, we dug our paddles into the water in rhythm — and had nearly propelled ourselves into the next lane when the steerswoman shouted, "Hold the boat!"
We stopped, started, again veered hard to the right and heard, "Hold the boat!" We sat there looking at the other three boats, already in, and meekly limped back after the announcer told us to finish the race.
At the end of the day we'd placed dead last of 70 teams, but who cares?
"I haven't done anything this fun for a long time," said teammate Jackie Kearns of St. Paul.
At the awards ceremony, I talked with Donna Stuart of Thunder Bay's Dragons of Hope, who had placed first in the Breast-Cancer Survivors Challenge Class and second in the All-Women Challenge Class.
Across Canada, she said, there are 33 teams like hers, inspired by a Toronto study that showed the many benefits of dragon-boat racing on breast-cancer survivors.
"We're racing against each other, but also we're racing trying to survive," she said, beaming. "You're all in the same boat, you all have to be together — as you can see, it's awesome."
These days, Superior's festival is even larger, with more of everything, including children's activities, food vendors and boats. Apparently, dragon-boat racing is an idea for which the Twin Ports were more than ready.
"To go to a dragon-boat festival is like getting out of everyday life and stepping into another world," Pluntz says. "It's fun, it's exciting, it's colorful and anything goes."
Trip Tips: Dragon-boat festivals in the Upper Midwest
Many of these races are held as part of larger summer festivals that draw many people, so people who want weekend lodgings should reserve them now.
Most dragon-boat races are fund-raisers, usually for hospitals and/or breast-cancer research. Money raised by the Lake Superior Festival is donated primarily for cancer research.
Anyone can form a team, which must pay a registration fee; those without boats can rent them. Each team must have at least eight female paddlers.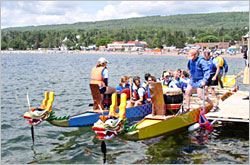 Below are some of the best festivals. Most include additional entertainment, such as martial-arts demonstratios, dance performances and children's activities.
June
Dragon boat racing in South Haven, Mich. On the Black River, part of the Harborfest festival in this Lake Michigan town.
Dragon Boat Race for Literacy in Chicago. On the Chicago River in Ping Tom Memorial Park, in Chinatown.
July
Dragon Festival in St. Paul, Minn. On Lake Phalen.
Milwaukee Dragon Boat Festival. In Lakeshore State Park on Lake Michigan.
Chicago International Dragon Boat Festival in Elk Grove, Ill. On Busse Lake in Busse Woods/Ned Brown Preserve.
August
Lake Bemidji Dragon Boat Festival in Bemidji, Minn. On Lake Bemidji.
Badger Lake Dragon Boat Bash in Fort Dodge, Iowa. On Kennedy Lake.
Dragon Boat Festival in Starbuck, Minn. On the western shore of Lake Minnewaska in this west-central lakes town.
Minocqua Dragon Boat Festival in Minocqua, Wis. On Lake Minocqua from Torpy Park.
Lake Superior Dragon Boat Festival, Superior, Wis. On Duluth-Superior Harbor off Barker's Island. **
September
Dragon Boat Festival in Dubuque, Iowa. . On the Mississippi River in Miller Riverview Park.
Last updated on February 7, 2022