Floating on air
Looking for a hot-air balloon festival? Keep your eyes on the skies.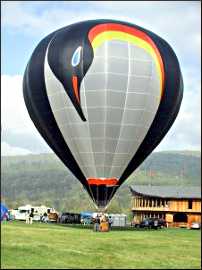 If you've ever seen "The Wizard of Oz," you probably love hot-air balloons.
They're great and powerful and definitely eye-filling. And they're coming to a festival near you.
See balloon launches and, at night, a "glow" as the balloons are lighted. At many festivals, the public can go on tethered-balloon rides, and at some, private companies offer flights over the countryside.
Balloon rides are very popular, so reserve in advance when a festival offers them.
One caveat: If it's a windy day, owners won't be able to inflate their balloons.
June
Monroe Balloon Rally in Monroe, Wis . This event in the southern Wisconsin cheese capital also includes a blues festival, classic-car show and arts and crafts fair.
Great Galena Balloon Race in Galena, Ill . This event at Eagle Ridge Resort offers public flights and rides on tethered balloons. There are also night glows, music, a car show and a Friday-night Alefest.
July
Lake Red Rock Balloon Fest near Pella, Iowa . This festival on Iowa's largest lake includes launches, night glows, music and paddling and nature programs offered by the Army Corps of Engineers, which manages the recreation area.
Balloon Rally & Glow in Wausau, Wis . Events that weekend also include Ribfest and, downtown, Chalkfest.
Waterford Hot Air Balloon Festival in Waterford, Wis. , between Milwaukee and Lake Geneva.
Galesburg Balloon Race in Galesburg, Ill. , on Lake Storey.
National Balloon Classic in Indianola, Iowa . There are rides for the public during this big fest in central Iowa.
August
Balloon Rally in Seymour, Wis . This is part of the Hamburger Festival in this town near Green Bay.
Balloon Fest in Centralia, Ill . This southern Illinois fest also includes music, cardboard boat races and fireworks.
September
Southwest Iowa Hot Air Balloon Days in Creston, Iowa . In addition to balloon races and night glows, there's a parade with marching-band contest, an arts and crafts fair and a flea market.
Quad Cities Balloon Festival in East Moline, Ill . This festival at the Rock Island County Fairgrounds includes balloon glows, launches and tethered rides.
For more festivals, check HotAirBalloon.com.
Last updated on January 5, 2022