Nordic nirvana
Every July, Decorah, Iowa, puts on one of the best fests in the Midwest.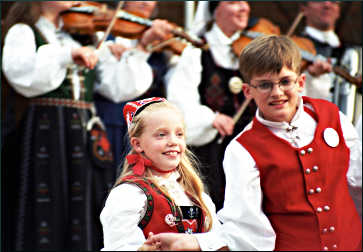 First, an elf sashayed down the street.
Behind him marched adults in bunads, the traditional Norwegian folk costume, and two shaggy little boys wearing the long noses, beards and tails of trolls.
Baton twirlers, roller-limbo skaters, polka dancers, folk dancers, fiddlers, buglers and queens of all kinds followed, lobbing torrents of Tootsie Rolls and hard candy to the crowd along the route.
My children thought it was the best parade they'd ever seen.
I looked at their beaming faces and smiled.
"See, you love being Norwegian," I told them.
Actually, they're only slightly more Norwegian than anything else. But Decorah's Nordic Fest is so big, so well-organized and so joyful that anyone would be happy to claim the heritage.
Every year, the 8,700 people of Decorah, Iowa, put on a jubilee of Old World heritage that brings up to 75,000 to the picturesque hills of northeast Iowa and serves as a kind of homecoming for Norwegians from many states.
Norwegians here decided early on they wanted to preserve the old ways.
In 1861, they established Luther College, and in 1877, they started a museum, Vesterheim, today a village of pioneer buildings that keeps traditions alive with year-round workshops and celebrations.
The dorms of Luther College absorb much of the mob, and that's where we stayed. After the Grand Parade, we headed for the Viking encampment.
One re-enactor was painstakingly piecing together the metal links of a mail shirt; another was stitching runes into a tunic.
Gary Anderson of Chaska, Minn., was sitting on a stump in fur mukluks, itching to explain how English and French historians had slandered the marauding Vikings.
"Vikings believed in freedom and liberties for all, and they treated women as equals," he said. "They also took baths more than once a year; Englishwomen were jumping ship to run off with a Viking man. Now that's a barbarian?"
In the elementary school nearby, rosemaler Kari Pettersen of Drammen, Norway, brushed a swirl of blue paint onto an oxblood-red bowl, watched by an audience as hushed as a golf-tournament gallery.
We watched a puppet show, then joined the crowd on the ball field outside, where men were heaving boulders in the Nordic Rock Throw.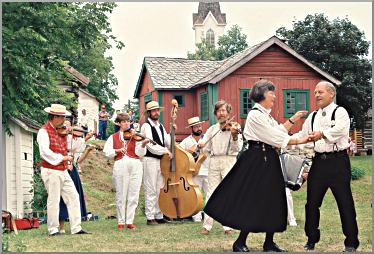 We had grilled-steak sandwiches and Spring Grove lemonade at the local cattlemen's tent, served by the Winneshiek County Beef Queen; all the food stands are run by local groups, with not a corn dog or mini-doughnut in sight.
On Water Street, we bought a plate of krumkake and listened to music: The Bo Juniorspelemannslag from Telemark, Norway, playing hardanger fiddle, with one young woman singing a haunting folk song accompanied by flute.
We heard the Aalesund Spelemanslag play the wedding march they play for tourists on the west coast of Norway.
We watched the North Sea Square Dancers, whose limber young men enacted a courtship ritual by kicking a felt hat off the end of a pole held by a young woman.
That night, we didn't go to the torchlight parade, street dance, giant bonfire or fireworks over the Upper Iowa River. We'd run out of steam.
The next morning, in the dorm lounge, I talked with Ann Denhoun of Fort Calhoun, Neb., who comes to Nordic Fest every year with her husband.
"The first year, we were so overwhelmed by all the stimuli," she said. "We went home, and it took us weeks to absorb everything we'd seen."
Before we left, we listened to Norse storytelling by Dag Rossman at the town movie theater.
We ate lapskaus, a beef and sausage stew, at Bethania church, now part of Vesterheim. For a rollicking dance demonstration on its lawn, Norwegian instructors recruited partners from the crowd; I didn't see anyone turn them down.
As we walked down Water Street, we struck up a conversation with Ragnhild Aurdal, a member of Aalesund Spelemanslag. She'd just been to Vesterheim's gift shop, where she'd bought a traditional kitchen tool she no longer can find in Norway.
"You are more active, more Norwegian here than in Norway," she said. "At home, the TV is all amerikanska."
American Norwegians are exceptionally loyal to their heritage, which explains the almost miraculous size and scope of Nordic Fest. In 1967, the first year of Nordic Fest, 37,000 people came, shocking organizers.
Since then, the town has become better prepared, and there are few people in Decorah who don't lend a hand to the festivities.
Its fame has spread far beyond the Midwest.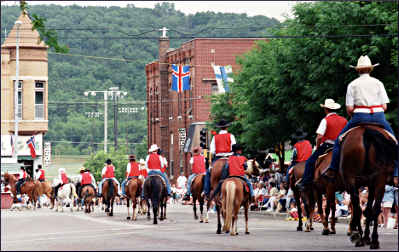 "My father was on the original board," said Decorah native Dawn Svenson, "and his proudest moment came when my grandfather returned from Norway and said to him — and he was a man of very few words — 'Gary, they have heard of your Nordic Fest over there. And they like it.' "
When: It's July 27-29 in 2023.
Where to stay: A reservation in one of the town's motels or B&Bs is nearly impossible to get, so most people stay at Airbnbs or rooms at Luther College.
The college's best accommodations are townhouses with kitchens, then air-conditioned rooms; call 563-387-1538. Eventually, people book rooms as far away as Rochester or La Crosse.
What to do: There's so much to do that it's best to plan ahead, so study the extensive schedule online.
The Grand Parade is on Saturday at 10:30 a.m. The festival ends with a 10 p.m. Saturday torchlight parade, bonfire and fireworks.
Where to eat: Church smorgasbords are listed in the program. Buy tickets in advance, if possible.
Information: Decorah tourism, 800-463-4692.
For more about Decorah, see A pocket of Norway.
Last updated on January 13, 2022