Tales of the dead
At Chicago's famous Graceland Cemetery, the graves have a lot to say.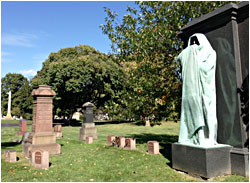 It isn't true that dead men tell no tales.
Actually, they can be quite chatty. At Graceland Cemetery in Chicago, their stories keep up to seven tour guides busy, especially during Halloween season.
Graceland's residents are a Who's Who of Chicago society: retailer Marshall Field, meat-packer Philip Armour, hotelier Potter Palmer, piano maker William Kimball.
Often, their exits were as remarkable as their lives.
Strike-busting railway magnate George Pullman was so despised that his family had to bury him in a lead-lined coffin encased in concrete and covered with steel rail ties and more concrete.
Edith Rockefeller McCormick was a daughter and daughter-in-law of tycoons, but she died penniless, and her body was put into cold storage for two decades until her son paid for a tomb.
Allan Pinkerton is there with his detectives, one hung as a spy by Confederates and one shot in the back while pursuing Jesse James.
There may or may not be ghosts at Graceland. But the dead come back to life through stories.
The Chicago Architecture Foundation leads the most tours, because Graceland is known as "the cemetery of architects." Louis Sullivan designed two tombs there, including an 1890 limestone cube in which Henry Harrison Getty lies with his wife, Carrie Eliza.
"Why is it so important?' asked Jeff Nichols, who was the guide for our early-October tour. "Because there was nothing Greek, Roman or Egyptian about it. It was the birth of modern architecture in America."
Louis Sullivan is in Graceland himself, under a monument paid for by fellow architects after he died penniless, unwilling to design in the throwback Beaux Arts style that swept the nation after the Chicago Columbian Exposition of 1893.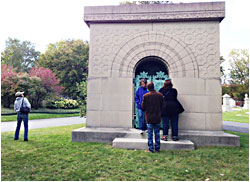 Ludwig Mies van der Rohe, famous for saying, "Less is more," lies under elegant black granite slabs.
John Root chose a Celtic cross for his grave, and Daniel Burnham ("Make no little plans; they have no magic to stir men's blood") has the best spot, on a wooded island reached by footbridge.
One of the more recent additions is Richard Nickel, an architectural historian whose marker points, literally, to Louis Sullivan's grave.
In 1972, Nickel snuck into the 1894 Chicago Stock Exchange building, designed by Sullivan and Dankmar Adler, to try to salvage decorative elements. Two stories of the building, which was being demolished, fell and crushed him.
At Graceland, your grave tells a lot about who you were.
In the case of Potter Palmer and his socialite wife, Bertha Honoré Palmer, who lie under the canopy of a 16-column Greek temple, in sarcophagi the exact size of Alexander the Great's, it says, "We didn't have much taste, but we had a lot of money."
There's a carved baseball at the grave of William Hurlbert, founder of the National League.
The epitaph for businessman Roderick MacArthur, who pushed his father's foundation to award "genius grants," bears the Greek letters for "one foot in fairyland."
The best-known grave at Graceland is that of early settler Dexter Graves, which features a spooky hooded figure. Sculptor Lorado Taft called it "Eternal Silence," but many viewers perceive it as the Grim Reaper.
It's one of the few Graceland graves that have inspired ghost stories, along with the statue of 6-year-old Inez Clarke, who is said to have been struck by lightning in 1880. By legend, the statue vanishes from its protective Plexiglas box during thunderstorms.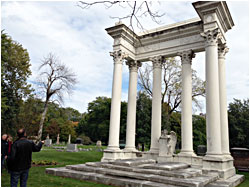 Nichols says he once encountered a "real" ghost at the bunker-like tomb of German immigrant Ludwig Wolff: "As I was giving the tour, I noticed people had terrified looks on their faces — because behind me, a homeless man with a broken bottle in his hands was coming up the steps of the tomb."
On our tour, Nichols finished by showing us the newest type of resting place at Graceland: tiny, mailbox-style "condos." Clearly, he did not approve.
"You shove the ashes into drawers, bye-bye," he said. "But the thing about cemeteries is, you learn a lot about history there. Cemeteries are not for the dead. They're for us, the living."
Trip Tips: Cemetery tours in Chicago
In Chicago , the Chicago Architecture Center offers regular walking tours of Graceland Cemetery and occasional tours of Calvary, Rosehill and Oak Woods cemeteries. The tours are two hours and cost $26, free for members.
The Chicago History Museum offers cemetery tours, especially in October.
Graceland also is open for free self-guided tours. It's on Clark Street north of Wrigley Field, near the Sheridan stop of the Red Line El train.
Last updated on October 31, 2019