Cruising La Crosse
These days, the riverfront is an even bigger draw than the bars.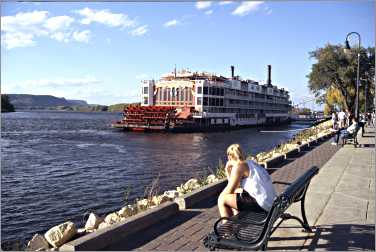 We'd been in La Crosse for barely an hour, and everyone we'd met was a certified character.
In Riverside Park, Frank and Faith Rimmert and Jonathan and Barb Rimmert were decked out in top hats, waistcoats and crinolines to meet the Mississippi Queen paddlewheeler, portraying the 19th-century locals who would have assembled.
"If your relatives were coming for a visit, you'd come to greet them," said Faith Rimmert, a volunteer for the La Crosse County Historical Society. "People picked up things being shipped in, or maybe you'd be looking for a servant — you'd say, 'I want that person for a servant in my house.'"
As the history buffs smiled for the camera, a wedding party in black dresses, black fishnet stockings and purple ankle boots hurried toward their own photo session in a gazebo.
Then, a lime-green 1953 fire truck full of German shepherds drew up, blasting its horn. It was Charles Weeth of La Crosse Skyrockers, a volunteer group that puts on special effects and fireworks shows at city festivals.
"I can do a hundred effects off this thing," he said. "I've got really loud whistles that set off a fountain of silver sparks and one that goes whoosh in a great ball of fire. Oh, we have a lot of fun here."
He invited us to hop in and said he was still recovering from Oktoberfest, which had ended six days before. When I asked if it was true the festival had become more sedate in recent years, he had to think about it for a while.
"Well, there aren't the riots and tear gas and all," he said. "But you know how it is when alcohol and testosterone and estrogen get all tied together."
La Crosse always has been a destination for drinkers, with as many as eight breweries, three colleges and a downtown with so many consecutive bars it once held a Guinness world record.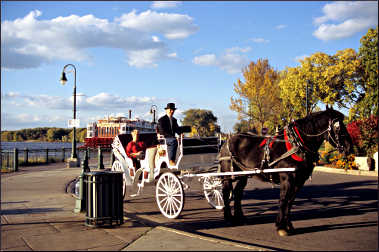 Once, a reputation was nearly all La Crosse had. Damage from a 1965 flood forced the city to demolish many historic buildings, turning the riverfront into an empty patch of sand.
A new mall off the interstate drew business from downtown, and the big department stores closed. Even its status as a drinking town took a hit in 1999, when its last brewery closed briefly.
But downtown La Crosse is looking spruced up these days, with brick pavers and period street lamps. The brewery is back, partly owned by employees and renamed City Brewery for its 1858 origins.
And there's a microbrewery in North La Crosse, where the Pearl Street Brewery produces a line of signature ales as well as handcrafted seasonal and specialty beers.
The sand patch now is a verdant park surrounded by hotels. Paddlewheelers stop there to let passengers go sightseeing, evoking the era of Mark Twain, who got off a boat in 1882 and pronounced La Crosse "a choice town."
Named for a game
We were there during Historic Downtown La Crosse Days, so we joined a tour led by architectural historian Barbara Kooiman.
The town is named for the game French traders saw the local Ho-Chunk playing; the first resident set up a fur post to trade with them, and by the time Twain arrived, La Crosse was a thriving rail and river center with nearly two dozen lumber mills.
Some of the downtown he saw — "blocks of buildings, which are stately enough, and also architecturally fine enough, to command respect on any city" — is still there.
The 1879 Italianate Pamperin Cigar Co. is there, still with original copper panels under its windows, as well as the 1872 Healy Block, where Dr. Frank "White Beaver" Powell ran a drugstore, and the 1878 John Walter Building, now with a 1933 Art Moderne facade.
"We have quite a gem here," Kooiman said. "People talk about all the buildings torn down, but we have a nice concentration here."
As we walked farther from the river, the buildings became newer with each block, until we reached the Prairie School Odin J. Oyen Building, built in 1912 for an interior designer, and the 1930 art-deco Hoeschler Building, with sconces and mosaic panels.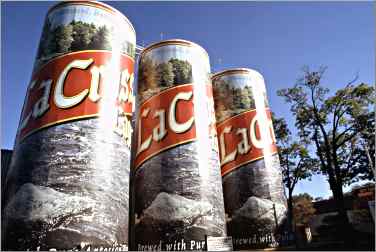 "That's what's neat about La Crosse," Kooiman said. "As you progress away from the river, the styles shift with each decade."
Behind the historic facades that day, costumed characters were portraying Oyen, Frank Powell and Dr. Adolph Gundersen, who founded the local hospital. John Satory, a former president of the historical society, has played Powell and merchant Mons Anderson.
But that year, he was behind the counter of his Satori Arts shop on Pearl Street.
On a shelf over his head sat boxes of products once made in La Crosse — Jay-Tee Japan Green Tea, Peerless Beer and Funk's Happy Boy Confections, made on the site of town founder Nathan Myrick's cabin.
Another case held Doc Powell memorabilia, including a ruler stamped "White Beaver's Cough Cream and Wonder Worker," which Powell marketed with his friend William "Buffalo Bill" Cody, who often came to visit.
Powell was a medical-college graduate, and his mother was part Seneca, known as a medicine chief, Satory said. "He believed in herbal medicines, so people thought he was a quack."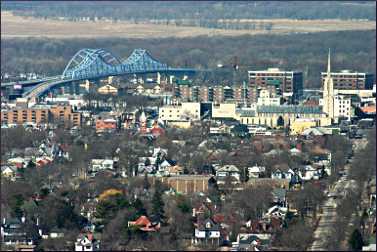 On the sidewalk outside the shop, people lounged in the sun, eating ice-cream cones from an old-time parlor. Overhead, painted ladies looked on from murals on the boarded-up windows of the 1887 Schwartz Block, once a disreputable hotel.
"This neck of the woods was really a bad part of town," Satory said. "They used to arrest GIs if they were found in the area."
A brew or two
We couldn't leave town without seeing the World's Largest Six Pack at City Brewery. When it was Heileman, the only La Crosse brewery to survive Prohibition, the giant storage cylinders bore the Old Style logo; today, they look like cans of La Crosse Lager.
The last time I visited, our tour guide told us that students once tried to tap the cans with an ax, nearly blowing up the neighborhood.
A second guide said he hadn't heard that story, but he offered a stupid drinking trick of his own: One Oktoberfest, he said, some men sawed the stein out of the hand of King Gambrinus, the potbellied medieval connoisseur whose wooden statue stands outside the brewery.
They used it to drink beer during the festival, then returned it to the king.
In La Crosse, drinking legends are legion, many revolving around the brewery, which once offered unlimited imbibing before and after tours.
Back downtown, we stopped by the Casino, a former speakeasy whose Art Moderne interior Barbara Kooiman had urged us to see.
Run for more than 30 years by the late Donald Padesky, who refused to sell big-brewery American lagers, the bar now specializes in cocktails as well as good beer and is on the National Register of Historic Places.
Outside the Pearl Street bar, people still were sitting at sidewalk tables, enjoying the evening and drinking — except they were drinking coffee, not beer.
Maybe we left too early, or maybe La Crosse has calmed down even more than we thought. But no matter what, it'll always have its reputation.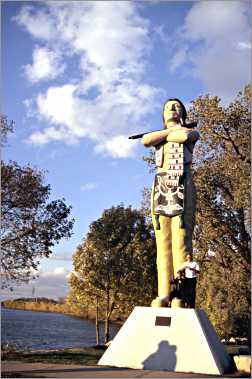 Trip Tips: La Crosse, Wisconsin
*Getting there: * Amtrak's Empire Builder serves La Crosse. From points west, it arrives at 10:47 a.m. and departs La Crosse at 7:11 p.m.
2023 events: June 30-July 4, Riverfest in Riverside Park. July 21-22, Storytelling Festival at the Pump House. Aug. 11-13, Irishfest. Aug. 25-27, Great River Folk Festival. Sept. 28-30, Oktoberfest.
American Queen Voyages riverboats stop in La Crosse on their Upper Mississippi cruises.
Accommodations: On State State near Riverside Park, close to downtown, the boutique Charmant Hotel occupies a former chocolate factory. It includes a French-inspired restaurant and a rooftop terrace that serves wood-fired pizza.
The GrandStay Hotel & Suites is on the north end of Riverside Park and has an indoor pool and free breakfast.
On Cass Street, the Bentley-Wheeler B&B includes two historic houses.
Two miles south of downtown on U.S. 14-61, the Welch Motel is a mom-and-pop motel with clean and tidy rooms. The popular Hungry Peddler restaurant is nearby.
South of town, the 1917 Prairie-style Wilson Schoolhouse Inn is a lovely two-bedroom cottage with a well-equipped kitchen and living area. 608-787-1982.
There's camping at Goose Island County Park, three miles south of downtown, 608-788-7018, and at Pettibone Resort, on Barron Island across the Cass Street Bridge, 800-738-8426.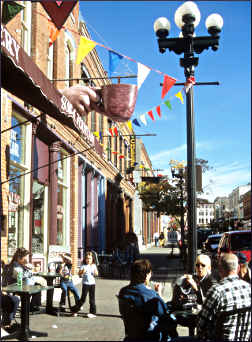 Dining: Overlooking Riverside Park, The Waterfront has an extensive  menu of seafood. Piggy's and the Freighthouse, both along the river, have nice atmospheres and standard menus. 4 Sisters Wine Bar & Tapas Restaurant has a patio with a view of the river.
Downtown, Fayze's on Fourth Street has a bakery and is a good place for breakfast and lunch. Digger's Sting on Third Street looks like a dive bar from outside but has good food.
*Nightlife: * Concerts, plays and national touring shows perform at Viterbo College, Pump House Regional Arts Center, UW-La Crosse Center for the Arts and the La Crosse Center.
River cruises: The La Crosse Queen, a small paddlewheeler, offers cruises from Riverside Park, 608-784-8523.
Craft breweries: The Turtle Stack Brewery tasting room is downtown, across from the Radisson and La Crosse Center.
Pearl Street Brewery, just off Wisconsin 35 north of the La Crosse River, has a taproom and often offers live music.
On the north side of town, just off U.S. 53, 608 Brewing has a taproom and is open daily.
City Brewing Co no longer offers individual tours.
Canoeing and kayaking: The seven-mile Goose Island Canoe Trail, around Goose Island south of La Crosse, takes four to five hours to paddle. To get there, take Wisconsin 35 south to County Road GI.
It can be reached by three boat ramps in Goose Island County Park, which rents canoes. Miles Paddled supplies handy information about canoeing and camping in the park.
Information: La Crosse tourism, 800-658-9424.
Last updated on February 1, 2022