Lansing on the Mississippi
Blessed by topography, a quiet Iowa river town attracts attention.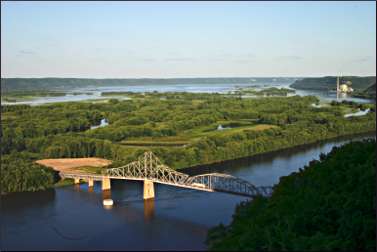 Tucked into the tip of northeast Iowa, Lansing has been overlooked for a long time.
In 1851, a 20-year-old steamboat passenger named Harriet Hosmer noticed its steep bluff and won a footrace to the top; the peak became Mount Hosmer.
Lansing was the county seat until 1867, when a posse from Waukon stole the county records. And it was a boom town in the 1870s and '80s, when farmers beat a path to its grain elevator and levee.
Riverboat captains built stately homes at the foot of the bluff, where they could keep an eye on one of the Mississippi's sharpest bends.
In 1897, the Lansing Co. began punching buttons out of mussel shells and continues to make buttons, though now they're plastic. And people always have come to fish.
But Lansing is far from cities and freeways. So over the years, only a few travelers noticed the lovely Victorian homes on the hill, some of them inns, and the picturesque way in which Main Street tumbled down to the river.
Just a few knew about the hairpin curves that would take them up Mount Hosmer for one of the Mississippi River Valley's most magnificent views.
Many did appreciate the 1931 Black Hawk Bridge, whose Tinker Toy girders look tenuous and graceful at the same time.
In 1999's "The Straight Story," about an elderly man who drove a 1966 John Deere lawn mower across Iowa to visit his brother in Wisconsin, director David Lynch filmed Lansing's bridge instead of the one Alvin Straight really used, calling it "a great bridge."
And many people have heard a kind of siren call, following it only to find themselves under the spell of this Lorelei on the Mississippi.
Many of those who love Lansing best are creative types. They're following in the steps of Harriet Hosmer, a young sculptor who had traveled from Massachusetts to St. Louis to study anatomy after being denied admittance to medical schools in the East.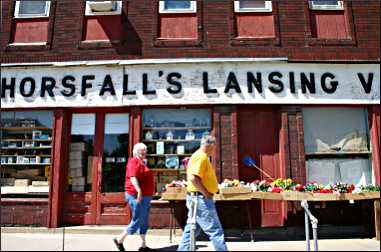 After her trip up the Mississippi, Hosmer returned home and went on to Rome, where she joined an international circle of artists that included novelist Nathaniel Hawthorne, who modeled one of his characters after her.
Hosmer quickly became renowned for her neoclassical sculptures and was only 28 when she sold one to the Prince of Wales, the future Edward VII.
The newcomers have brought art, music and new ideas to Lansing. But the town hasn't changed much. It's still hard to find a latte there, though you can get a million other things — at Horsfall's Lansing Variety, whose ramshackle storefronts occupy a block of Main Street.
"We may not have the right stuff, but we always have a lot of stuff," said Paul Horsfall, whose main store is famous in the region for towering piles of low-priced wares stacked along narrow aisles.
Sunburned farmers drive their pickups into town for the Friday-night fish fries, and processions of motorcyclists make a racket as they follow the Great River Road through town.
Stuffed game still is propped on the awning of the taxidermy shop, and faded signs on the 1885 storefront across the street still advertise fishing tackle, ammunition and souvenirs.
Boats speed past the foot of Main Street, which ends in water. Bird watchers like to explore the scenic sloughs of the Mississippi, with its fields of water lilies, beaver lodges, blue herons and eagle nests.
In Lansing, life still revolves around the river. Some want to be on it, some just want to look at it. And no one gets tired of the views.
Lots of towns can serve a latte. But few can deliver a setting like Lansing.
Trip Tips: Lansing, Iowa
Getting there: It's half an hour south of La Crosse.
Mount Hosmer City Park: From the river, drive up Main Street and turn right on Sixth Street.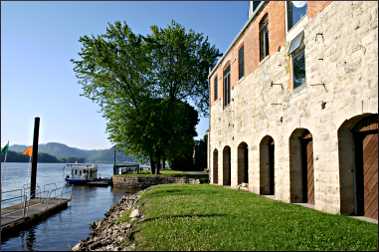 The first overlook has a three-state panoramic view; there's also a good view from the top, where there's a playground, picnic tables and a pavilion.
Accommodations: McGarrity's Inn on Main Street has three very attractive rooms with kitchenettes and a one-bedroom suite with a very fancy kitchen, steam shower and whirlpool bath and wrought-iron balcony with bridge view. The suite sleeps five and adjoins another room that sleeps four.
Guests have use of a gas grill on a back deck. However, noise from traffic and live music at a neighboring bar can be irritating. 866-538-9262.
On the hill, the large 1873 Thornton House B&B has five large rooms and a cottage, 563-538-4878.
West of Lansing, Red Barn Resort & Campground has many amenities, 888-538-4956.
Dining: On Main Street, the Safe House Saloon serves pizza and a nice selection of Iowa craft beer.
Last updated on February 27, 2018