Waters of the dancing sky
In far northern Minnesota, a scenic byway is a showcase for the outdoors.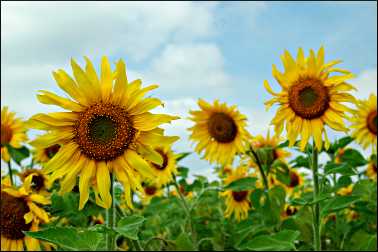 Exploring the Minnesota landscape on a scenic byway, you'd expect to see some singular features.
But Waters of the Dancing Sky Scenic Byway turns up a whole new face.
This is a burly part of the state, a scratchy-wool, buffalo-plaid kind of place that might seem Bunyanesque in nature but actually was the stomping grounds of a real-life legend, the shorter but tougher voyageur.
First traversed by Europeans, this strip of Minnesota was one of the last places to be settled in America.
Today, it's still a frontier, at least at its two ports of entry into Canada, and its residents still revel in the outdoors, powered by engines instead of paddles.
A 229-mile stretch of highway, this scenic byway was conceived in part as a showcase for the showy lady's slippers and yellow moccasin orchids that spring up along its ditches in June, and it has its share of roadside wildflowers throughout the summer.
In August, the sunflower crop ripens, and the fields are ablaze with bluegrass — literally ablaze, as in flaming. When I was traveling through, the grass seeds had been harvested and the stalks set afire to encourage growth for the next season.
All along the road from Roseau to Warroad, flames licked up from jet-black soil, creating billows of smoke that nearly obscured the late-afternoon sun.
Capital cities
Up here, a traveler sees many unusual things. There was a Hummer on tank treads sitting at a junction in Karlstad, next to the Mattracks rubber-track conversion-systems plant and around the corner from Murphy the Moose, which stands next to a sign proclaiming Karlstad to be "Moose Capital of the North."
Down the road, Greenbush is the start of the stretch known for orchids, but in August there was nothing to be seen along the road but thousands of overheated turkeys, lying in piles under shade trees.
Badger is just a tiny burg, but it claims to be "Mallard Capital of Minnesota."
Roseau could put a claim on "Hockey Capital of Minnesota," but first it would have to duke it out with Warroad. It's also the home of Polaris Industries, manufacturer of snowmobiles and ATVs, the main conveyances for fun in the woods.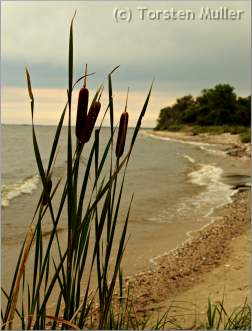 "If you don't like to do things outdoors, I don't know what you're going to find to do in Roseau," said Eveline Gordon, a clerk at Annie's Trading Post.
Annie's, she said, "is kind of an anomaly in these parts" — from its start as a scrap-metal yard, it expanded into furs, then seafood and now also carries gifts and sportswear as well as casually stylish women's apparel that would be snapped up in the Twin Cities. The local women aren't sold on it, though, said Gordon.
"They're so conservative," she said. "The Woolrich woman is afraid to wear something unusual."
Roseau's hockey archrival, Warroad, is 20 miles down the road, on Lake of the Woods. Like Roseau, it's dominated by a single industry, Marvin Windows.
The many Marvin buildings overshadow the town, which seems low on houses. More people live within a five-mile radius than within the town limits, said Kathie Quinn of the Chamber of Commerce.
She said they're looking for lake views, hunting grounds or privacy — or perhaps, like her, they enjoy watching for wildlife and seeing the northern lights for which the scenic byway is named.
"Just last week, we were all sitting out in the yard watching them," Quinn said. "It was gorgeous."
On the lakefront, Warroad's City Park is the first stop on the 223-mile Pine to Prairie Birding Trail, with two observation towers that provide a bird's-eye view into the surrounding marshes.
In the 18th century, the town site was on the fur-trade route between Lake Winnipeg and the Great Lakes, and in 1732, Pierre Gaultier de Varennes, Sieur de la Verendrye, built a palisaded fort on an island to the north.
In City Park, a plaque commemorates the day in 1736 when a Dakota war party killed la Verendrye's eldest son, a priest and 17 voyageurs on a nearby island, severing their heads and wrapping them in beaver pelts.
It was retaliation for la Verendrye's alliances with the Cree and Assiniboine. Later, the Dakota fought with the Ojibwe for use of the surrounding wild-rice fields, traveling in from the west on the Red and Roseau rivers, or war road.
Grist for legends
From Warroad, the scenic byway continues east to Williams, "Orchid Capital of the Nation" and home of the Williams Garden Club, which marks the best roadside displays of blooms for the Wildflower Celebration in June.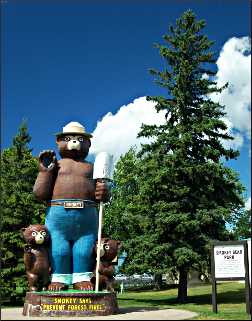 A short detour to Zippel Bay State Park yields more wildflowers — four species of lady's slippers and many other orchids in June and July, and later, bottle gentian, seneca snakeroot and fireweed.
Named for one of the early settlers, sturgeon fishermen who sent their fish to markets as far away as New York, Zippel Bay has one of the state's most spectacular beaches.
Today, Lake of the Woods is better known for walleye, and Baudette has a whopper. It's just one of many towns claiming to be "Walleye Capital of the World," but its 40-foot Willie Walleye seems to be the largest — in concrete, anyway.
From Baudette, a bridge crosses the Rainy River to Ontario. In Baudette, a traveler can pick up cans of Malkin's jams, McIntosh toffee — and French voices, wafting over the airwaves on Radio Canada.
The scenic byway is most scenic along the Rainy River, on the way to the Falls. Franz Jevne State Park, Minnesota's smallest, is a mile detour, right on the river.
There's no attendant, no visitor center and no plaque to explain its significance, but the rapids on which it sits was a gathering place for North America's indigenous people, who came to its shores to fish for sturgeon, reconnect with relatives and bury their dead.
The largest concentration of burial mounds in Canada can be found on the opposite shore, a National Historic Site that's now part of the grounds of Kah-Nah-Chi-Wah-Nung, an impressive heritage center with a roundhouse, museum, restaurant and trails.
There are mounds on the American side, too, the largest concentration in the Upper Midwest. They're just down the road, and once, people could learn about them at the Grand Mound Historic Site, run by the Minnesota Historical Society. Thanks to budget cuts, it's closed.
Just east of Franz Jevne State Park, travelers pass Basshenge, a roadside collection of 21 steel sculptures of string basses erected by local cabin owner Joseph Guastafeste, principal bassist for the Chicago Symphony Orchestra.
Soon, traffic includes trucks stacked with logs, headed for the giant paper mill in International Falls. The forests are everything in the Falls, supplying livelihood, identity and recreation, so a 26-foot fiberglass Smokey the Bear is the town mascot.
Flanked by two cubs, Smokey stands at the end of downtown, just across the street from the Koochiching Museums. Inside, exhibits draw tourists from around the nation, many of them curious about the town's legendary status as "Icebox of the Nation."
"We just had to come to International Falls, because we always see it on the news," said Shirley Rider of Maitland, Fla.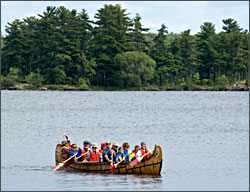 The other half of the museum is about local son Bronko Nagurski. This Bunyanesque athlete made Ripley's "Believe It or Not" in 1937 for being world champion in two sports at the same time, as a heavyweight wrestler and an unstoppable fullback for the Chicago Bears — "the only ball carrier I've ever seen who ran his own interference," according to an opposing coach.
But Nagurski was modest, declining to let the local high school football team use his name; it had to settle for Broncos, with a bucking pony as a mascot.
Of fame, he said, "I just take it or leave it. It doesn't do anything for me."
After his playing days were over, he came back to International Falls. He raised a family and spent his spare time hunting and fishing, enjoying the outdoors.
For people along this stretch of highway, that's the good life.
Getting there: Between Karlstad and Voyageurs National Park, just east of International Falls, the scenic byway is 191 miles.
From Hallock through Lake Bronson State Park, on the west end of the byway, it's 229 miles. Each end is roughly 5½ hours from the Twin Cities.
Accommodations: Most of the lodgings along this stretch are franchise motels.
At the end of the byway near International Falls, Sha-Sha Resort has pleasant cabins with screened gazebos and dining on a series of decks overlooking Rainy Lake.
Information: For more on Voyageurs National Park, see Land of big water.
Last updated on December 21, 2016