Minnesota's scenic 61
The old stretch of highway to Two Harbors is a rustic remnant of the old North Shore.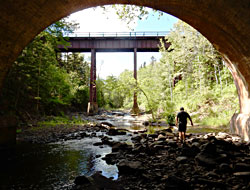 Thanks to a four-lane stretch of Minnesota 61, tourists can zoom up to Two Harbors from Duluth in 15 minutes flat.
The question is, why would anyone want to?
There's much more to see along this 19-mile stretch of old 61, a part of the North Shore that has changed little in the last few decades. It's not the fanciest part, but it may be the most genuine.
The 11 miles of shoreline from the Lester River to Stony Point are undeveloped, thanks to Glensheen magnate Chester Congdon, who donated it to Duluth with the stipulation that nothing would ever come between highway travelers and their view of Lake Superior.
Except for angling and boat-watching, not much goes on there, which is how Congdon wanted it.
Fishermen haunt the mouths of the Lester, French and Sucker rivers at dawn, angling for trout and salmon. In May they wait, along with hundreds of ducks, for the smelt to run up the Lester and Knife.
In fall, they wait for Chinook salmon, who congregate at rivers' mouths before their spawning run.
Grown-up fish are served a mile farther at the New Scenic Café, which serves a mean pistachio-crusted walleye. It's not much to look at, but it's one of the best restaurants on the North Shore, and its fruit pies can stand up to any in the state.
Three miles farther, take Stony Point Drive to Stony Point, a grassy meadow lined with pebble beach. On warm days, it's popular with boat-watchers, picnickers and fishermen.
On windy days, it's a good place to watch the surf, and when waves pound the shore in winter, the surfers come out.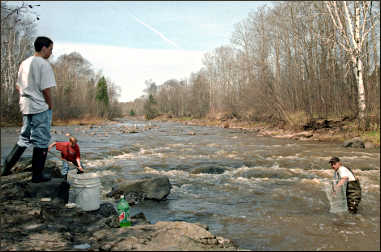 Nearby is a roadside attraction that will be instantly familiar to anyone who took long car trips in the 1960s. Off the highway, in a spruce and balsam forest, Tom's Logging Camp shows what life was like in the logging camps that once dotted the shore.
Visitors can wander among a blacksmith shop, bunkhouse and cook shanty and see a goofy Paul Bunyan.
But children will most appreciate the petting deer and pygmy goats, as well as the Old Northwest Co. Trading Post, an old-fashioned repository of souvenirs.
"We push hard to keep it the kind of tourist attraction that was around when we were kids," says owner Lauren Weckman, who took over from her father. "We try to stay away from anything too modern."
Knife River is one of the oldest North Shore towns. It was the site of a logging operation, a commercial-fishing port and, now, the North Shore's largest marina.
At least two shipwrecks lie offshore — the log-rafting tug Niagara, sunk in 1904, and the freighter Onoko, sunk in 1915.
Smoked fish still is sold from Russ Kendall's little wooden storefront along the highway. His family has been in the business ever since his father's fish truck broke down in Knife River on a 1924 delivery run to Grand Portage.
The townspeople bought the fish, the father built a fish stand, and now Kendall dispenses his own smoked slabs of trout, whitefish and salmon, along with a little advice: "Eat it just like a banana, and watch out for the bones."
In "town," next to the mouth of the Knife River, the Great!Lakes Candy Kitchen has replaced Mel's Fish House. But the Canelake family kept Mel's 1950s fish case to display their handmade chocolates and candies.
Three miles north of Knife River, a Norwegian stabbur appears by the side of the road. In the Middle Ages, stabburs were used as warehouses and built top-heavy to keep out rodents.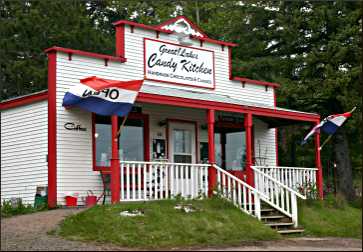 This one, complete with acanthus carving, was built by local silversmith Brad Nelson as a Scandinavian imports shop. Two miles farther north, Dale Burton sells decorative ironwork at his Burton Forge and Gallery.
There's a string of small, old-fashioned resorts on the last stretch of Scenic Old 61, which ends on the outskirts of Two Harbors.
On the third Saturday of June, thousands of runners gather here for the beginning of Grandma's Marathon, one of the most scenic marathons in the world.
On that day, Scenic Old 61 is a party, lined with bands and cheering spectators. But to those with a little extra time to spend, it's a lot of fun any time.
Trip Tips: North Shore Scenic 61
When to go: In May, fishing reaches fever pitch; the smelt runs when the streams that empty into Lake Superior reach 45 degrees, around Mother's Day. On the third Saturday of June, Grandma's Marathon is held on Scenic 61.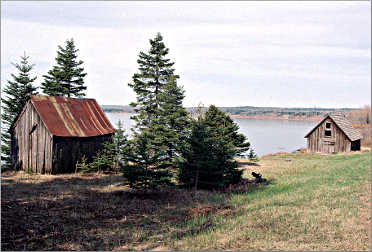 On the third Saturday in September, the North Shore Inline Marathon uses Scenic 61. In winter, storm-watchers and surfers converge on Stony Point.
Accommodations: Just four miles from the Lester River, the Inn on Gitche Gumee has 10 northwoodsy suites, some with whirlpool and fireplace and four with kitchens, and a cottage that sleeps up to eight and has a whirlpool and fireplaces. Weekday rates in winter, from Nov. 1 to Memorial Day weekend, are quite good.
Dodge's Log Lodges, on the lake near Stoney Point, just south of Knife River, has six attractive cabins, all with fireplaces.
Island View Resort in Knife River would be a good place to take young children; it's across the road from the lake, but sits in a grove of white pines and has a beautiful view and a large lawn. It has 10 small cabins, all of which accept pets ($15 per day) and a larger, handicapped-accessible cabin.
Just north of Knife River, Stonegate on Superior offers eight cabins on the lake.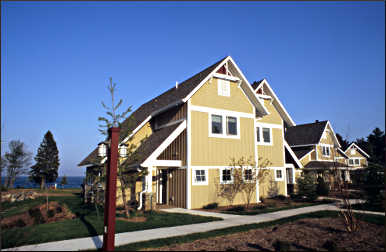 A little farther, Larsmont Cottages are part of the wave of newer townhouse/condo complexes. It's on the lakeshore and has a four-season outdoor whirlpool and also a wood-fired Finnish sauna and fire pits.
Camping: The Knife River Campground is near the beach and marina. 218-834-5044.
Dining: The New Scenic Cafe has imaginative, healthy food and a classy children's menu. If you don't have time for a meal, stop in for pie and coffee.
At Larsmont Cottages, the Ledge Rock Grille serves brunch and dinner every day.
Tom's Logging Camp: It's open from May through the third weekend of October.
For more, see our North Shore section.
Last updated on March 26, 2021