Following the photographers: Lake Superior's south shore
Wish you were there? For people who love the Upper Peninsula and northwoods Wisconsin, online images are the next best thing.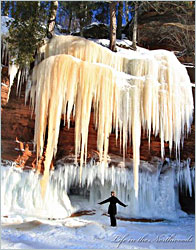 Along the shores of Lake Superior, winter makes professional photographers really happy.
If they're lucky, they get weeks of northern lights. Then, perhaps an irruption of snowy owls swept down from the Arctic. And if it's cold and calm enough, the mainland ice caves of the Apostles not only will be accessible but magnificently frozen by subzero temperatures.
Amid so much natural beauty, photographers are like kids in a candy store. And they share their booty on Facebook pages and online galleries.
So if you're stuck in an office cubicle or don't like to venture into the cold yourself, you're in luck.
First, we gave you links to photographers who regularly share gorgeous images of Minnesota's North Shore of Lake Superior .
Now, we'll tell you where to see beautiful images of the Upper Peninsula and northwoods Wisconsin --- the ice caves of the Apostles and also the Eben Ice Caves, the icefalls of Pictured Rocks National Lakeshore and the dramatic scenery of the Keweenaw Peninsula and Isle Royale.
Michael Crowley of Boulder Junction, Wis . This photographer lives in the lakes country of northeast Wisconsin and posts photos on his Life in the Northwoods Facebook page .
"I have many people who follow me on Facebook who once lived or vacationed in the northwoods and can no longer be here, and they say my photos take them home again or bring back many memories," Crowley says. "I really love being able to do that."
He posts many images of the albino deer who live around his home, as well as Lake Superior images.
Greg Kretovic in Marquette, Mich . He posts images on his Michigan Nature Photos Facebook page .
When he posted a photo of pancake ice floating around Marquette's Presque Isle Park, an Alabama woman commented, "I NEVER thought I would be so homesick for Michigan . . . ANY part! . . . Your photos always remind me of how beautiful and amazing my home state really is."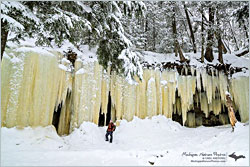 Shawn Malone in Marquette, Mich . This photographer posts on her Lake Superior Photo Facebook page .
She shares images and videos of Isle Royale National Park, Pictured Rocks National Lakeshore, the Keweenaw Peninsula and the northern lights: "I feel very blessed to live where I do and to share the beauty that I see 'in my own backyard' with you."
The Facebook page Michigan's Upper Peninsula posts the work of many fine photographers, as does the page Michigan in Pictures .
And from lower Michigan, photographers Brian Kainulainen and John McCormick of Michigan Nut Photography often travel to the Upper Peninsula and post images on their Facebook pages.
For tips on taking photos in winter, see Capturing winter's beauty .
Last updated on February 16, 2020