Artistic Grand Marais
On Minnesota's North Shore, this once-rugged village is a cultural outpost.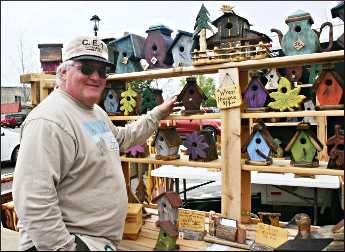 A hundred years ago, Grand Marais was a wind-buffeted outpost at the tip of the North Shore, stomping grounds of trappers, loggers and fishermen.
The dirt road connecting the village to Duluth often was impassable, and winter provisions had to be brought in by steamer before Lake Superior iced over.
But amid the hardship, there was always art.
Swedish immigrant Anna Johnson was first to create and sell art, at the log trading post she operated with her husband after their 1907 marriage. Trained at Augustana College in Rockford, Ill., she painted, drew and worked in stained glass, leather and ceramics.
Some of her many oils now hang in a log replica of her store, the Johnson Heritage Post Gallery.
Other artists came, settling their easels in front of the picturesque fish houses and clapboard churches. One of those artists, a professor from the Minneapolis College of Art and Design, founded the Grand Marais Art Colony in 1947.
Its classes drew serious artists from the Twin Cities, but also fed the creativity of the locals, many of whom had been taught by Anna Johnson in the schools.
The Art Colony still flourishes in Grand Marais, offering workshops for visual artists,  writers and dancers. The Grand Marais Playhouse has been staging plays since 1971, now in the Arrowhead Center for the Arts, a $3.5 million testament to the importance of arts in a village of only 1,350.
The center also is the home base for the North Shore Music Association, which brings in musicians.
On the harbor, the North House Folk School teaches traditional crafts in a building painted Swedish red and nautical skills on a green twin-masted schooner named the Hjordis.
Creativity, obviously, is in the air.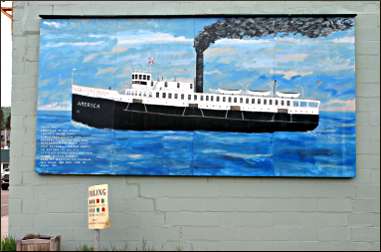 "It's that lake," says Jim Mahle, who passes on village lore as a Cook County History Museum volunteer. "You can go anywhere here and get a good scene. It shows why that colony went over so well."
Built down a hillside and around a natural harbor, Grand Marais looks good in watercolors and pastels. The Sawtooth Mountains rise behind the village; in front of it, a breakwall connects the rocky outcropping of Artist's Point to a small white pier light.
The surrounding forests are where the artists live, bringing their works into town to sell. Sometimes, however, they can be seen in town. Over Eight Broadway Art Gallery, a sign hangs: "Art in Progress."
On any given day, artists and artisans are at work all around Grand Marais. One weekend when I was there, North House had scheduled workshops on Norwegian rosemaling, Anishinabe crooked-knife making, building with stone and the Great Lakes schooner trade.
There also was a half-day Hike Into the Past led by founder Mark Hanson, which is what I joined. Hanson led seven of us past Hovland, into the woods and around Horseshoe Bay, where we came upon a cobblestone beach.
It was the site of the Penta Arcanums, or five mysteries, which Hanson himself found three years ago on a camping trip.
They're post-Ice Age pits stacked into the beach — elsewhere around Lake Superior, they're known as Pukaskwa Pits — that Canadian archaeologists believe are man-made.
"If they're man-made, this is very, very early man in North America," Hanson said. "That makes you think."
Some Ojibwe believe they're thunderbird nests, he said; others speculate that they represent star formations or were used as fish traps, food storage or watching posts. One Arcanum is the lake's biggest at 4 feet deep.
On the way back, Hanson talked about the folk school, which he started after traveling to Greenland and Norway, which has dozens of such schools.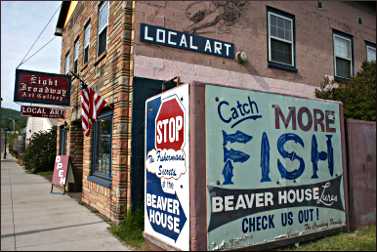 "We'd like to get people away from the television and the computer screen and get their hands busy," said Hanson, who teaches students how to build birchbark canoes and Inuit kayaks.
"This school is about giving them an appreciation for the simpler things in life. It takes a heroic effort to start a school like this, but a lot of people have come to the party with a lot of enthusiasm."
At the Cook County History Museum's art room, I admired a painting of net menders by Ade Toftey, the newspaper's late owner and editor, and one of a boat captain by Grand Marais artist Howard Sivertson, who grew up on Isle Royale and has become the pictorial chronicler of North Shore history.
His work is sold around the corner at Sivertson Gallery, which also displays his daughter Liz's bold, colorful paintings, the woodcuts of local artist Betsy Bowen and the nature photos of Ely's Jim Brandenberg.
Down the street, in the renovated Fireweed Building, the Gunflint Tavern hosts live music on weekends.
The sunny "tavern"  has a dozen ales and lagers on tap and offers such dishes as tiramisu, tabouli and black-peppered salmon with chipotle dressing and mangos.
Grand Marais always has been a little more cultured, a little more creative than a remote town on the North Shore ought to be. And, with a century of momentum, it may just be gearing up.
Trip Tips: Grand Marais, Minnesota
Getting there: It's 2½ hours northeast of Duluth.
2023 events: June 16-18, Wooden Boat Show & Summer Solstice Festival. July 8-9, Arts Festival. Aug. 3-6, Fisherman's Picnic.
Sept. 8-10, Radio Waves Music Festival. Sept. 14-16, Unplugged music festival and fall gathering at North House Folk School. Oct. 20-21, Moose Madness Family Festival. Nov. 17-20, Winterers' Gathering at North House Folk School.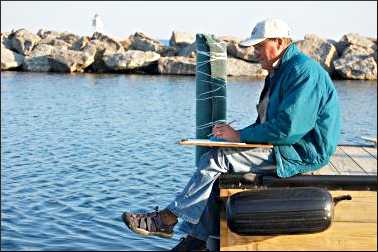 Grand Marais Art Colony: Workshops are held year-round and every week in summer. 218-387-2737.
North House Folk School: Workshops and events are held year-round at this Scandinavian-style school, which teaches all kinds of traditional crafts and skills - woodworking, weaving, bread-baking, tool-making, boat-building.
Grand Marais Playhouse: It sponsors plays and concerts year-round. 218-387-1284.
Shopping: Sivertson Gallery carries paintings, photographs, woodblocks, jewelry and other art from mostly North Shore artists, many with north-woods themes.
Accommodations and dining: Rooms in Grand Marais can get quite expensive in peak summer.
For a list of places to stay and eat, see Four seasons of Grand Marais.
Information: Visit Cook County, 218-387-2524.
Last updated on February 1, 2022