Four seasons of Grand Marais
On Minnesota's North Shore, this photogenic village always is ready for its close-up.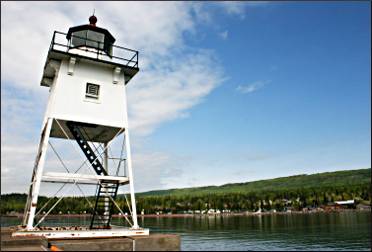 At the far tip of northern Minnesota, Grand Marais is a place that people love even more when the weather turns.
When Lake Superior storms send giant waves crashing against the pier light, photographers rush to the harbor. Blizzards bring in skiers, and tourists flock to see ice floes and formations.
This photogenic village at the foot of the Sawtooth range is a drama queen, a magnet for those who bask in the big lake's chill and revel in its unpredictability.
Voyageurs, fur traders and Ojibwe came first to its natural harbor, followed by trappers, prospectors, loggers and then the fishermen and storekeepers who made it into a village.
Fishing waned, but hikers, skiers and canoeists arrived on their way up the Gunflint Trail. To Boy Scouts and paddlers fresh from the Boundary Waters, Grand Marais always has meant civilization, with its pizza parlor and municipal hot tub.
These days, it's a tourist destination in itself, with a full array of creature comforts: art galleries, gift shops, bistros, condos and villas. The aroma of espresso wafts through town, and whitefish comes with chutney, not tartar sauce.
At the height of summer, Grand Marais almost looks like an ordinary tourist town.
But this still is a Riviera for the rugged. In summer, downtown streets flood after a heavy rain. Winter is long, and spring is endless.
Few complain, because one thing remains constant throughout the year: spectacular beauty.
Here's what you'll find in every season.
Winter
No matter what the season, everybody goes to Artists' Point, "named for the many people who try to catch the temperamental spirit of Lake Superior on film or canvas."
It's an island-like outcropping that's covered with hunched cedars and ringed by jagged basalt, split from a long-ago lava flow.
It creates Grand Marais' harbor, along with the breakwall on the other side of the Coast Guard station. Clamber onto its root-choked paths and you'll have a great view of the vast expanse of Lake Superior on one side and the hazy outline of the Sawtooth Mountains on the other.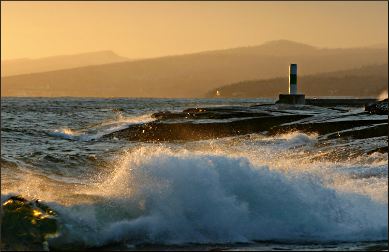 In early winter, waves glaze its rocky edges and coat plants with spray, creating beautiful ice gardens.
For Thanksgiving, it's fun to rent a lakeside cabin on the lake and watch the waves. That weekend, Santa arrives on the harbor by dog sled, and the town Christmas tree is lighted.
In the depths of winter, vapor rising off Lake Superior turns the harbor into Dante's Inferno. Because the lake is a giant heat sink, it keeps Grand Marais 10 degrees warmer than inland areas (and 10 degrees cooler in summer).
By late winter, Artists' Point has turned into a fantasia in ice. Clear chunks lie about like Lucite paperweights, and craters ride the waves like jellyfish, bashing each other's edges into tinsel.
Many people love the Grand Marais area in winter. There's skiing up on Pincushion Mountain and snowshoeing up the Devil Track River, where the scenery includes red rock cliffs, frozen waterfalls and the vivid white of aspen bark against ice-blue sky.
It's a blast — just don't forget those long johns.
For more, see Skiing the North Shore and North Shore by snowshoe.
Spring
It's a little hard to tell what "spring" is in Grand Marais. Just over the Sawtooths, March actually is a great time to ski on the Gunflint Trail, often up to Easter.
In April, after the alpine-ski season is over at Lutsen Mountains, hotel rates go down. It's the slowest month of year and the only one when I haven't visited.
May can be cruelly chilly or full of summer's promise. One year, spring came early. Walking along the breakwall on the weekend before Memorial Day, I spotted the rare butterwort, one of several arctic wildflowers that flourish in protected nooks.
Nearby, I saw a few frail arctic primroses, and on the branches of a squat spruce, buds as round and bright-red as strawberries. Life was busting out all over.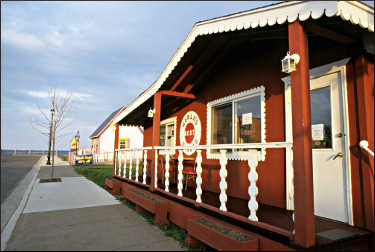 The nearby mouth of the Cascade River also is a trove of boreal wildflowers — northern bluebells, goldthread, bluebead lily, bunchberry.
For more, see Wildflowers of the North Shore.
Real warmth may not arrive until late June — but then again, peak hotel rates don't, either.
Summer
On a warm summer day, the streets of Grand Marais are festive. Everyone is JUST SO HAPPY to be there!
Little kids play with the cobblestones by the Coast Guard station and run and jump amid the outcrops of Artists' Point. Older kids ride mountain bikes on the zigzagging concrete of the breakwall.
Everyone skips rocks on the harbor, the best spot in the state for it. Just down the highway, agate-hunters crouch at Cutface Creek Wayside, hoping to spot thomsonite.
First-time visitors from big cities walk around, a little dazed. Grand Marais has all the trappings of a tourist spot, but it's still a down-home northwoods town.
There's a giant walleye slicing through the roof of the bait shop and exhaling radio music from its toothy mouth. Across the street, the aroma of hot oil and sugar wafts out of World's Best Donuts.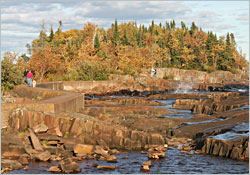 At the Joynes Ben Franklin and Department Store, people clog the narrow aisles in search of flannel shirts and rabbit-fur hats, even in the dog days of August.
Artistic and crafty folks are in town, too, taking classes at the Grand Marais Art Colony and at North House Folk School.
And festivals pack the town, especially Arts Festival in July and Fisherman's Picnic in August.
For more about the town's long history with the arts, see Artistic Grand Marais.
For more good agate-picking spots, see Beaches of the North Shore.
Oh, and remember that it's generally 10 degrees cooler than inland areas in summer, and 30 degrees cooler than the Twin Cities. Be smart and bring a jacket.
Fall
On fall weekends, everyone wants to be on the North Shore. Autumn colors are nice but not great in Grand Marais, which is surrounded by boreal forest.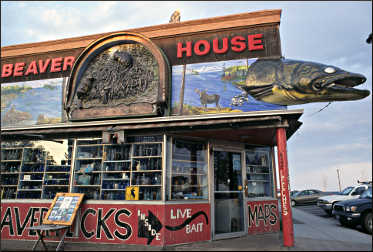 But the hiking is top-notch in fall, after the bugs are gone. There's gorgeous scenery on trails that follow four river gorges: the Cascade in Cascade River State Park, the Devil Track, the Kadunce and the Brule in Judge C.R. Magney State Park.
Eagle Mountain, Minnesota's highest point, is inland; it's a fairly rugged seven-mile round-trip hike.
For more, see Hiking the North Shore
Over the Minnesota school break on the third weekend of October, the town is full and holds the Moose Madness Family Festival. After that, hotel rates drop, and there's another one or two weeks of good hiking before the firearm deer season starts.
Trip Tips: Grand Marais, Minnesota
Getting there: It's 2½ hours northeast of Duluth.
2023 events: June 16-18, Wooden Boat Show & Summer Solstice Festival. July 8-9, Arts Festival. Aug. 3-6, Fisherman's Picnic.
Sept. 8-10, Radio Waves Music Festival. Sept. 14-16, Unplugged music festival and fall gathering at North House Folk School. Oct. 20-21, Moose Madness Family Festival. Nov. 17-20, Winterers' Gathering at North House Folk School.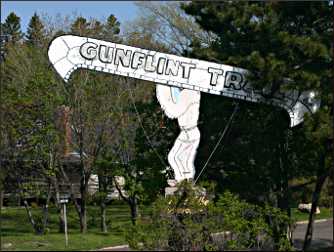 Skiing: On the hill above town, the Pincushion Mountain Trails is a 25-kilometer network groomed for classic and skate skiing. A 1.3-kilometer loop is lighted.
It's free with a Minnesota Ski Pass, but a $5 donation is requested.
In town, Stone Harbor Wilderness Supply rents skis and snowshoes (and in the summer, canoes, kayaks and camping gear).
Hiking: The Superior Hiking Trail crosses Pincushion Mountain, and many of its most scenic sections are just northeast of town.
Nightlife: The Grand Marais Playhouse hosts plays and concerts year-round. Downtown, the Gun Flint Tavern hosts musicians on weekends. On the west end of town, Up Yonder programs live music.
For more, see Artistic Grand Marais.
North House Folk School: Workshops and events are held year-round at this Scandinavian-style school, which teaches all kinds of traditional crafts and skills-woodworking, weaving, bread-baking, tool-making, boat-building.
Naturalist programs: In summer, U.S. Forest Service naturalists offer guided hikes and programs from Tuesday through Saturday between Tofte and Grand Marais. On Saturdays, they offer "Nature of the Point" on Artists' Point.
Accommodations: Rooms in Grand Marais can get quite expensive in peak summer.
There are still quite a few mom-and-pop motels that are a good value, including the seasonal Lund's Motel and Cottages and Nelson's Travelers Rest.
For more, see Mom-and-pop motels of Grand Marais.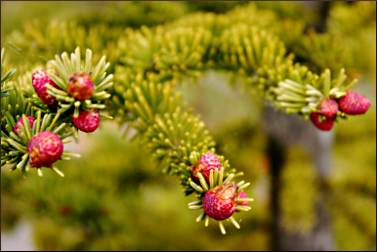 The East Bay Suites, on the beach downtown, are well-appointed and popular with well-heeled tourists.
On the harbor downtown, the Mayhew Inn offers six units, three with two bedrooms, and has a backyard fireplace and rooftop deck for guests.
The Grand Marais Hotel Company manages the Aspen Lodge, Shoreline Inn and Spruceglen Inn downtown and the Aspen Inn just outside town.
Ten miles east of town and up County Road 14, not far off the Superior Hiking Trail, Hungry Hippie Farm hostel has inexpensive bunks and rooms as well as camping.
Camping: The municipal Grand Marais Campground and Marina has 300 RV sites on the lakeshore and is next to the North House Folk School.
Dining: The Gun Flint Tavern is casual and very good. It's the place to go if you're by yourself and you enjoy good microbrews and live music.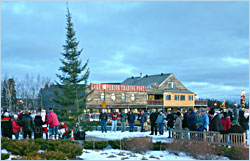 On the edge of the harbor, the seasonal Angry Trout Café specializes in fresh fish from Lake Superior, 218-387-1265.
My Sister's Place serves salads, sandwiches and pizza. Sven and Ole's is famous for its pizza. Be sure to get something fresh out of the fryer at World's Best Donuts.
On the west end of town, Voyageur Brewing Co. serves craft beer and appetizers.
Shopping: There are a lot of good places to shop. The favorite of tourists and locals alike is Joynes Ben Franklin department store, which is stuffed with an oddly compelling assortment of warm slippers, Canadian jams, fleece hats and other things you can't do without.
On the harbor, there are always crowds milling around the Lake Superior Trading Post. The second floor has racks of outdoorsy but chic sweaters, jackets, bags and hats, and there are cool camping gizmos and supplies on the first floor.
For people who like a deal or one-of-a-kind things, Joy & Company sells vintage, antique, handmade and upcycled goods.
Sivertson Gallery carries paintings, photographs, woodblocks, jewelry and other art from mostly North Shore artists, many with north-woods themes.
Information: Visit Cook County, 218-387-2524.
Last updated on January 26, 2022