Drawn to Spring Green
Creative urges converge in Frank Lloyd Wright's hometown.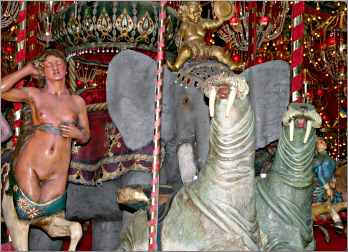 There's a story behind everything in Spring Green.
Frank Lloyd Wright's story begins in the 1860s, when his unconventional grandparents and their 10 children emigrated from Wales to settle this dramatic valley of the Wisconsin River, which came to be known as "the valley of the God-almighty Joneses."
The story of Alex Jordan's House on the Rock, atop a limestone spire that overlooks the valley and Wright's beloved home, is rooted in spite. After his father traveled from Madison to show Wright blueprints for a rooming house, and was harshly snubbed, Jordan vowed to get even and "put a Japanese house up out there."
The founders of the renowned American Players Theatre ended up in Spring Green after considering 43 other sites. They chose a hillside site near the river for its superb acoustics, built an amphitheater and staged the first play in 1980.
They all came to this valley — or, in Wright's case, returned to it — along with many artists and artisans, who settled amid its wooded bluffs and ridges.
"We call it the Spring Green vortex," said manager Michael Anderson at Taliesin Bookstore at the Frank Lloyd Wright Visitor Center. "There's something going on here."
Wright likened the pull of these unglaciated hills to a stretched rubber band.
Today, it's the tourists who are pulled in.
Visitors come from all over the world to House on the Rock. There's even a Christmas tour, adding excess to excess:  more than 6,000 Santas, sitting between wooden soldiers on the booming Gladiator Calliope, being pulled by mermaids on the 182-chandelier Carousel, surfing next to a giant whale tail on Heritage of the Seas.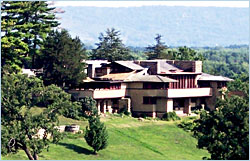 It's not exactly festive, but it's a spectacle.
"It's unbelievable," said visitor Pat Phillips of Cottage Grove, Minn. "This guy had to have a bolt loose, but he's so creative. I've never seen anything like this."
No one really knows what drove Alex Jordan to turn his father's "Japanese house," begun in 1946, into a 16-building, over-the-top collection of stuff.
Frank Lloyd Wright, however, was brashly outspoken about his architectural motivations, reflecting the Lloyd Jones family motto: "Truth against the world."
Taliesin is here, the 1911 masterpiece he built for his ill-fated mistress near a sharp bend in the Wisconsin River that the local Sauk and Winnebago considered sacred.
There's the Hillside Home School, which he built for his sisters in 1902, and the 1897 Romeo and Juliet Windmill Tower.
There's the 1886 family chapel that was Wright's first design job, as an 18-year-old apprentice; his 1956 schoolhouse; and Taliesin's cow barn and dairy tower, with a conical spire to "commemorate the Guernsey teats."
They're all distinctively Wrightian, with red hipped roofs, rows of windows to let the outside in and strong horizontal lines, reflecting the stacked slabs of golden limestone in nearby outcroppings.
"His family had a Unitarian love of nature, and his architecture reflects the idea that nature is inherently good," said Taliesin tour guide Erik Flesch. "He said he could design everything from chicken coop to cathedral, and everything would be just as beautiful and just as perfect for its purpose."
The tours include the family cemetery outside Unity Chapel, where the epitaph of Wright's strong-willed mother, Anna Lloyd Jones, reads, "She loved the truth and sought it."
"She was an intense woman," Flesch noted.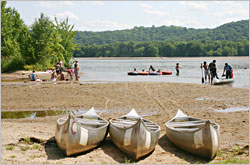 Wright's widow Olgivanna was similarly strong-willed. After Stalin's daughter Svetlana defected to the United States in 1967, Olgivanna invited her to Spring Green and arranged her marriage to Wright's apprentice Wes Peters, the widower of Olgivanna's daughter, also named Svetlana.
Lana Peters lived off and on in and around Spring Green until she died in 2011. At Taliesen, she said, "Mrs. Wright's word was law."
Many other kinds of creative folks — painters, potters, woodcarvers, glass blowers — have set up shop in these hills.
Many Spring Green artists are among the 50 represented at the Wisconsin Artists Showcase on Washington Street, a former cheese warehouse that also holds the studio of papermaker Jura Silverman.
On Winsted Street, Gallery Art on 23 carries the work of 25 artists, as well as the studio of glassblower Colleen Ott.
In October, Spring Green is one of the stops on the big Southwest Wisconsin Fall Art Tour.
Whatever you buy, you'll know one thing: In Spring Green, it'll be an original.
Trip Tips: Exploring Spring Green, Wisconsin
Getting there: It's an hour or less west of Madison.
2023 events: May, BobFest at Spring Green General Store. June 24-25, Spring Green Arts and Crafts Fair. Sept. 4, Beatlefest at Spring Green General Store. Oct. 20-22, Southwest Wisconsin Fall Art Tour.
Accommodations: The art-filled Silver Star B&B Inn in the hills outside town has friendly proprietors and 10 attractive rooms, each named for a famous photographer.
The Birdhouse Inn is southeast of town and has four rooms, two with two beds. Breakfasts are included.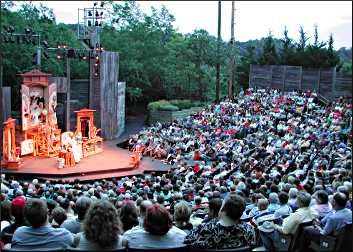 Aldebaran Farm was built in 1861 by Frank Lloyd Wright's uncle, and Wright spent boyhood summers there. The main house sleeps up to 12 people and is walking distance from Taliesen.
Just east of town, the Spring Valley Inn is a Prairie-style hotel with 35 rooms and a pool, sauna and steam room. Rates include a hot breakfast.
House on the Rock Resort, formerly Springs Golf Club, is a Wright-style resort between the Frank Lloyd Wright Visitor Center and the American Players Theatre, in a beautiful valley between two ridges.
It has two-room suites with microwaves, mini-fridges, spa baths and patios or balconies with a view of a ridge. There's a pool, lap pool, hot tub, racquetball court and locker rooms with saunas and steam rooms.
There are many other places to stay in and around Spring Green.
House on the Rock Inn is south of Spring Green, on Wisconsin 23 outside Dodgeville. It's across from the quirky Don Q Inn, which has themed rooms that House on the Rock aficionados especially will appreciate. Both have pools.
Camping: Tower Hill State Park is right on the river and has 10 tent sites.
Also on the Wisconsin River, Wisconsin Riverside Resort has a large campground with sites for RVs and tents and also cabins.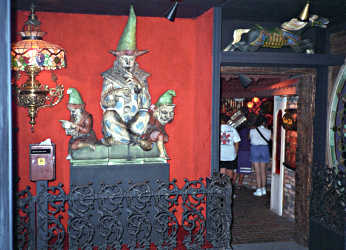 There's a swimming pool, ball courts and a nice restaurants with big windows overlooking the river. The resort also rents tubes, canoes and kayaks.
Dining: At the Wright Visitors Center, the Riverview Terrace Cafe has a lovely view of the river.
Spring Green General Store is open for breakfast and lunch and features such specials as risotto margherita and curries in addition to its sandwiches, burritos and salads.
House on the Rock: It's open daily from late March to early November, closes briefly, then reopens in mid-November for a Christmas tour through early January. From early January to late March, it's open Fridays-Mondays.
There are three tours. The Ultimate Experience Tour includes them all. 608-935-3639.
If you go on your birthday, admission is free.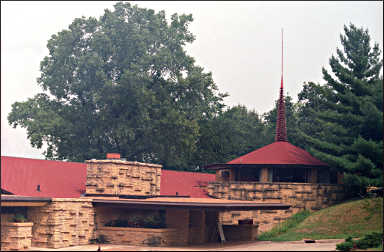 Frank Lloyd Wright Visitors Center: It's open daily from May through October and weekends in November and April. Six different tours are offered. A one-hour tour of Wright's 1902 Hillside School provides an introduction to his life and work.
Taliesin offers three-day weekend workshops from August to October that include unrestricted access to the property and lodgings in Tan-y-Deri, the 1908 house Wright built for his sister, or the 1949 Midway Barn.
Workshop themes include photography, design, painting, writing and bread-baking. The price includes breakfast and lunch, and the workshops sell out quickly.
For more Frank Lloyd Wright sites in the region, see Loving Frank Lloyd Wright.
American Players Theater: Plays are performed in repertory at the Hill Theatre and in the Touchstone Theatre from June 10 to Oct. 8.
In 2023, the theater is presenting "The Merry Wives of Windsor," "The Liar," "Our Town," "Anton's Shorts" and "Romeo & Juliet" in the Hill Theatre.
In the Touchstone Theatre, "The Royale," "Once Upon A Bridge," "Mala" and "Proof" will be presented.
Shopping: Most shops and galleries are open daily in summer; in winter, many are open only on weekends, so check hours.
Good stops include Gallery Art on 23, downtown.
There's also a Bargain Nook on Wisconsin 14/23, with many Lands' End catalog returns.
If it's your birthday, you can get discounts and free stuff all over town.
For more, see Wisconsin's birthday town.
Canoeing, kayaking and tubing: Wisconsin Riverside Resort rents boats and provides shuttles as far downstream as Wauzeka.
Bicycling: The 15-mile Pine River Recreation Trail follows the Pine River between Richland Center and Lone Rock, eight miles west of Spring Green.
Information: Spring Green tourism, 800-588-2042.
Last updated on January 15, 2022