Wisconsin's birthday town
In laid-back Spring Green, any day is worth celebrating.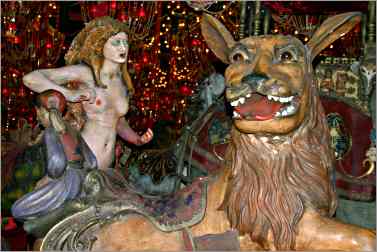 People converge on Spring Green, Wis., for many good reasons: To admire Frank Lloyd Wright masterpieces. To hear Shakespeare at American Players Theatre. To see world-class kitsch at House on the Rock.
But what brought me to Spring Green? Free stuff.
Spring Green calls itself "The Birthday Town," because people celebrating birthdays can go around to its businesses collecting free loot, like trick-or-treaters. It's like having another holiday, except you're the only one who gets to celebrate it.
I already know and like the town. So it was an easy thing to tweak my weekend itinerary a bit and land in Spring Green on my birthday.
This town on the Wisconsin River looks average, but it isn't. When people do things here, they do them in a big way.
Frank Lloyd Wright used 600 acres of valley as a laboratory for his ideas about organic architecture, and visitors can see buildings that range from an 1886 family chapel that Wright built as an 18-year-old to a schoolhouse built three years before his death in 1959.
Cognoscenti from around the world come to see Wright's elegant designs. But they're vastly outnumbered by those who come to see the gloriously gaudy House on the Rock, built into a hillside with the same slabs of golden limestone that Wright so prized.
In a natural amphitheater in the valley, American Players Theatre was founded in 1980 to perform the classics.
And artists have flocked to Spring Green's hills and valleys, opening galleries and studios that are stops on the wildly popular Fall Art Tour in October.
Spring Green is a tourist town in summer, and I'd been assured that most shops would be open on Memorial Day, my birthday.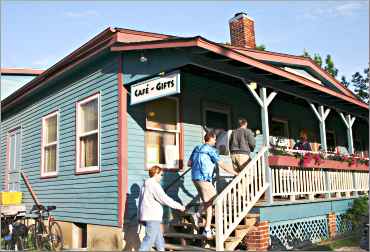 The nonprofit Bargain Nook would be closed, though, so on the way, my husband and I stopped at the Bargain Nook in Platteville, which agreed to give me an early birthday discount.
Thanks to overenthusiastic use of the discount, the stores now limit it to 10 percent of purchase, but I still got a great deal on three pairs of Land's End shoes, two bathing suits and a cashmere sweater with a split seam.
We rolled into Spring Green at 5 p.m., and I was surprised to see No Rules Jewelry & Gallery still open. The good news was, it was open late because of the crowds attending BobFest down the street.
The bad news was, it would be closed for the holiday, and so would all the other shops. There went my free bar of fancy soap from Panacea.
Jewelry designer Maya Madden felt bad about the bum steer, but she shrugged it off.
"That's just the kind of town this is," she said. "If there's people, we're open. If not, we're closed." Instead of a 40 percent discount on earrings — I don't have pierced ears — she gave me a free Gail Ambrosius truffle for my birthday.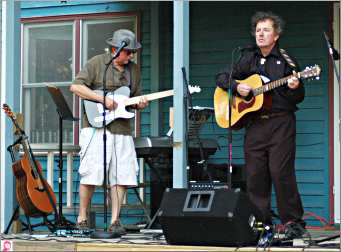 That worked out well for her, since I then bought another four truffles and a $50 amber and brushed-silver pendant. And if we decided to ride bikes instead of shop on my birthday, Madden said, we could borrow hers.
Down the street, in the back yard of the Spring Green General Store, a happy crowd was celebrating Bob Dylan's birthday at BobFest.
The headliner was a band led by Marty L'Herault, a musician from nearby Arena who gave an uncanny impersonation of Dylan, right down to the frizzy hair and raspy voice.
"BobFest is like going back to the late '60s and early '70s," said Sarah Thompson, a Barneveld, Wis., teacher who lived in Madison during its halcyon days. "In fact, I think I smell patchouli."
"I always smell patchouli in Spring Green," said Sara L'Herault of Verona Wis., Marty's sister-in-law.
Started in 1978, the Spring Green General Store still caters to the tie-dyed set, though that's more affluent these days.
I got my free birthday entree — a square of Roberto's Frito Pie, nearly the only food left — and ate it on the screened porch with a brownie and a wonderfully hoppy bottle of Kiss the Lips IPA from Lake Louie Brewing.
Owner Todd Miller said he and a couple of local "Dylanologists" started the fest in 1997 as something goofy to do on the holiday weekend.
"Every year, people just come; we don't really advertise," he says. "The musicians perform free, and most of them have already asked to come back next year."
From town, we drove to the Silver Star B&B, a country inn up in the hills. We didn't get anything free, but we had a lovely stay; owner Jean Langer is an artist and once owned a gallery in Madison, and its log walls are covered with original art.
We showed up at House on the Rock right after breakfast, and I collected my free birthday ticket for all three parts of the self-guided tour. We weren't sure we wanted to see all three parts, but it's hard to turn down something that's free. My husband pointed at the packets of aspirin in a vending machine near the door.
"Look, they've got the headache medication right at the start," he said.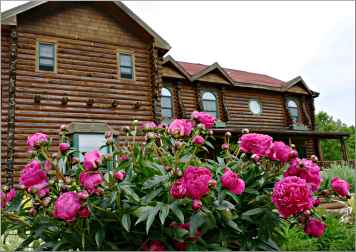 House on the Rock is like a train wreck — looking won't make you feel good, but it's impossible to turn away.
We walked and walked and walked through endless passageways and rooms, wondering how one man could assemble so much stuff in the days before eBay. Perhaps a thousand weekends of garage sales? But more importantly, why?
An attendant named Phil said we could credit — or blame — tourists, who prompted Alex Jordan to expand his 1946 "Japanese house" that jutted over the valley, reportedly to annoy the abrasive Frank Lloyd Wright.
"The tourists came and wanted to see it, so he charged them 50 cents to get rid of them," Phil said. "But that didn't work. So he built more rooms to give them something to look at."
After a while, our 2½-mile slog past an endless procession of mechanical orchestras, dollhouses and model ships began to feel like karmic retribution for past excess and an admonition for the future: As another famous architect said, less is more.
We fled to have lunch at the Frank Lloyd Wright Visitor Center's Riverview Terrace Cafe, where muted classical music was balm to our ears after the tinny carousel noise at House on the Rock.
Before heading home, we stopped at the Spring Green Culver's for my free birthday sundae, then at a nearby liquor store to pick up a few six-packs of Lake Louie beer. Kiss the Lips for sure, but what else? Fatty Boombalatty Belgian-style ale? Warped Speed Scotch ale?
Proprietor Gayle Wood tried to help, and at the counter, I asked about her birthday deal, since the store was listed as a participating business. But she said she'd discontinued it.
"I got tired of people calling and saying, 'What are you going to give us?' and then, 'Oh, I don't like that,' " Wood said. "But since you didn't call and didn't worry about it, I'm going to give you something."
She handed me a combination bottle opener, corkscrew and knife that was exactly like the one confiscated from me at the Frankfurt airport. I was still missing it, and now it had come back to me.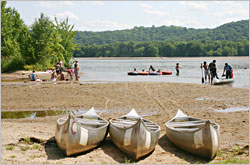 You may or may not find good bargains in Spring Green. But you can always count on good karma.
Trip Tips: A birthday in Spring Green, Wisconsin
Getting there: It's an hour or less west of Madison.
Birthday program: The list of participating businesses changes frequently, so if you're counting on a certain discount, call in advance to make sure it's still in effect.
Shopping: The Spring Green General Store is near downtown and the Bargain Nook is on Wisconsin 14/23. Most shops and galleries are open daily in summer; in winter, many are open only on weekends, so check hours.
Other good stops include No Rules Gallery and Gallery Art on 23 near downtown.
Accommodations and dining: For details and trip-planning tips, see Drawn to Spring Green.
House on the Rock: It's open from late April to early November, then reopens in mid-November for a Christmas tour through early January.
There are three tours. The Ultimate Experience Tour includes them all. 608-935-3639.
Frank Lloyd Wright Visitors Center: It's open daily from May through October and weekends in November and April. Five different tours are offered.
American Players Theatre: Its season runs from early June to mid-October. Plays are staged in the Up-the-Hill amphitheater as well as the indoor Touchstone Theatre. 608-588-2361.
Information: Spring Green tourism, 800-588-2042.
Last updated on November 23, 2020