Language camp for adults
In the woods of northern Minnesota, learners are immersed in world cultures.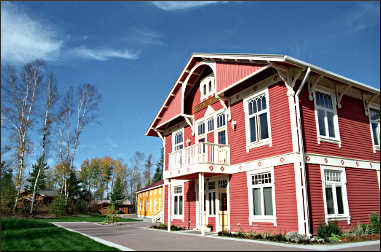 It had become a summer tradition: Drive my daughter up north to her German camp at Concordia Language Villages, look enviously around the fabulous campus and whine that adults should get to come, too.
Someone was listening. One day, a flier arrived at my house, announcing the first French and German adult weeks. As it turns out, others had whined, too.
"We've got these millions and millions of dollars' worth of facilities, and we want to use them," said Larry Saukko, dean of the Finnish and academic-year German programs.
"Besides, parents and grandparents would come on closing day and say, 'When are you going to quit wasting it on kids and start doing it for us?' "
On 800 acres of forest around Turtle River Lake, just north of the Bemidji, a gabled French country chateau rises amid the pines and aspen.
Down a winding drive and past an archway bidding "Herzlich willkommen," there's a big half-timbered building, complete with oriel window, cupola and peaked roof, plus a cluster of alpine chalets.
At another end of the lake, halls adorned with woodcarvings and rosemaling sit near a miniature stabur and a stavkirke, the medieval wooden church first built by Vikings.
Not far away, a red wooden hall with striking decorative details in white and yellow is surrounded by the birches of the Finnish forest.
Cabins, too, sport the look of each country; some were imported from Europe and reassembled on site. From the beginning, Saukko says, Concordia College administrators decided, "No, we're not going to build cheap."
It was an elementary-education professor at the northwestern Minnesota college who, in 1961, started a German-immersion camp based on his observations of the speed at which children of U.S. servicemen in Germany picked up the language.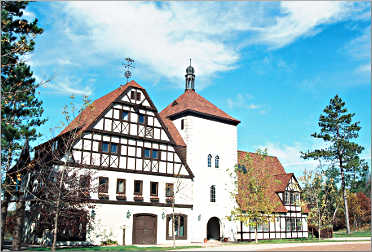 A French camp followed in 1962, with Spanish and Norwegian camps starting in 1963 and Russian in 1966.
The first permanent site on the Bemidji land was Skogfjorden, the Norwegian village, begun in 1969 with help from Sons of Norway.
Other sites followed, along with more languages — Swedish, Finnish, Danish, Chinese, Japanese, Arabic, Korean, Italian and Portuguese — some taught at satellite resorts in the nearby lakes region.
For more than two decades, these weeklong camps were only for the kids.
I went to one of the first adult German camps, and like everyone else in my group, I was familiar with basic German. But it didn't take long before our brains hit overload.
"In the last 24 hours, I should be feeling smarter, but I feel dumber," lamented Donald "Gerhard" Preuss of Oklahoma City.
He got a pep talk from one of the other intermediate students, Priscilla "Petra" Larson, of Jamestown, N.D.: "I went to the French camp, and it was like that there," she said. "You start out all enthusiastic, but by Thursday you start getting tired."
The week was full — two or three hours of daily language instruction, lectures, choir practice, film, folk dancing, folk painting and card games, mostly in German — and there was more to come.
After the grammar session that brought grief to poor Gerhard, we broke for coffee and walnut cream cake, followed by a slide lecture about Berlin, from Frederick the Great to Checkpoint Charlie.
Then I walked down to the beach along a leaf-covered path and returned to hear Jill van Koolwijk, teacher of the advanced students, leading a practice of Beethoven's "Ode to Joy." Candles were being lit on cloth-covered tables in the dining room for the banquet.
The food at Concordia is renowned, and I soon found out why.
First came a course of chicken broth with airy little dumplings, which was followed by stuffed mushrooms; marinated tomato and onion salad; dense dark bread with tender Sauerbraten and Klopse, dumpling-like potatoes; and, finally, apple strudel.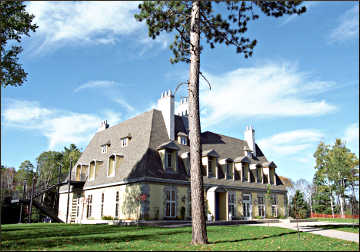 The evening program was put on by each class, topped by a hilarious performance of "Rottkäppchen" — Red Riding Hood — that featured Ron Malcolm, a kinetic wrestling coach who played the wolf and proved that Germans do have a sense of humor.
In fact, the next morning, watching a distinguished-looking pastor and grandfather from Missouri sing along with a silly German pop song called "Gabi and Klaus," I was struck by what a great sport everyone was.
There may not have been any miracles worked in such a short time. But I, for one, was surprised at how, after 10 years, my familiarity with those beefy German nouns and slippery verbs bobbed back to the surface.
"I would say one thing for sure," said van Koolwijk, a native of Germany who now lives in St. Paul. "Everybody's German came back."
Trip Tips: Language camps for adults
Getting there : The Bemidji campus is about 4½ hours north of the Twin Cities.
Adult camps : All Concordia Language Villages camps include accommodations, instruction, materials and three excellent daily meals in the cuisine of the country studied.
Camps are offered in French, Spanish, German, Norwegian, Swedish, Finnish, Japanese and Italian.
For a story about Concordia family camps, see Going abroad in Bemidji.
Other language camps : In western Wisconsin, Hunt Hill Audubon Sanctuary near Rice Lake offers an annual Adult Spanish Language and Culture Immersion Camp.
In southeast Minnesota, the town of Spring Grove offers the Norwegian Ridge Language Camp, with daylong classes in language and culture.
Students from out of town stay with host families.
Last updated on January 17, 2022