In the land of Norwegians
Old World traditions come with a wink in the bluff-country burg of Spring Grove.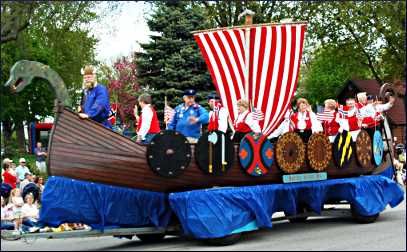 At first, the southeast Minnesota town of Spring Grove looks like any other town.
There's a café, an antiques store and a park full of statues. But Spring Grove isn't ordinary. It's full of Norwegians.
In the park, two bronze men appear to be squabbling; they're characters in a nationally syndicated comic strip written by a Spring Grove man 50 years before Neil Simon came up with "The Odd Couple."
Across from the park, there's a goofy concrete troll with a "Belly by Budweiser" banner draped across its bulbous brown stomach. Tovar the Terrible, a 12-foot Viking, wields a bright-blue shield nearby.
Spend a few hours in Spring Grove, Minnesota's first Norwegian settlement, and you'll learn that, while Norwegians are proud of their heritage, they also like to poke fun at it. A plaque at the Ballard House antiques shop sums up the approach:
"O Lutefisk, how fragrant your aroma. O Lutefisk, you put me in a coma. You smell so strong, you look like glue, you taste yust like an overshoe. But Lutefisk, come Saturday, I tink I'll eat you anyway."
They love their rømmegrøt, a butter-soaked cream pudding that should be called heart-attack-in-a-cup.
But they've also given the world Spring Grove Soda Pop, made with cane sugar and in bottles, just as it has been since 1895, and in flavors that now would be called gourmet-cream, strawberry, orange, root beer, grape, black cherry and lemon sour.
Norwegians don't waver once they make up their mind. They're world-class stubborn, so stubborn it has landed them in the Guinness Book of World Records.
When we were in Spring Grove one May, we stopped into the Bluff Country Artists Gallery. All those long winter nights made Norwegians good with chisels, paintbrushes and knitting needles, and the gallery features works from dozens of artists who work in the area.
Karen Gray was behind the counter, one of the non-artists who volunteer there.
"We want the artists in their studios, making art," she said. " I think the topography here attracts artistic types. It's a getaway place, quiet, so they can practice their art."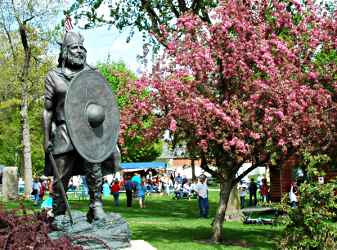 In the next room, woodcarver Harvey Langseth was demonstrating on a mangle board. Nearby, he'd posted a portrait of his Norwegian-born great-grandfather Hans, who had a 17½-foot beard that still holds the record for the world's longest and now is owned by the Smithsonian.
"His wife died at age 40, and he vowed never to cut his beard again," Langseth said. "He carried it in a dishtowel tied around his neck and very carefully tucked it into his shirt. People thought he had a potbelly."
Among Norwegians, he said, such obstinacy is called leather-headed: "Oh, I used to hear that all the time, 'You're a leather-headed Norwegian.' "
The iron-shaped mangle board, he said, is decorative but also has a practical use: It's made by a young man and handed to the woman he wants to marry in lieu of a proposal.
"It's an easy way for her to reject him, because it's not me, but the board," Langseth said. "She can say, 'No, I don't think I want that board.' So we save face all around."
He added, "Beware of a man who has a lot of these lying around his shed."
We were in Spring Grove on Syttende Mai, or May 17, the day in 1814 when Norway declared independence from Denmark and adopted a democratic constitution.
To celebrate, the gallery had put out a spread of rosette cookies, heart-shaped waffles with lingonberry spread and rye crackers with salmon, so we sampled and then went outside to watch the big parade.
On Main Street, the locals rolled by in a Viking boat with a red-and-white striped sail. Polka dancers from La Crosse's Oktoberfest marched by, hoisting steins and blowing horns, and princesses from La Crescent rode an apple float.
The emcee stood in the balcony of the log Syttende Mai Hus, commenting on the entries. Everyone waved Norwegian flags.
The Norwegians loved the high ridges and flat-bottomed valleys of southeast Minnesota, part of the Driftless Area that includes northeast Iowa and southwest Wisconsin.
Just across the border in Iowa, Decorah also celebrates Syttende Mai. So does Westby, in the coulees southeast of La Crosse.
After the parade, we went into the Fest Building for lunch, piling our plates with rolle polse and varma polse-meatballs on lefse and dried beef on a roll-and krumkake, the dainty Scandinavian rolled cookie.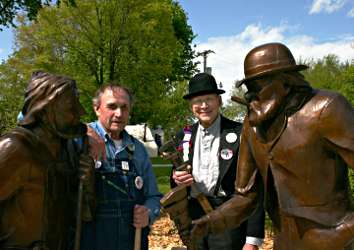 At the end of the line, we took cups filled with rømmegrøt, a porridge made of flour, butter, sugar and cream, but hesitated when one of the servers encouraged us to top it with more sugar, more butter and cinnamon.
"Go ahead, put it in, everybody will wait," she said. "When you live in a cold climate, you have to put on some fat."
At our table, I reconnected with Howard Burtness, a native of Spring Grove and proud Norwegian whom I'd met on another trip.
He had just returned from his winter home in California and told of spotting a particularly lovely woman on the street who, sure enough, turned out to be Norwegian.
"Norwegians are the most beautiful people in the world," he said. "That's not a boast, that's just a factoid."
When we left, the server asked how we'd liked the rich rømmegrøt and advised us to keep moving: "Just a little walk around the town, and you'll be good," she said.
In Viking Memorial Park, two men, one wearing overalls and one in a black derby hat and long coattails, were posing for pictures with two bronze figures dressed the same way.
Between 1918 and 1935, Spring Grove resident Peter Rosendahl wrote the comic strip "Ola and Per" for the Norwegian-language Decorah-Posten, and the strips also ran in Seattle and Minneapolis.
"Ola looks for the easy way out of things, and I work hard," said James Wilhelmson of Spring Grove, who plays Per opposite Norris Storlie of Harmony. "I'm supposed to be the smart one."
The two characters bumbled their way through countless misadventures. Wrote Rosendahl in 1926: "The roles they play in our Western Home out here/Are meant to ease and lighten the burden that you bear/For most of us can see when everything goes wrong/A little fun and foolishness make it easier to get along."
Apparently, those long winter nights honed the Norwegian sense of humor, along with painstaking artistry and a love for stories.
Their food may be the blandest in the world. But the Norwegians themselves? Definitely not.
Trip Tips: Spring Grove, Minnesota
Getting there : It's about 25 minutes east of Harmony, Minn., 30 minutes north of Decorah, Iowa, 35 minutes west of Lanesboro and 40 minutes west of La Crosse.
Syttende Mai : It's May 13-15 in 2022. Don't miss the Grand Parade on Saturday. There's also music, dancing, crafts, horse-drawn wagon rides and Norwegian food.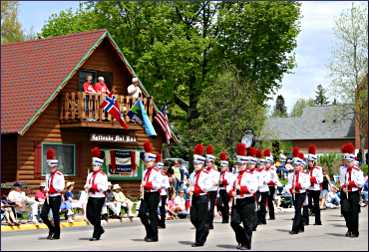 Spring Grove Soda : The bottling works, at 215 Second Ave., has a gift shop on the premises, but hours are irregular. For a tour, call 507-498-3424. If it's not open, the best selection is at the IGA on the east edge of town.
Dining : Doc's Blue Moose, a '50s-style café on Main Street, serves burgers, soups, salads, steaks, pasta and ice cream.
Nightlife : Ye Olde Opera House performs several plays a year. 507-498-5859.
Accommodations : There's camping in Trollskogen Park, on the southwest edge of town (children will enjoy swimming at the Aquatic Center), 507-498-5221.
Twenty minutes north, there's camping and a camper cabin, $60-$70, at Beaver Creek Valley State Park. In May, the park has a nice display of spring ephemerals, especially large-leafed trout lilies, and it has a noticeable lack of mosquitoes in summer.
A scenic drive : The 12-mile drive to the Iowa town of Dorchester is one of the loveliest in the Upper Midwest. Follow County Road 16 along a ridge that descends to an idyllic valley floor, past a hillside stone church and grotto.
Go in early morning or late afternoon, when sunlight slants across the undulating landscape.
More information : Spring Grove tourism, 507-498-5221.
For more about the Norwegians of Decorah, see A pocket of Norway.
For more about Norwegians around Westby, see Valleys of Vernon County.
For more about Norwegians in southern Wisconsin, see Syttende Mai in Stoughton.
For more about Norwegians in the Upper Midwest, see Norwegians among us.
Last updated on January 13, 2022