Music on the Mississippi
In southeast Minnesota, an unusual medley of rural and small-town venues draws delighted audiences.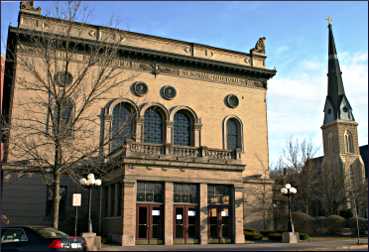 In southeast Minnesota, along the Mississippi and in its bluffs, folk and roots music has found a home far from the bright lights of the big city.
In the countryside, music sounds different. In an old general store in Oak Center, it's toasty warm, like late-afternoon sunlight.
In the airy loft above a harp-building workshop near Red Wing, it rings out like a church bell on Sunday morning.
And in Zumbrota, at the smallest Carnegie library in the state, it's just really, really close.
In Zumbrota, the musicians are so close the owner's dog brushes their knees when it steps onto the stage to beg for cookie crumbs from the audience. But the intimacy doesn't deter musicians — on the contrary.
When I was there, all 100 folding chairs were filled for a concert by the late Peter Ostroushko, the popular fiddler whose evocative compositions have been used in television series and played by orchestras.
"When I saw he was playing here, I thought, 'Oh, my, Zumbrota's coming up in the world,'" said Karen Brooks of nearby Frontenac.
On the tiny stage at the Crossings in Zumbrota, Ostroushko played fiddle and mandolin, told stories, traded quips with pianist/accordionist Dan Chouinard — and had a grand time.
"I love it," he said. "You're playing right to the faces of the people, right there in front of you."
As Ostroushko was performing in Zumbrota, fellow "Prairie Home Companion" regular Prudence Johnson was with Garrison Keillor in the western Minnesota town of Morris, singing for a live audience of 2,350 and a broadcast audience of 4 million.
But the next afternoon, Johnson drove down to a little blip on the road 15 miles from Zumbrota, where she and Chouinard played for a delighted crowd of 85 at the Oak Center General Store.
"It's so unpretentious and so affordable, and it has such a nice vibe," she said. "We've always had a lot of fun playing here. It's warm and receptive, and when people come, they really want to be there, they really want to hear you."
Four unlikely venues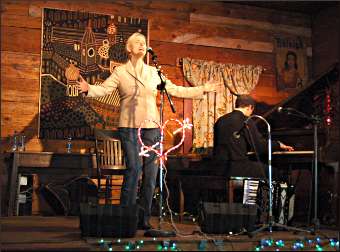 The slightly scruffy Oak Center General Store near Lake City is one of four venues that bring a raft of astonishingly good musicians to a small but scenic part of the state.
From Oak Center, it's just half an hour down bluffs and along the Mississippi to Red Wing, where the lovely Sheldon Theatre has a completely different atmosphere — but hosts many of the same musicians.
Ten minutes outside Red Wing, in a renovated barn on the road to Cannon Falls, Gary Stone also showcases such favorites as Pat Donohue, Claudia Schmidt and Ann Reed, who likes to perform a birthday concert there in December.
Stone, who opened his Hobgoblin Music store in 2001, makes harps, banjos, mountain dulcimers and Irish bodhrans in the ground-floor workshop and holds concerts in an all-wood loft. In summer, he holds bluegrass and folk festivals on an outdoor stage.
"There are more of these music venues than there has ever been before, which is good, because people need live music," he says.
From the Music Loft, it's 20 miles down winding County Road 6 to Zumbrota, just off U.S. 52.
Tiny but lively in Zumbrota
Zumbrota is famous for its 1869 covered bridge and now draws many people to concerts at the State Theater and originally to Crossings at the Carnegie art gallery and studio.
Crossings at Carnegie proprietor Marie Marvin is a Zumbrota native who lived and worked in Minneapolis and Washington, D.C., before buying the former library building from a friend.
"Within a year, it had transformed into a gathering space," she said. "We've got writing and yoga and Spanish lessons and all kinds of art classes. It's kind of a magical space, really."
In the basement clay studio, potters sat over wheels. Upstairs, Mozart and Beethoven sonatas played as shoppers looked at paintings, bronze figurines, handmade tiles, art glass and jewelry made by local artists.
Like the gallery, the Crossings' musical calendar grew out of an appreciation for fine artistry.
"I went to see 'Gales of November' and saw (Peter Ostroushko and Dan Chouinard) playing, and I thought, 'I have to have them here together,'" Marvin said.
Just before the evening concert, I nabbed a chair under a window glowing with paper lanterns.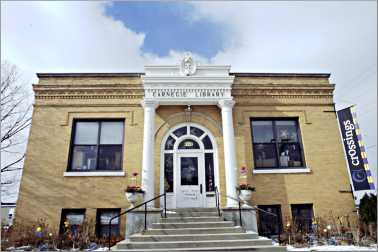 Next to me, Richard and Karen Brooks said they had been to hear Dan Newton at the Accordion-o-Rama concert the previous week and were planning to hear Prudence Johnson in Oak Center the next day and Wylie and the Wild West at the Sheldon in Red Wing the following week.
"We go as often as we can," Karen Brooks said.
"We lived in Chicago for 30 years and went to a lot of concerts, but you'd need binoculars for that," her husband added.
For more than two hours, we listened to Ostroushko and Chouinard weave tales of rural Ireland pubs and Italian villages with tunes from all over the world; by the time they wrapped up, our heads were filled with dreamy images of old Europe, and we all were yearning for a cold Guinness.
Chouinard's droll jokes led more than one person in the audience to follow him the next day to his afternoon concert with Prudence Johnson at the Oak Center General Store.
"We thought, 'Hmmm, that's pretty good — got another one?' " said Linnae Glestad of nearby Wanamingo.
A progressive outpost
Standing almost by itself amid rolling farmland, the Oak Center General Store is an unlikely music venue.
After former Mayo medical student Steven Schwen bought the abandoned store in 1976, it again became a store, selling organic produce from the adjoining farm, but it also became a forum for people committed to peace and social justice as well as sustainable agriculture.
"It was a cultural void," Schwen says. "The whole idea was, we wanted to create a mini rural university."
The late U.S. senators Eugene McCarthy and Paul Wellstone were among those who attended the workshops and discussions.
Schwen built a loyal roster of musicians, such as Greg Brown, who came regularly, despite his agent's objections to the low ticket prices, and Peter Ostroushko, who called it "my favorite gig in Minnesota."
Before introducing the musicians, Schwen gets up on stage and urges the audience to work for a better world. When we were there, the stage was adorned with Valentine's Day balloons and heart-shaped twinkle lights, and Schwen tailored his message to match.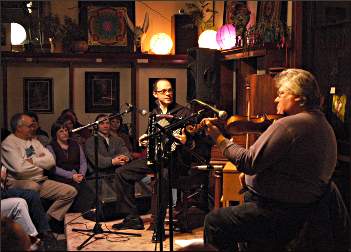 "That's what will transform the world, when they can see the love in our hearts when we stand up for our principles and for people who are a little less advantaged than us," he said.
Relaxed in a pair of jeans and blazer, Prudence Johnson first used Gershwin and Cole Porter as a showcase for her gold-standard voice, then joined Dan Chouinard in a goofy comparison of the Italian chestnut "O Sole Mio" to Elvis' "It's Now or Never" and the sign-off from "The Jack La Lanne Show."
It was perfect fare for a Valentine's Sunday. When Johnson and Chouinard finished, sunlight was still slicing through the curtained windows, and nobody wanted to go home.
The musical double-header made for a fun weekend. And sometimes, people who plan ahead can catch a triple-header.
It's an amazing quantity of great music for an area that basically is farmland.
Ostroushko, who played at all four venues — at Oak Center, he made Schwen pay him partly from his private stock of pickled green beans — said musicians can't resist the natural acoustics and intimate, family-friendly atmosphere.
"All the musicians I know love to play these gigs," he says. "For Minnesota to have that many venues clumped in that small a place, only an hour from the Twin Cities — that's actually pretty remarkable."
Trip Tips: Music along the Mississippi in Minnesota
Concerts may sell out and schedules may change, so always call in advance.
Sheldon Theatre, downtown Red Wing: Ticket prices vary. To reserve, call 651-388-8700 or 800-899-5759. Members of Minnesota Public Radio may get a discount. The ornate theater, the first municipally owned auditorium in the nation when it opened in 1904, is in downtown Red Wing, a block off U.S. 61 on West Third Street.
For more, see Roaming in Red Wing.
Music Loft at Stoney End, on Minnesota 19 west of Red Wing: To reserve tickets, call 877-866-3936. It's on Minnesota 19, a mile south of U.S. 61 west of Red Wing.
Oak Center General Store, near Lake City, Minn.:
Children are welcome and can sit on carpet next to the stage if they like. Call 507-753-2080.
Crossings at Carnegie in Zumbrota, Minn.: The Crossings now is dedicated to art, with a gallery, gift shop, class area and clay studio. Concerts are held at the Zumbrota State Theatre, a block off Main Street at 96 E. Fourth St.
The Crossings is around the corner at 320 East Ave. and is open to visitors on weekends.
Accommodations: Red Wing has many places to stay and eat. For more, see Roaming in Red Wing.
For more about eating along Lake Pepin, see A spin around Lake Pepin.
Last updated on December 25, 2020