Roaming in Red Wing
A scenic Mississippi River town is a magnet for day-trippers from the Twin Cities.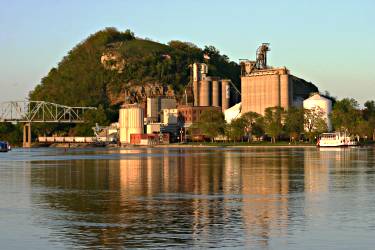 For many years, Red Wing has been Twin Citians' favorite day-trip destination.
It's adorable, with its brick storefronts, flowering planters hung from lampposts and rows of stately Victorian houses in three historic districts.
Sitting on a sharp elbow of the Mississippi, it's a small town that still looks the part — it has a bakery, a barber shop, a homespun café — and it was the first Minnesota town on the National Trust for Historic Preservation's list of Distinctive Destinations.
It looks good framed by the boxy green mound French explorers called Mount La Grange, or barn mountain. From its flat top, hikers get a spectacular view of the river winding north and Lake Pepin to the south.
In town, Levee and Bay Point parks provide a front-row seat for watching the river action — towboats pushing barges, cruisers and fishing boats, trains thundering past the slate-roofed depot.
It's a lovely backdrop for what visitors like to do best in Red Wing — wander. Especially in the fall, when leaf peepers are on the prowl.
Red Wing is ideally located for roaming. It's at the top of Lake Pepin, a wide spot in the Mississippi that is a 70-mile scenic drive, especially in fall, when orchards and wineries showcase their goods.
It's surrounded by bluffs and is the eastern trailhead of the popular 19½-mile Cannon Valley Trail, which follows the Cannon River. And it's barely 45 minutes from St. Paul.
For many years, Red Wing was a prime shopping destination. It's still dedicated to collecting; Red Wing Stoneware, the blue-speckled crockery first made in the town between 1877 and 1967, still draws crowds for the Collectors Society convention in July.
Many artists work around Red Wing. In October, thousands of shoppers come to the juried Fall Festival of Arts.
Pottery Place, the brick stoneware factory that was renovated in 1982, still draws shoppers.
But most of the antiques and specialty stores are gone. Red Wing has diversified: Today, it's known for bicycling, hiking, wineries, music and eagle-watching as well as shopping.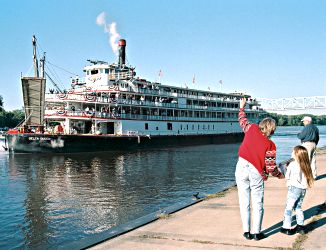 It's even a good place to bring children — big Colvill Park, on the south end of town, has one of the region's best playgrounds and is the eagle-watching hot spot in winter.
History always has been a draw. From the day the first eager entrepreneur stepped off the dock, Red Wing has been the little town that could.
Like other frontier boom towns, it rode the waves of prosperity; its trick, however, was always bouncing back after the hard knocks.
Partly, it's due to a charmed location. For centuries before the white settlers came, there was a thriving village in the shadow of Barn Bluff.
It was a good place for the 300 Santee Dakota who lived there in bark houses: scenic, fertile, on a water highway.
Of course, this also made it attractive to white settlers, who eventually took it for themselves and named it for the local Dakota chiefs, descended from an ancestor who used a dance fan made of a big swan's wing, tinted with red ocher.
The fertile fields and river made the new town the largest primary grain market in the world. But when the wheat centers moved west, other industries developed — among them, leather and, from the abundant local clay deposits, pottery.
Today, those industries have made a name for Red Wing that goes far beyond regional boundaries. Starting in 1877, the crocks and jugs of Red Wing Stoneware became fixtures in town and rural kitchens.
The big brick plant closed in 1967, but in 1982 it reopened as Pottery Place, a shopping center.
In 1987, potter John Falconer bought the rights to the name Red Wing Stoneware and began making the familiar crocks with speckled blue Bristol glaze.
Why do people love them so much? Partly because they're so durable "you can take a nail and scratch the surface and see only a silver line from the metal," said Falconer, who sold the company in 1998 and now runs Falconer Vineyards in the bluffs near town.
All along, collectors have kept Red Wing a pottery capital, swelling its population during the annual July convention.
Red Wing Shoes also has spread the red-wing logo throughout the world. It's been growing since its founding in 1905, getting its customers and employees through the Depression with a 99-cent shoe.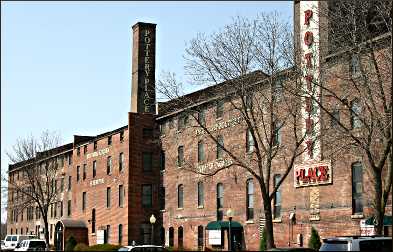 Now, the company has a factory store and museum on Main Street that features the World's Largest Boot, a size 638½ D made for the company's 100th anniversary in 2005. This leather leviathan required 80 pounds of brass just for its eyelets.
Red Wing Shoes also was responsible for restoring the 1875 St. James Hotel, which it bought in 1977, and it helped rejuvenate the Sheldon Theatre, bequeathed to the city by one of its many tycoons in 1900 and reopened with its original glitter in 1988.
But the tourists mostly come to Red Wing because it's so pretty. The views are fabulous, not just from Barn Bluff but from Sorin's Bluff, across from it, and even from such river-level spots as Bay Point Park, where a village of houseboats rise and fall on old-fashioned gin poles.
Today, visitors, especially from the big city, consider Red Wing small-town America at its best.
Trip Tips: Exploring Red Wing, Minnesota
Getting there: It's an hour southeast of the Twin Cities.
It's fun to go there by train, and the depot is right downtown, on the river. Amtrak's Empire Builder arrives from the west at 8:54 a.m. and from the east at 8:49 p.m.
2023 events: Feb. 17-18, Big Turn Music Festival. Aug. 4-6, River City Days. Oct. 14-15, Red Wing Arts Fall Festival. Nov. 24, Holiday Stroll.
From late May to early August, free Concerts in the Park are held at 7 p.m. Wednesdays in Central Park.
The Harbor Bar, across the river channel from Levee Park, offers live music on weekends in summer.
Shopping: In Pottery Place, check out Pottery Place Antiques.
Nightlife: The Sheldon Theatre has something scheduled every week from fall to spring. It shows the 1925 "Phantom of the Opera" with live organ accompaniment on Halloween, and the Sheldon Brass Band always plays "Home for the Holidays" concerts.
Order tickets online or call 800-899-5759. Members of Minnesota Public Radio may get a discount.
The Music Loft at Stoney End, just west of Red Wing, and the Oak Center General Store, in the bluffs over Lake City, schedule folk and roots music.
For more, see Music on the Mississippi.
Accommodations: Red Wing is a popular weekend destination for Twin Citians, so weekend rates can be high; to save money, stay on a weekday. For fall weekends, reserve far in advance.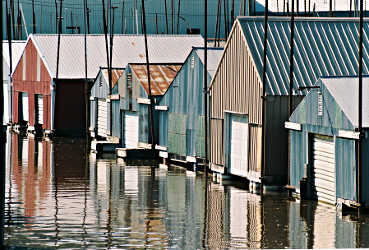 Near downtown, the 1876 Italianate Pratt Taber Inn is a friendly place with four attractive rooms, each with a gas fireplace; one room has a king bed that converts to two twin beds.
The 1874 stone Moondance Inn has five rooms, each with two-person whirlpool and electric fireplace, and a next-door guest house that is pet- and child-friendly and sleeps up to 10.
The 1875 St. James Hotel has 60 individually decorated rooms in old and new wings; some people prefer the older rooms. There are two restaurants and live music on Friday nights at Jimmy's pub. An inside court is lined with small shops. 800-252-1875.
There are also many vacation rentals for groups, such as the three-bedroom Red Wing Church House, a renovated 1880s former Lutheran church.
There are many motels off the highway near Pottery Place,.
Dining: On Bush Street, the Staghead gastropub offers craft-beer flights, small plates, sandwiches and steak and fish entrees.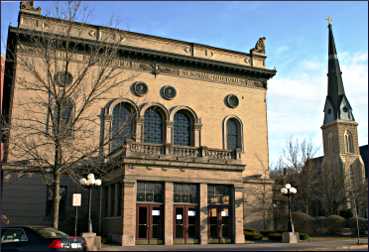 Bev's Cafe, also on Bush Street, is a homey nook, with old-fashioned food and prices.
Red Wing Brewing, on Old West Main Street near the entrance to Bay Point Park, serves pizza, sandwiches and soup in addition to craft beer.
Down the street from Pottery Place, the Wisteria Twig tea room serves soups, salads and hot and cold sandwiches.
The friendly Harbor Bar, on the river across from Levee Park (cross the High Bridge from town and take the first left), serves jerk chicken and burgers. Its large patio and lawn is a good place to relax with a cold beer on a summer evening.
There are several places to eat in the St. James Hotel.
Bicycling: There are two ways to reach the scenic, 19½-mile Cannon Valley Trail to Cannon Falls. One trailhead is off Old West Main Street just north of Pottery Place, and one is 1½ miles north, off Minnesota 61 in Anderson Park. A daily Wheel Pass, available at self-serve stations, is $5.
Hiking and views: From downtown Red Wing, East Fifth Street leads straight to the foot of Barn Bluff. The main path follows the north side of the bluff, shady and cool on hot afternoons, and passes a vertical rock face frequented by climbers.
At the other end of the bluff, steps lead to an overlook and a grassy slope that faces town and is a popular spot to watch Fourth of July fireworks.
A path atop the bluff leads through prairie to the southern overlook, where it dead-ends; those who want to return on the sunny south face have to return to the overlook before heading down.
For a really great lengthwise view of Barn Bluff, drive up Sorin's Bluff, just across from it. You'll also get a good view of the High Bridge, the town, the sharp elbow of the Mississippi and the Prairie Island nuclear-power plant to the north.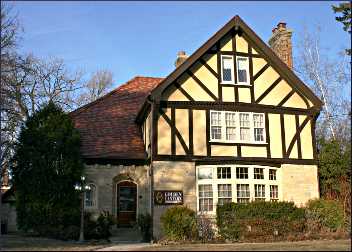 This view is disabled-accessible; climb it by car from East Seventh Street. Memorial Park includes round stone picnic tables, a disc-golf course, mountain-bike trails and, in winter, four miles of challenging ski trails.
Red Wing with kids: Just south of town on the river, Colvill Park includes Universal Playground, a large and colorful modern playground with a series of charming gardens, including the Faerie Garden.
There are also tennis courts and picnic tables. In summer, the Colvill Aquatic Center has a pool with a large water slide.
Wine-tasting: Just west of Red Wing, Falconer Vineyards offers wine-tasting and holds special events that include Music in the Vines concerts.
Goodhue County Historical Museum: On the bluff in back of town, it has a great view and also interesting exhibits. Along with exhibits of Red Wing art pottery, Red Wing shoes and Dakota culture is a display on Frances Densmore, born in Red Wing in 1867.
Trained as a musician, she became an ethnologist for the Smithsonian, transcribing and recording thousands of Dakota, Ojibwe, even Seminole songs. "I heard an Indian drum when I was very, very young," she wrote. "Others heard the same drum and the sound was soon forgotten, but I have followed it all these years."
It's at 1166 Oak St. (turn up West Street, right onto Seventh Street, follow signs). 651-388-6024.
Information: Red Wing tourism, 800-498-3444.
Last updated on February 1, 2022