Summer nights in Solon Springs
In Wisconsin, big-name musicians find their way to a small-town park.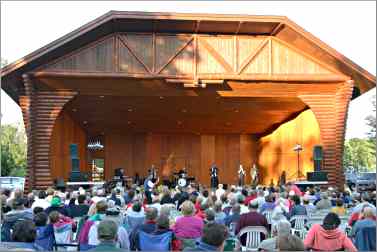 Just two miles from the start of the Bois Brule, another famous river flows in the opposite direction.
It's the St. Croix, flowing out of Upper St. Croix Lake and toward the Mississippi River. The two rivers are separated by a continental divide but became an important water highway for Indians, explorers and fur traders.
Today, their two-mile portage trail is part of the North Country National Scenic Trail and listed on the National Register of Historic Places.
On the western edge of Upper St. Croix Lake, 23 miles from the town of Brule, Solon Springs is a small resort village that makes an excellent weekend getaway.
Right in town, Lucius Woods County Park has camping, a sand beach, a playground, a nature trail and a splendid bandshell where regional and national acts perform on Saturday nights in July and August.
When we were in the area (see Paddling the Bois Brule), we stayed at the St. Croix Inn, an attractive hotel on the shore of the lake. Our room had a balcony that overlooked the lake, the sloping lawn and three beautiful old-growth white pines.
On Friday night, we walked from the inn through beautiful Lucius Woods, following a creek on what turned out to be a segment of the North Country Trail.
On the other side of the park, the local ball team, the St. Croix Ravens, was duking it out with the Hayward Hawks as a concession stand served beer and popcorn.
On Saturday, we walked over to the park to hear the blues band Big Walter Smith and the Groove Merchants, the opening concert in the Music in the Park series.
Since 1994, locals and tourists have been treated to open-air concerts in front of the massive bandshell, which looks as if a baby Bunyan built it with Lincoln Logs.
We bought brats from the Lions Club stand and settled in next to Susan and Joel Glickman of nearby Ashland, who had come for the first time the previous year to hear the Cajun band Beausoleil.
Like us, they were amazed to find a concert venue in such a quiet part of the north woods.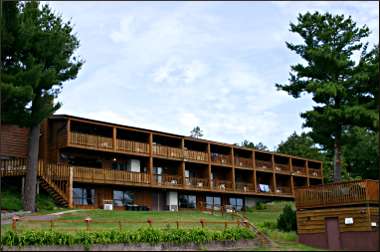 "I just started paying attention last year," said Joel Glickman, a music professor at Northland College. "When I tell people about it, they say, 'What?' I say, 'It's really beautiful.' "
Solon Springs isn't on most tourists' radar. Named for a man who bottled spring water and shipped it East, it was a busy rail town but soon was overshadowed by its neighbors.
Its 40-acre county park, named for the resort owner who preserved it, once was a state park.
Now, a volunteer board runs the nonprofit Lucius Woods Performing Arts Center, whose season usually includes the Duluth-Superior Symphony Orchestra and the popular rock band Whitesidewalls.
For campers on the wooded hill above the beach, living is easy. There's a Dairy Queen across from the park.
A block away, there's a grocery store and a family restaurant, where we had breakfast Sunday. Two small gift shops and a pottery studio are steps away.
We had another shopping destination in mind — Oulu Glass, in an old Finnish enclave just north of Brule, the paddling and fishing hub just to the north, on U.S. 2.
Jim Vojacek sells his art glass at galleries in Duluth and Bayfield, and I have two of his vases in art-nouveau swirls of blue and green.
I was dying to see the mother lode. But when I walked into the gallery, my eyes nearly popped out of my head.
"Sometimes, people come in and say, 'I don't think I can look at all of this today,' " said Kyra Robinson, Sue Vojacek's niece, who was minding the overflowing shop.
Needless to say, I spent some money. In this corner of northwest Wisconsin, there's more to do than paddle.
Trip Tips: Solon Springs in northwest Wisconsin
Getting there: It's about half an hour south of Superior off U.S. 53.
Concerts at Lucius Woods: The season begins in early July and ends in August. Shows begin at 7 p.m.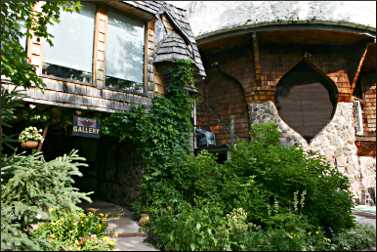 Advance tickets are $15, $10 for students. They're $20 at the gate. Only 400 chairs are available, so it's wise to bring your own. Brats and beer are sold on site. 715-378-4272.
Camping: Lucius Woods County Park in Solon Springs has a modern bathhouse, and sites can be reserved. There's also a nice beach and playground. 715-378-2219.
Accommodations: The St. Croix Inn in Solon Springs has 32 quiet and comfortable rooms, half overlooking the lake. Room rates include a basic continental breakfast.
There's a small bar overlooking the lake, plus a pool, hot tub and sauna. Reserve early for weekends. 715-378-4444.
Shopping: Oulu Glass is just north of Brule. Take County Road H north, then turn right onto Leppanen Road. It's open daily from May through December. 715-372-4160.
Hiking: The North Country Trail National Scenic Trail roughly follows the river from Solon Springs to Brule. The segment along the ravine in Lucius Woods County Park in Solon Springs is very pretty.
From the northern tip of Upper St. Croix Lake, it shares the two-mile Historic Portage Trail.
The trailhead is off County Road A, across from the picnic area/landing, and is marked by a boulder and plaque. A map of the trail is included in the Brule River State Forest Visitor newspaper and posted at the Solon Springs village hall.
Information: Superior-Douglas County tourism, 800-942-5313.
Last updated on April 15, 2021