Paddling the Bois Brule
In northwest Wisconsin, this lively river is cherished by presidents, paddlers, fishermen and wildlife-watchers.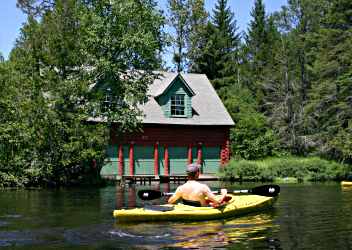 More than any other river in Wisconsin, the Bois Brule has a pedigree.
They call it River of Presidents, but it also attracts senators and millionaires. Named for pines charred by lightning strikes — "burnt wood" in Ojibwe, then French — it rises from conifer bogs near Solon Springs and flows toward Lake Superior.
Its cold, spring-fed currents harbor trout, and well-heeled fishermen discovered the river long before loggers moved in.
They built the first lodges in the 1870s, when President Ulysses S. Grant came to visit, followed by President Grover Cleveland in the 1880s. In the 1890s, St. Louis oil and rail tycoon Henry Clay Pierce amassed 4,160 acres along the river and built a fishing retreat.
President Calvin Coolidge spent the entire summer of 1928 there, fishing for trout raised in Pierce's private hatchery, where they reportedly were fed beef liver.
Coolidge had decided not to run for re-election, and he hosted presidential candidate Herbert Hoover. John G. Ordway later bought Pierce's estate, and in 1947, he hosted Gen. Dwight Eisenhower for some post-war R&R.
The rich and powerful still relax on the Brule. But these days, the poor and ordinary outnumber them. On hot summer days, they descend on the river in canoes and kayaks, bumping through a long series of rapids as it drops 420 feet toward Lake Superior.
We joined them one July, renting kayaks from Brule River Canoe Rental in Brule. As we drove along forest roads toward Stones Bridge, veteran outfitter Roger Salomaki groused good-naturedly about the crowds.
"Now you see why I go crazy," he said. "I haven't had a day off for six weeks. I just keep rolling and rolling. I've put in more than a million miles on these roads."
We passed a small air strip, and Salomaki said he expected the Carlson Companies' Lear jet to arrive soon.
"Marilyn Nelson and Barbara (Carlson Gage) like to canoe, and of course, I go with them," he said. He nodded in the opposite direction. "The Ordways have their own little strip," he said.
The landing was choked with people, canoes and coolers, but in kayaks, we quickly put them behind us. A boulder garden lined our path, and rocks underneath were streaked with silver from aluminum canoes.
The water was low, and we had to watch where we were going.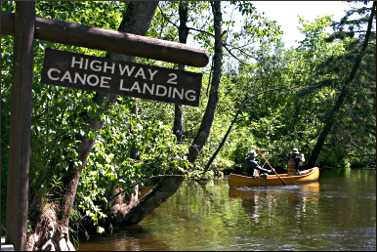 We would have missed the gigantic eagle's nest overhead if high-pitched screeching hadn't alerted us to it. A juvenile bald eagle was agitated and flapping its wings, but soon it settled down to survey the river.
On the banks, lofty cedars created needle-carpeted clearings. Lacy clumps of forget-me-not, adorable but invasive, grew amid the grasses.
The first sign of the populated part of the river was an imposing red and green boathouse, with brass acanthus sconces for lighting: "Private Property. No Trespassing. J.G. Ordway."
It was the start of Cedar Island Lodge, refuge of presidents, and we gawked as much as the current would allow.
A deer bounded across the sloping lawn of the main house, set back from the water, but we had to turn our attention to the rustic timber footbridge ahead, which connected a low, cedar-sided building to a hideaway on the island.
We were still gawking when we came across state-forest ranger Edward Culhane standing in the middle of the river, politely waving down canoes to check for unsecured cans and gear.
"I'm afraid if you tip, it's all gonna go," he told two young women whose lunch was scattered around their cooler.
In the next canoe, two men from Minnesota had glass bottles, for which they received a $148 ticket, and no fishing license they could show, which would earn them a $180 ticket if, upon checking later, Culhane found they had fibbed about having one.
Culhane does this all day, he says, "here and there" along the river's 44 miles. We hadn't seen any litter yet, so he must be doing a good job.
"Actually, it's not too bad," he said. "People are just having fun."
We squeezed through The Falls and Twin Rapids, then emerged into Big Lake. We saw more old but elegant boathouses, with Adirondack chairs arranged on docks, and gracious old lodges blending into the trees.
We passed Swiftwater Farm, the beloved retreat of Elisabeth Congdon of Duluth's Glensheen fame, and Muskikiwiininn Lodge, which had a boathouse sheathed in a nifty cedar-bark fringe.
It felt like a museum tour of turn-of-the-century cabins, with logs darkened by age, boulder foundations, gables, timber rails and long porches with opaque screens. Even the No Trespassing signs looked vintage.
There wasn't a McMansion in sight — no three-car garages, no Escalades, no ostentation at all — and yet we knew that many of these owners have plenty of money. There was nothing but the serene beauty we might have seen 100 years ago.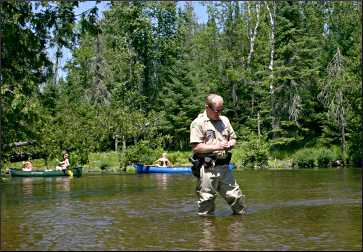 Nearly all of the longtime property owners on the Upper Brule have put their land under conservation easements, and we felt profoundly grateful to them.
We saw Culhane again at the next landing, near a sign that read "Winneboujou Club. Protected with cooperation of the Nature Conservancy." Many of the lodges we saw do have all the modern luxuries, he said, but owners maintain the original exteriors.
"They go to great lengths to keep them the way they were," he said.
Dave Schulz of the U.S. Forest Service told us that properties rarely come up for sale, and if one does, other owners quickly buy it.
"There's a real big conservation ethic along the river," he says. "It's a great thing. Ninety percent of the owners have family connections on the river going back a century."
After nine miles of dodging rocks, we were starting to get tired, but then we spotted a preening merganser with 19 ducklings lined up next to her on a fallen log.
We wheeled around and paddled in place, watching, until they plopped into the water one by one, the babies playfully jostling each other and snapping their bills at insects.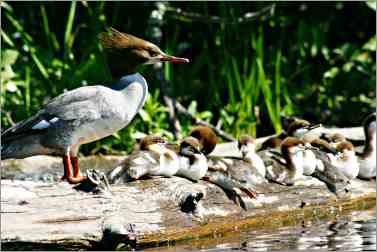 We got out to stretch at Bois Brule Campground and saw Culhane driving off in his pickup. At the 12-mile mark, we arrived at the U.S. 2 landing just outside Brule, a rowdy logging town turned paddling hub.
The next day, we decided to try a canoe on the eight-mile stretch from Wisconsin 13 to Lake Superior.
This time, our driver was young Adam Helbach, who grew up in nearby Maple. Tubing once was allowed on the river, he said, but the state outlawed it because too much garbage ended up in the river.
"There are a lot of people who really, really want to protect the river any way they can," he said.
It didn't take long for us to figure out the canoe was a mistake. The water was too low, and it was impossible to avoid the gantlets of boulders. More than once, we scraped right over one, and we offered a mental apology to the outfitters.
The landscape had changed, too. The cedars were gone, and tall, red-clay banks rose from water that had turned cloudy. The forget-me-nots had been joined by a whole garden — buttercup, anemone, wild rose, daisies and tall stands of yellow flag.
Soon we saw orange buoys marking the top of a barrier that serves as a ladder for migrating fish and also keeps out the sea lamprey, which clamps onto trout and sucks their blood.
We got out and portaged around it, and as we paddled on, a juvenile bald eagle dropped out of a tree in front of us, clumsily flapping upriver. An adult flew the other way and sat in a tree directly overhead as we passed.
The going got hairier and hairier, the boulders as thick as teeth on a comb. At one point we got stuck on a rock, and we were glad no one was filming us for "America's Funniest Home Videos."
But it could have been worse. The French explorer Daniel Greysolon, Sieur du Lhut, traversed the Brule in 1680 and wrote, "having cut down some trees and broken through about 100 beaver dams, I went up said river . . ."
Frequent eagle sightings improved our mood. We passed a newer cabin, a farmhouse and a boathouse covered by murals. Then the air turned chilly and a seagull wheeled overhead.
Rounding a corner, we saw a long sandbar and, beyond it, Lake Superior. John Jacob Astor's American Fur Company operated a fish camp here in 1839, and in 1880, English immigrants tried to establish a cooperage and fish-shipping business.
It failed, and soon loggers took over, rafting the river's pines to mills in Duluth.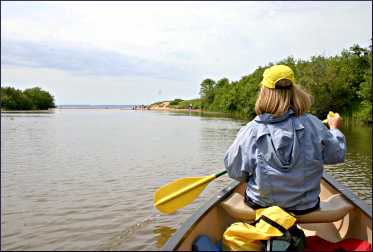 Today, the entire river is part of Brule River State Forest, which celebrated its 115th anniversary in 2022. Started with 4,320 acres deeded by lumber baron Frederick Weyerhaeuser, who had an estate on nearby Lake Nebagamon, it has grown to 47,000 acres.
In 2007, with help from the Conservation Fund, the state acquired nearly 6,000 acres, much of it just south of Lake Superior.
"I think this is going to be a coming region for those who are seeking recreation," Calvin Coolidge said in 1928.
It's a lucky man who spends a whole summer on the Brule. Two days is good, but not nearly enough for a river with so much character.
Trip Tips: Paddling the Bois Brule
Getting there: Brule is about half an hour east of Superior on U.S. 2.
Paddling: The 12-mile paddle from Stones Bridge to Brule takes five to six hours. When water is low, go for kayaks.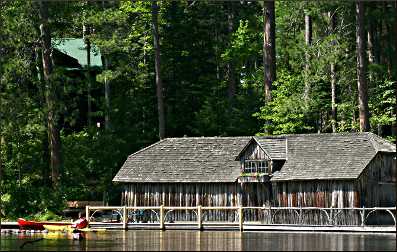 The eight-mile trip from Highway 13 to Lake Superior takes three hours or less. The eight miles from U.S. 2 to Pine Tree Landing is placid, but the following eight miles to Highway 13 are nearly continuous rapids, for experienced paddlers only.
Rent boats from Brule River Canoe Rental, 715-372-4983. It's wise to make reservations for weekends.
Camping: There are two Brule River State Forest campgrounds on the river, the Bois Brule just south of the town of Brule and Copper Range four miles north of town, near the Pine Tree Landing.
Sites are first-come, first-served. 715-372-5678. State-park vehicle permits are required, $8 daily for residents, $11 for non-residents.
Miles Paddled has more info about canoe/kayak camping.
Accommodations: Right by the river in Brule, Brule River Motel & Campground has motel units, campsites with showers and a Finnish cabin, 715-372-4815.
Nightlife: Half an hour south of Brule in Solon Springs, there are Saturday concerts by well-known performers in the bandshell at Lucius Woods County Park.
For more, see Summer nights in Solon Springs.
Information: Brule River State Forest, 715-372-5678. The website includes current conditions on the Bois Brule and a seven-minute video on paddling the river.
Last updated on July 3, 2020