Snow asylum
In northeast Wisconsin, Afterglow Lake Resort stays on top of the heap.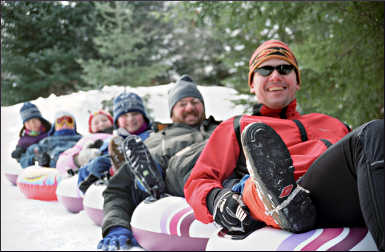 In the wilds of northeast Wisconsin, winter always looks like winter.
It's the kind with snow — snow that comes early, stays late and blankets the forest in heaps, supplying reliable skiing and snowshoeing to people from less-blessed locales.
But one year, the heaps of snow didn't come there or virtually anywhere, and skiers were desperate. So was Pete Moline, who runs Afterglow Lake Resort near the Michigan border.
So he went out onto the lake with a johnboat, filled it with snow again and again and put the snow on his trails. Word got out, and hundreds of skiers showed up.
As the dry winter dragged on, Moline was able to groom his 11 miles of trails 33 times before other trails were groomed even once, and his feat cemented the resort's reputation for reliability, giving it the skiers' equivalent of an AAA bond rating.
"I always know the snow is going to be really good here," says Sandy Lotto, an elite skier from Eagle River. "We're spoiled to have this in our back yard."
Playing in the snow
When I was there one January, there was plenty of snow and plenty of ice, too — so much, in fact, it made the traditional post-sauna Polar Plunge into Afterglow Lake impossible.
"We got down to 22 inches with our chainsaw, and we said, 'Nope,' " said Gail Moline, Pete's wife.
But jumping into a hole in the ice was the only thing we weren't able to do on our weekend at Afterglow.
The 240-acre lake resort, surrounded by Nicolet National Forest, was started in 1950 by Pete Moline's father, Bert, who was joined in 1957 by his new wife, Alice.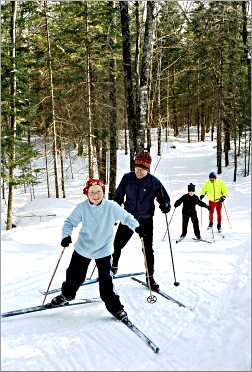 The year Pete was born was the first the resort stayed open for the winter, catering to snowmobilers and skiers, and young Pete took to the snow like a seal to water.
In his 20s, he skied in Colorado on the professional mogul circuit, placing fourth in three world championships.
But then he returned to northeast Wisconsin with Gail to run the resort and foster the snowboarding careers of their sons, Scott and Mitchell.
The boys practiced on the 300-foot tubing hill across the lake. Every time their father towed guests to the top, they caught a rope and followed behind like water-skiers.
At Afterglow, no one sits around, least of all the guests. There's snowshoeing, tubing, broomball, skating and skiing, and most people try to do it all.
But nearly everyone, child and adult, plans the day around tubing, and they're ready when Pete Moline shows up on his snowmobile to take them up the hill.
"The first time you see it, you think, 'Whoa, it's so steep and narrow,' " says Dan O'Loughlin of Minneapolis, who goes to Afterglow every year with family and friends. "But he grades it so you don't go into the trees."
You can't do it just once. And pretty soon, you're hooking your legs with other people to make a tube train, so you can go even faster and slide even farther onto the lake, coming to a stop in an exhilarating spray of snow.
When we weren't tubing, we were snowshoeing through the trees on 6½ miles of snowshoe trails or skiing on trails groomed for skating as well as striding.
Once, we spotted one of the porcupines sitting in a tree right over the trail, its quills gleaming in a halo of sunlight.
Treats from the campfire
On Saturday, we gathered for the noon campfire, when Gail and Pete heat up kettles of beans and bring out hot dogs and buns for guests to grill.
A little cider, a little hot chocolate, and we were good to go — for an afternoon of broomball, more tubing and skiing, followed by a soak in the lodge's hot tub.
On Sunday, we headed across Sugar Maple Road to the Phelps Ski Trail, a single track through feathery spruce trees that starts out rolling but soon is bucking like a wild pony.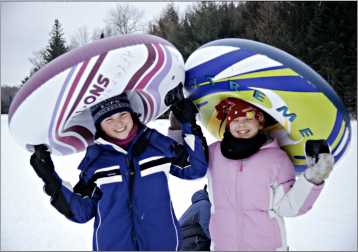 After surviving that, we tried a more sedate snowshoe trail.
Afterglow is on the southern edge of the Lake Superior snow belt and averages 120 inches a year. But sometimes snow cover is thin, or warm temperatures turn it to mush. Then Pete Moline gets out his shovel and his trusty Tidd Tech G2 groomer, which he helped develop.
And Gail Moline is always ready to start a snowshoe baseball game or other scheme.
"Anything to keep everybody outdoors, that's our goal," she said. "We make sure everybody has fun."
Trip Tips: Winter at Afterglow Lake Resort in northeast Wisconsin
Getting there: The resort is 17 miles north of Eagle River. It's 2½ miles north of Phelps, off County Road E.
Accommodations: Housekeeping cottages have wood-burning fireplaces. Sheets and towels are not provided.
Skiing usually is very good through March. The resort also is very popular in summer, with many activities for families; reserve for both seasons as early as possible.
Indoor activities: There's a whirlpool and sauna, plus ping-pong, foosball, pool and air hockey. A game and puzzle room overlooks the lake.
Dining: In Land O' Lakes, the 1938 Gateway Lodge features one of the region's most impressive lobbies and stone fireplaces, as well as a similarly atmospheric restaurant.
Bent's Camp, 10 miles west of Land O' Lakes, serves good food and also is worth a visit just for the atmosphere; its 1906 log restaurant has stone fireplaces, paned windows overlooking Mamie Lake, lots of old photos and interior walls covered by thick squares of birch bark held in place by cedar strips.
Eagle River, 17 miles south, has many good restaurants and also is the place to stop for groceries. For more, see Adventure in Eagle River.
Nearby attractions: Twenty miles north, across the Michigan border in Sylvania Wilderness and Recreation Area, Sylvania Outfitters grooms 20 miles of trails in Ottawa National Forest.
The area also is known for the Watersmeet Mystery Light, which can be seen on clear nights five miles north of Watersmeet.
Ask Pete Moline for details: "It's very entertaining," he says. "People always come back to the resort and talk about it; we have people telling all sorts of tall tales, spooky this and spooky that."
Information: Afterglow Lake Resort, 715-545-2560.
Last updated on January 17, 2022