The first American Girl
Before Laura, before Kit, there was Caddie Woodlawn on the Wisconsin frontier.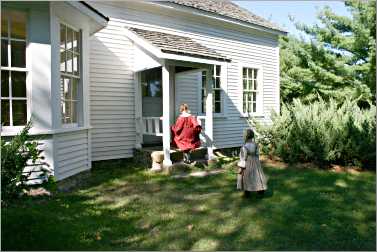 More than a decade before Laura Ingalls played on the banks of Plum Creek, and 70 years before the fictional Kit Kittredge: American Girl solved mysteries in Ohio, a girl named Caroline "Caddie" Woodhouse roamed the Wisconsin wilderness.
To many readers, Caddie was the first and best American girl.
She came of age during the Civil War and loved the outdoors, gathering hazelnuts in the woods, dodging rattlesnakes on the bluff and poling a log raft on the lake.
She was friends with the local Indians, unlike Laura, who wanted her dog to kill the ones who visited when the family was squatting on Osage-owned land in Kansas.
A Santee Dakota band lived near Caddie, who lived only half an hour north of where Laura would be born, and she often forded the river on tiptoe to watch them make birchbark canoes.
When she overheard settlers making plans to attack, the 11-year-old girl got on a horse and rode over at dusk to warn them.
Caddie had pluck and a loyal heart. What she didn't have was a TV series or a  Hollywood movie.
But her stories, relayed by her granddaughter in the 1935 Newbery-winning children's classic "Caddie Woodlawn," still fires the imaginations of young readers.
Many of them come to visit her childhood haunts south of Menomonie, Wis., where two state bicycle trails meet near the confluence of the Red Cedar and Chippewa rivers.
Her 1856 home still stands in Caddie Woodlawn Historical Park on Wisconsin 25. It's a palace, if you're expecting the dugouts and shanties of Laura Ingalls Wilder's childhood.
The stairs to the attic, where Caddie learned how to mend clocks, are closed now, but visitors can walk onto the back porch, where she and her six siblings churned butter.
Caddie's father John was a skilled millwright when the countryside around Menomonie was being logged by Knapp, Stout Co., which became the largest lumbering company in the world.
In Downsville, restaurant occupies the 1857 Knapp, Stout company store, established the year the Woodhouse family arrived from Boston.
Caddie's stomping grounds to the south is farmland now but still with an untamed face, due to the rolling topography and the path cut by the Red Cedar River, once the Menomonie.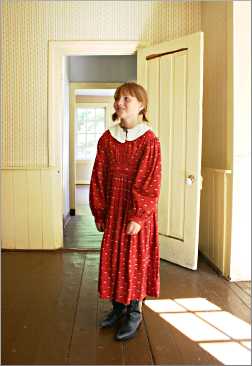 It's not hard to imagine the 1860s. The first time I visited Caddie's house with my young daughter, Madeleine immediately caught her heroine's spirit.
Tearing around the grounds, and venturing a few steps into the woods behind the house, she found a white feather and came back brandishing it, shouting, "This is the secret treasure of Caddie Woodlawn! Think it is?"
A few years later, we visited again, and several boys of Asian heritage were among the other visitors.
It reminded my daughter of a scene in the book that still chokes me up: After witnessing the tearful farewell of a Dakota mother, sent away by a white husband who became ashamed of her, Caddie spends a precious silver dollar on candy, tops, combs and handkerchiefs to comfort three bereft little boys.
"Look, it's the Hankinson boys," Madeleine whispered.
Lois Schultz, who has given tours of Caddie Woodlawn Historical Park for the Dunn County Historical Society, said boys like the book, too, since Caddie's brothers Tom and Warren are along on many adventures in "Caddie" and its sequel, "Magical Melons."
"Caddie's father let her run wild, which was unusual," she said. "He was an unusual man. He was born in England and probably had never seen an Indian, but he was friendly to them and felt they should have a chance."
Her mother was a proper Bostonian who despaired of her tomboy daughter, but when a letter comes from England offering a title and a big house with peacocks, Harriet votes to stay in the frame house on 160 acres. She's surprised to realize she loves it, too.
Today, bicyclists, paddlers, fishermen and turkey hunters traverse Caddie country, which includes Dunnville Wildlife Area. When we went, we followed a map of the area as it was in 1864, drawn by historian John Russell.
Driving down County Road Y, we could see the wooded ridge that Caddie and her brothers and sisters skirted on the way to school, run only in winter and summer because the Dunnville kids had to share a teacher with the kids in Durand.
Caddie's school isn't there, but there's the 1908 brick schoolhouse that replaced it, now a private residence.
We saw Chimney Bluff, where Caddie braved rattlesnakes while picking blueberries, and the shallow river. "Don't you ever try to walk across a river," I told  Madeleine, thinking of the many times Caddie, who couldn't swim, crossed the river with her clothes on her head.
We saw the old ferry landing, where a trestle bridge now crosses the Red Cedar. Crossing, we walked up the shaded bicycle trail for a stretch, thinking of the steamer that docked here, bringing mail, supplies and news of the Civil War to the Woodhouses, who could hear its whistle from their farm.
Two years after the year chronicled in "Caddie Woodlawn," the steamer took Caddie and her family south to St. Louis. Caddie ended up in Idaho and lived to be nearly 86. She was a wonderful storyteller, inspiring her granddaughter and namesake, Carol Ryrie Brink, who lived with her from the age of 8.
"When Caddie got together with her sister Hetty, all they talked about was living in Dunnville," Lois Schultz said. "She was so happy here. Carol Brink never got tired of hearing the stories, and her kids told her to put them in a book."
As a character, little Laura Ingalls became more famous, in part because of handsome actor Michael Landon and the TV series "Little House on the Prairie."
As an expensive doll and star of the Hollywood movie "Kit Kittredge: An American Girl," the fictional Kit also is more famous. Like Laura, she was born in Wisconsin, protege of the American Girl corporation, founded in Middleton, a Madison suburb.
But Caddie, the girl with a heart as big as the outdoors she loved, still resonates with readers.
"People come in and they love, love Caddie Woodlawn," said Julie Fuelling of the Red Balloon Bookshop in St. Paul. "There's definitely a following out there."
Trip Tips: Caddie Woodlawn in Wisconsin
Caddie Woodlawn Historical Park: It's four miles south of Downsville on Wisconsin 25 and open daily. Besides the house, there's a sandstone shelter with two hearths, picnic tables, a water pump and a smokehouse.
The Rassbach Heritage Museum in Menomonie's Wakanda Park sells the Dunn County Footprints of History map by historian John Russell and Russell's "A Pioneer Girl on Wisconsin's Frontier," which includes many photos, including one of Caddie's friend Indian John.
It also sells "Caddie Woodlawn" and its sequel, "Magical Melons," now called "Caddie Woodlawn's Family."
Menomonie: This college town is fun to visit. There are many interesting shops on Main Street, as well as the ornate Mabel Tainter Memorial Theater, built in 1890 by Andrew Tainter, one of the founders of the Knapp, Stout Co., in memory of his 19-year-old daughter.
For more, see Menomonie's golden oldies.
Red Cedar State Trail: The crushed-limestone trails runs 14½ miles south of Menomonie to the Dunnville Wildlife Area. There, it connects to the Chippewa River State Trail, which runs 6½ miles southwest to Durand and 23½ miles northeast to Eau Claire.
For more, see Red Cedar ride 'n' glide.
Laura Ingalls Wilder: For more about the popular author, see Laura Ingalls Wilder sites.
Last updated on April 18, 2021