A zeal for zip lines
There's a boom in zooming over the tree tops.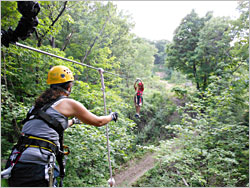 It's a big rush, zipping over treetops.
You can ride over an Ontario canyon, dunes in Door County, a gorge near the Dells and a creek in Michigan.
Zip lines first made an appearance at environmental learning centers, alongside climbing towers and high-ropes courses.
If you want to try one, here's where to look. There's usually a weight restriction of between 230 and 275 pounds, and a minimum age of 7 to 10 years. Most courses require reservations.
Wisconsin
Wilderness Canyon Zip Line at Wilderness Resort in Wisconsin Dells . This big resort across from Lake Delton, known for its indoor and outdoor water parks, has put five zip lines totaling nearly 2,500 feet over Lost Canyon.
The longest is 907 feet, the equivalent of 2½ football fields, and the highest is more than 100 feet above the ground.
Riders must weigh between 70 and 270 pounds. The zip-line tours, which are guided, take about two hours. 800-867-9453, Ext. 4764.
Bigfoot Zipline Tours in the Wisconsin Dells . This course has six ziplines ranging from 462 feet to 1,397 feet. Four of them are over water.
It's in the same location as the Dells Army Ducks and Wild Thing Jet Boats, just north of Noah's Ark Waterpark on U.S. 12. Tours are scheduled to take 90 minutes.
Chimney Rock Park , Wisconsin Dells/Friendship . From the Vertical Illusions shop in the Dells, guests are driven half an hour north to Chimney Rock Park near Friendship.
In winter, they snowshoe to the summit of a 500-foot-bluff, then descend on eight tree-to-tree zip lines, up to 120 feet above the ground. In summer, they can use 14 tree-to-tree lines.
Children as young as 4 can ride tandem with a guide.
Lake Geneva Canopy Tours in Lake Geneva . This 100-acre year-round adventure park on a reclaimed gravel pit just north of downtown includes eight ziplines between platforms in trees, five suspension bridges and a 1,150-foot racing zip line.
Rowleys Bay Resort zip lines near Ellison Bay . Door County Adventure Center operates a series of four short zip lines for all ages in the forest next to the resort on the Lake Michigan side of Door County.
Lakeshore Adventures zip line in Baileys Harbor . This outfitter offers a 2,000-foot, five-stage treetop canopy tour overlooking Ridges Sanctuary.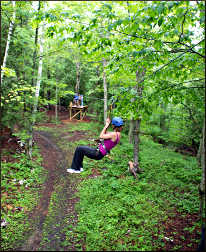 Zip Line Park at Trollhaugen Ski Area near Dresser . This alpine ski hill an hour northeast of the Twin Cities has six lines with four stations, including 1,000-foot dual zip lines, on a tour through woods.
Guided rides are two hours.
Northwoods Zip Line in Minocqua . This canopy tour in the pines has nine lines, including racing lines. Tours are 2½ hours, and there's a kids' tour for children as young as 3.
Michigan
Historic Mill Creek Discovery Park in Mackinaw City . This state park near the Mackinac Straits includes the 425-foot Eagle's Flight Zipline, which soars over Mill Creek.
The Adventure Tour includes the zipline, the 165-foot-long, 50-foot-high Forest Canopy Bridge and the 40-foot Nature Trail Climbing Wall.
You also have to buy admission to the park, which includes living history programs and hiking trails.
The best deal, if you're also planning to see Fort Mackinac on Mackinac Island and Colonial Michilimackinac in Mackinaw City (and you should), is the Mackinac Triple Choice Ticket. It includes all three parks.
Boyne Highlands Zipline Adventure near Harbor Springs . From the top of this ski-resort mountain on Lake Michigan, this guided 2½- to 3-hour trip takes people on a series of eight lines traveling 3,250 feet. Reservations are required for the year-round tours.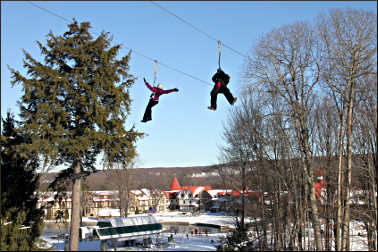 The Twin Zip Ride at Boyne Highlands allows people to race their friends on the last lines of the Adventure Tour, traveling 1,350 feet.
Boyne Mountain Zipline Adventure Tour in Boyne Falls . This guided 2½- to 3-hour trip takes people on a series of 10 lines (nine in winter) traveling 4,300 feet. Reservations are required for the year-round tours.
The Twin Zip Ride at Boyne Mountain allows people to race their friends on the last lines of the Adventure Tour, traveling 780 feet to the lawn of the Mountain Grand Lodge.
Wildwood Rush Zip Line Canopy Tour near Boyne City . This tour includes views of Lake Charlevoix on more than 5,000 feet of lines. The guided canopy tour is 2½ to 3-hours.
There are three 1,200-foot racing lines.
Ontario
Eagle Canyon Adventures near Dorion, Ont. This private enterprise, 40 miles east of Thunder Bay next to Ouimet Canyon Provincial Park, has put in a 2,680-foot zip line that is Canada's longest.
It also has 600- and 300-foot-long suspension bridges, 152 and 125 feet above the canyon floor. Tickets to walk the suspension bridges and ride the zip line are sold separately.
Minnesota
Timber Flyer in Duluth . From Spirit Mountain, it's a 90-second ride at up to 30mph down and then back up. You get to sit on a bench instead of in a harness, so it's more comfortable than a regular zip line.
North Shore Adventure Park in Silver Bay . This aerial adventure park, built in a wooded area around a cliff, includes 10 zip lines and six ropes courses with four difficulty levels.
Reserve in advance to get a discount and guaranteed start time. Occasionally, it offers a Glow in the Park night climb.
Towering Pines Canopy Tour on the Gunflint Trail . A series of eight lines, one nearly 800 feet long, takes people through white pines near Gunflint Lodge Resort, an hour west of Grand Marais.
The tour can be taken by people who are 10 or older and weigh between 75 and 240 pounds.
Brainerd Zipline Tour in Nisswa . This course at Mount Ski Gull in Pillsbury State Park includes seven lines, a suspension bridge and a 50-foot free fall on a 2.5-hour guided tour.
Sand Creek Adventures in Jordan . Three lines have a total of 1,700 feet on this course on the southwest edge of the Twin Cities, along the Minnesota River.
There's also a high-ropes course with a zip-line exit.
Kerfoot Canopy Tours in Henderson, Minn . Nine lines skim treetops in the Minnesota River Valley west of the Twin Cities. It's a 2½-hour guided adventure.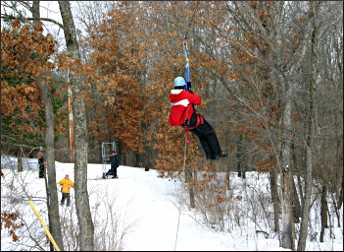 Barnacle Blast Zip Line at the Mall of America . This attraction, part of the Dutchman's Deck Adventure Course, calls itself the longest indoor zip line in North America.
From platforms 70 feet above the floor, riders fly along a 405-foot line over Nickelodeon Universe and then back.
Iowa
Sky Tours Zipline near Dubuque . Not far from the Mississippi River, YMCA Union Park Camp operates nine zip lines of 300 to 1,000 feet and heights of up to 75 feet.
Guided two-hour tours also can be taken at night.
Illinois
Soaring Eagle Zip Line near Galena . The 800-foot line at Chestnut Mountain ski resort carries one or two people in a chair.
The Forge: Lemont Quarries in Lemont . In this southwest Chicago suburb, the Eight Towers Adventure includes five stand-alone towers, one of them 120 feet tall, that are connected by two miles of ziplines.
There are also rappelling stations, ropes courses, climbing walls and mountain-biking and hiking trails.
Zip lines on high-ropes courses
Many environmental learning centers have ropes courses that end in zip lines. The zip lines are shorter, but they also cost less.
Treetop Adventures near Sault Ste. Marie, Ont. This eco-adventure was started in 2008 by Murray and Cindy Joseph on a family homestead in Goulais River, 20 miles north of Sault Ste. Marie on the TransCanada Highway.
There's a 400-foot zip line as well as a ropes course and ground games that include a "Survivor"-style obstacle course, paintball, Fuzeball, and a compass scavenger hunt. It's open year-round.
Character Challenge Course near Park Rapids, Minn. This ropes course, seven miles north of town next to Eagle Beach Resort, includes a 370-foot zip line.
There's also a 3G Swing from a 27-foot platform. Height minimum is 4 feet, and weight maximum is 250 pounds.
Eagle Bluff Environmental Learning Center near Lanesboro, Minn . This center on the bluff above the Root River has a scenic ropes course that is open to the public at 10 a.m. and 2 p.m. Saturdays from June through August and occasionally throughout the year.
Last updated on January 26, 2022