Adventure on the Gunflint Trail
For outdoorsy folks, this Minnesota wilderness is a year-round playground.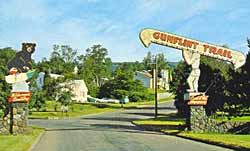 In the 1920s, when the first resorts appeared along this remote, 57-mile highway that dead-ends near the Canadian border, guests had to have a certain sense of adventure.
The Gunflint Trail first was blazed by the Ojibwe, then used by fur traders, trappers and loggers. It was still a zigzagging roller-coaster through the woods when vacationers began to come.
The first visitors in spring often had to patch the single phone line, which moose tended to snag and drag. Gasoline lanterns in their cabins often became plugged, and bears sometimes made appearances near cabins.
Still, they had it easy. After the guests left, resort owners faced a long winter of splitting wood for fuel, getting around by dog sled, harvesting ice and trapping for food and clothing.
But things have changed on Minnesota's last frontier.
Today, the snow that presented so many challenges to early resort owners is prized by modern ones.
It's the most reliable snow in Minnesota, usually falling in copious amounts from November to April, and it makes the Gunflint Trail a playground for skiers, snowshoers and mushers (for more, see The best days of winter ).
Today, skiers head out the door to nearly 200 kilometers of trails, superbly maintained by state-of-the-art Pisten Bully groomers. On the frozen lakes of the Boundary Waters, novice mushers try their skill behind teams of eager huskies, for fun, not necessity.
Some of them stay on the trail in Mongolian yurts, peaked-roof canvas huts with wood stoves, but that's about as rustic as it gets these days on the Gunflint Trail.
The biggest resort is Gunflint Lodge, whose founder, the late Justine Kerfoot, became a northwoods legend through her evocative writings about the early days, when resort owners got by only with help from their trapper and Ojibwe neighbors (for more, see A Gunflint legend ).
Those days, when "luxury" meant a strip of carpet around the outhouse hole, are gone.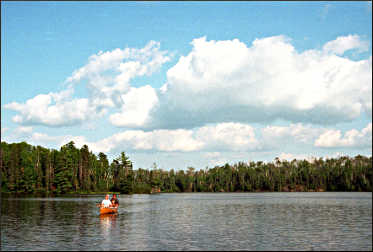 Today, there's a weather-reporting station on top of the lodge, updated on the Internet every 30 minutes. The contemporary townhouse "cabins" have hot tubs and saunas. Guests still dine on fish, but it's more likely to be rainbow trout Farci with chive beurre blanc than shore lunch.
At Bearskin Lodge, guests can take a few spins around a 1½-kilometer loop lined by twinkle lights and have an après-ski soak in the Hot Tub Hus.
Canoes are Kevlar, jackets are Polartec and snowshoes are high-tech Hypalon: No sense in having less than the best.
And yet there still are traditional resorts around the Gunflint Trail. The Golden Eagle has a rustic 1945 lodge with walls lined with old logging-camp tools, and a trail lit by kerosene lamps.
Up the road, Clearwater Lodge, built in 1926 of whole logs, has a wonderful north-woods atmosphere; it's on the National Register of Historic Places.
Nearby, the Trail Center's convivial Black Bear Bar and Restaurant is one of the few places where skiers happily rub elbows with snowmobilers, and locals with tourists. It was built in the 1930s, as part of a logging camp.
More importantly, little has changed on the Gunflint Trail's lakes and in its forests. In spring, yellow moccasin bloom. Loons trill, and moose graze with their calves in marshy meadows.
In summer, canoeists arrive, some to stay at the lake resorts and some to push off into the Boundary Waters Canoe Area Wilderness.
In fall, the leaves turn, and beaver gather piles of aspen branches. This is prime time for hikers, many of whom come to try the rugged Border Route Trail. Then winter comes, and hoar frosts make the forest glitter.
There are plenty of magical moments to go around. When a skier first glides through fresh powder along a ridgeline, high above the deep, narrow lobes of a glacier-cut lake, or a canoeist rounds a bend to see a moose grazing in the cattails, he'll realize why the first residents came-and stayed.
Trip Tips: Gunflint Trail in northeastern Minnesota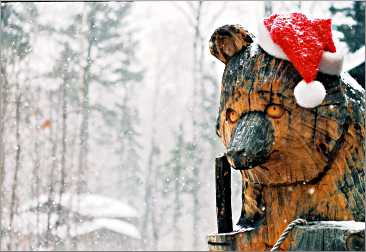 Year-round accommodations: Staying on the Gunflint Trail isn't cheap, though winter stays include access to superb skiing, and summer stays include superb canoeing as well as the usual beach and sports amenities.
Golden Eagle Lodge has a mixture of older and new cabins, some with whirlpools, and a 1945 log lodge. 800-346-2203.
Bearskin Lodge has very nice traditional cabins and lodge suites. There's a large Hot Tub Hus, and a lodge in which delicious dinners are served. It also has a small outfitter operation. 800-338-4170.
On the other side of the road, on the Banadad Trail, Ted and Barbara Young rent B&B rooms in their Poplar Creek Guesthouse.
Poplar Haus, on Poplar Lake, rents six cabins, all dog-friendly. The renovated former Windigo Lodge also has a restaurant, a bar with an excellent selection of craft beer and a liquor store, 218-388-2222.
Down the road, also on Poplar Lake, Big Bear Lodge rents three lodge rooms, five knotty-pine cabins with wood-burning fireplaces and a camper cabin that sleeps six. The lodge serves beer, wine and pizza. There's a lakeside sauna, and guests get free use of canoes. 218-388-0172.
On the Upper Gunflint, on Gunflint Lake, Gunflint Lodge is a full-service resort with modern townhouse units that have VCRs, fireplaces and whirlpools or saunas. It's got a fine restaurant and bistro in its lodge, and a naturalist leads activities.
Throughout the year, it offers theme weekends-horseback riding, culinary adventures, snowshoe-building, women's retreats. Rates are lowered in the off season, and go to rock bottom during November and April work weekends, at which guests perform a morning's worth of chores. 800-328-3325.
Just down the road, also on Gunflint Lake, Gunflint Pines has a nice lodge and A-frames, 800-533-5814. Heston's Lodge has lakeshore log cabins, a sauna and an outdoor wood-fired pizza oven.
Cross River Lodge, formerly Moosehorn Lodge, has cabins and B&B rooms.
Summer accommodations: In addition to the resorts above, Clearwater Lodge is a 1926 classic halfway up the trail. The lodge is made of whole logs, and the cozy interior includes handmade furniture of diamond willow, with distinctive black cavities on the pale, polished wood.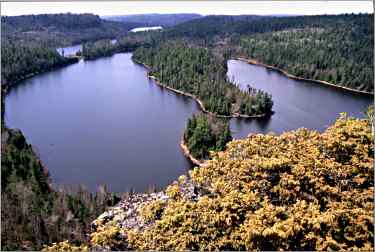 Upstairs, two B&B suites and three small rooms with shared bath are lined with split pine; there's also a tipi and log cabins along Clearwater Lake, from which guests, outfitted by the lodge, can explore the BWCAW.
At the end of the trail, Seagull Outfitters rents cabins on Seagull Lake, 218-388-2216, as does Tuscarora Lodge on Tuscarora Lake, 800-544-3843. Both lakes are BWCAW entry points.
For more about the BWCAW, see Minnesota's Boundary Waters.
Rustic cabins: The U.S. Forest Service rents four rustic cabins in the East Bearskin Lake Campground.
Camping: In addition to canoe campsites in the Boundary Waters, there are many rustic campsites in Superior National Forest. Campsites include East Bearskin Lake, 27 miles from Grand Marais; Flour Lake, 29 miles from Grand Marais; and Trail's End, between Seagull and Gull lakes, 57 miles from Grand Marais. They can be reserved, 877-444-6777.
Dining: Don't miss dinner at the Trail Center Lodge, in the central Gunflint. The outside, built for a 1930s logging camp, isn't much to look at, but the inside is adorned with a hodgepodge of old tin signs, moose racks, loggers' saws, wooden wheels and snowshoes.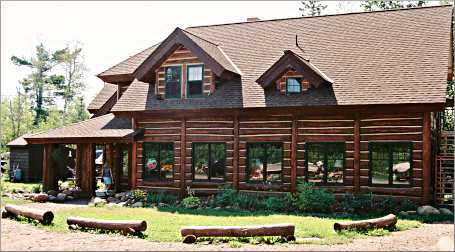 Just up the road, tables at the more modern Poplar Haus restaurant have a nice view of the lake. The menus is small but includes burgers, sandwiches, pizzas and small plates served with creative flair, plus cocktails and craft beer.
The Gunflint Lodge serves sophisticated northwoods cuisine in its popular restaurant Justine's and more casual fare in a bistro, both overlooking Gunflint Lake. On Sundays in summer, it offers a BBQ cookout.
Chik-Wauk Museum and Nature Center: Near the end of the trail, on a southeast bay of Saganaga Lake, a historic restored resort lodge presents exhibits on the natural and cultural history of the trail. Five nature trails wind through the center's 50 acres.
The lodge is closed in winter, but the nature trails are open.
Skiing: In the Central Gunflint, Bearskin and Golden Eagle share a 66-kilometer network of trails, 36 of them also groomed for skating, and three of them lighted.
In Upper Gunflint, the Gunflint Lodge, Heston's, Gunflint Pines and Moosehorn Lodge share 90 kilometers, 24 of them groomed for skating and four lighted.
The 29-kilometer Banadad Trail connects the central and upper systems and is used by Boundary Country Trekking and Old Northwoods Lodge.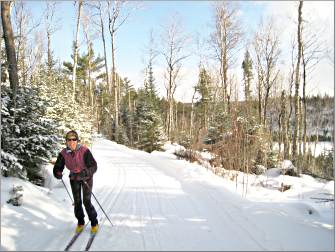 Trails are groomed after Thanksgiving; call resorts for conditions. Rates are lowest early and late in the season. Pincushion, just up the ridge from Grand Marais, has 25 kilometers.
For more, see The best days of winter and From yurt to B&B on the Gunflint.
Hiking: Two half-mile trails provide lovely views of this pristine wilderness. Thirteen miles from Grand Marais, the Northern Light Lake Trail climbs up Blueberry Hill to its bald basalt pate and a panorama of the lake and Brule River stretching into the distance. Many varieties of lichen grow here, as well as blueberries.
Sixteen miles farther, turn off on County Road 66 and drive two miles, just past the Flour Lake Campground.
From here, the Honeymoon Bluff Trail climbs wooden steps to an iron-streaked cliff high above the labyrinthine waters of Hungry Jack Lake and, beyond, West Bearskin Lake. It's especially lovely at sunset.
The 65-mile Border Route Trail winds through the Boundary Waters and connects the Superior Hiking Trail on the North Shore with the Kekekabic on the Gunflint Trail. They're both part of the North Country National Scenic Trail.
Background: Read Justine Kerfoot's fascinating autobiography, "Woman of the Boundary Waters." Kerfoot was a 20-year-old student at Northwestern University when her mother bought a summer fish camp on Gunflint Lake in 1927.
The young Justine came to stay for good in 1930, when a bank crash ruined her father and forced the family to sell their houses in Illinois. She turned out to be a scrappy outdoorswoman and an ingenious improviser, with a reverence for the wilderness that inspired readers of her books and newspaper columns.
For more, see A Gunflint legend.
Information: Gunflint Trail tourism.
Last updated on August 3, 2021