On the Rock River in Illinois
From the town of Oregon, visitors follow in Black Hawk's footsteps.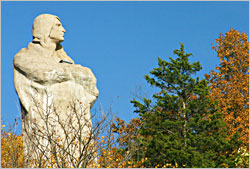 In the northwest Illinois town of Oregon, a 48-foot concrete figure gazes over a river valley, arms folded.
Over the years, the valley has been home to many ambitious men. Abraham Lincoln joined the militia here. John Deere forged the first steel plow. Ronald Reagan got his first lifeguard job.
Chief Black Hawk, the man who inspired the gigantic blufftop statue, also had an ambition: to keep this beautiful valley for his own people.
In 1804, four Sauk men ceded it in exchange for $1,000 per year in goods, and in 1829, the government kicked out the Indians and sold the land to settlers.
In 1832, Black Hawk tried to reclaim the land, sparking a "war" that ended in the slaughter of his people.
The debacle made a romantic figure of the doomed Black Hawk.
"Rock River was a beautiful country," he said. "I loved my towns, my cornfields, and the home of my people. I fought for it."
Today, banners on Oregon street lights feature Black Hawk's face, and painted tipis can be found in and around town.
Across the river, the statue known as Black Hawk was created between 1908 and 1910 as the Eternal Indian by Chicago sculptor Lorado Taft. Now it is on the National Register of Historic Places.
Visitors can walk through the town's entire history in Lowden State Park, on the blufftop where Lorado Taft founded the Eagle's Nest Art Colony in 1898. Today, it's a field campus for Northern Illinois University.
Oregon makes a fun getaway any time for the three state parks that surround it and for the Rock River, which flows from Wisconsin's Horicon Marsh to the Mississippi at Rock Island and has been named a national water trail.
Excursions on the Pride of Oregon paddlewheeler take tourists upstream. On the east side of the river, Black Hawk rises above the treetops, and on the west side, passenger see the stone turrets of a castle.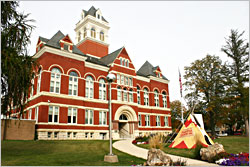 It's a Tudor-style manor with 25 rooms and four secret passages, built between 1928 and 1930 by Walter Strong, owner and publisher of the Chicago Daily News. Visits to another publisher's castle — William Randolph Hearst's famous estate in San Simeon, Calif. — inspired it.
Today, the Stronghold Center is a Presbyterian retreat complex, open to the public for tours or overnight group lodgings and at the annual Olde English Faire in October, a gathering of knights and ladies and jesters and jousters, with medieval music and games.
For excursions downstream, outfitters rent canoes and kayaks for visits to Castle Rock State Park or Grand Detour, home of the John Deere Historic Site.
In 1838, the Vermont-born blacksmith figured out how to make a plow that would cut through the dense Illinois soil. After a move to Moline in 1848, his business became the giant farm-equipment manufacturer, still named for John Deere.
Dixon is just around the bend from Grand Detour. It's the boyhood home of Ronald Reagan, who safeguarded swimmers from the banks of the Rock River. The Ronald Reagan Trail includes his first home in Dixon and stops in 12 other northwest Illinois towns.
A third state park is seven miles west of Oregon. White Pines Forest State Park is a lovely oasis of pine forest, creeks and rock outcroppings amid the rolling farm fields.
In spring, the park's trails are lined with wildflowers; in fall, the park is cloaked in bright reds, oranges and golds.
There are inns in Oregon, but the park's White Pines Inn is a special place to stay, with a log lodge and cabins built in the 1930s by the Civilian Conservation Corps.
Its inviting restaurant is famous for its Paul Bunyan buffet on Sundays and serves such classics as chicken pot pie, peach cobbler and apple dumplings. There's a dinner theater, too.
In town, visitors can follow the Trail of Painted Tipis, each created by a different artist, from late April to mid-November.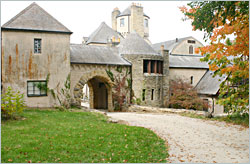 There are a few antiques stores to visit downtown. Restaurants include the '50s-style Jay's Drive-In, which serves caramel-apple shakes and "the best butter bun burgers around."
Oregon is only two hours from Chicago, but bistros and boutiques haven't reached this town of 3,700. Just as well, because a down-home style suits such a historic place.
Trip Tips: Oregon, Illinois
Getting there: It's 25 miles south of Rockford and 100 miles west of Chicago.
Events: First weekend of October, Olde English Faire at the Stronghold Center and Autumn on Parade in town.
Black Hawk statue: This 48-foot concrete statue looms over the river. Visitors can drive into the park and walk to the overlook at the statue's feet. Admission is free.
During the War of 1832, the only place Black Hawk and his band attacked was a makeshift fort in the village of Elizabeth, near Galena. For more, see Black Hawk on the Apple River.
Abraham Lincoln was a captain in the militia pursuing Black Hawk but did not engage in combat.
For more about War of 1832 sites in Wisconsin, see Road trip: Black Hawk's trail.
Rock River cruises: The Pride of Oregon paddlewheeler offers daily cruises, some including lunch or dinner. It docks at Maxson Riverside Restaurant just north of Oregon on Illinois 2. Reserve at 815-732-4540.
Canoeing and kayaking: White Pelican rents canoes, kayaks and tubes and provides shuttles, by reservation only.
Horseback-riding: Five miles west of Oregon, White Pines Ranc h offers trail rides.
Stronghold Camp & Retreat Center: For a Castle Tour, call in advance to arrange, 815-732-6111.  The blufftop grounds also include a labyrinth, a high-ropes course and walking trails.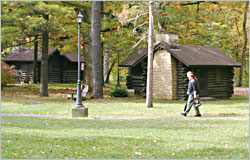 Bison tours: Just east of Dixon, the Nature Conservancy's Nachusa Grasslands has a herd of more than 100 bison. Volunteers give free two-hour tours. Sign-ups are posted at 7 a.m. the first day of each month, and places fill quickly.
Accommodations: The 1927 White Pines Inn in White Pines Forest State Park west of Oregon rents 13 small log cabins and 12 cabin suites, each with gas fireplaces and mini-fridges. They're air-conditioned.
There are many packages, and watch for specials in winter, spring and late fall. The restaurant is open from March to Christmas.
Near the river in Oregon, the 1840s Patchwork Inn has nine rooms.
There's a camper cabin in Lowden State Park.
The Stronghold Center has accommodations for groups from 10 to 100 in lodges in the woods, dorm rooms in the Castle, the hotel-style Heritage Lodge, rustic cabins or camping. Meals can be arranged.
Camping: There's camping in the blufftop Lowden State Park across the river from downtown Oregon and White Pines Forest State Park west of Oregon.
Dining: The restaurant at the White Pines Inn serves home-style food, including a large Sunday buffet, in a very attractive setting. Reserve at 815-946-3817.
In Oregon, Hazel's Cafe serves sandwiches and salads as well as coffee drinks and smoothies. It delivers to the adjoining Cork & Tap, which offers wine, beer and mixed drinks.
Nightlife: The Pines Playhouse offers music, plays and comedy at the White Pines Inn.
Information: Northwest Illinois tourism, 800-678-2108.
Last updated on February 2, 2022